Paige Black braced for the worst in February when her oncologist walked in the room with test results. Kathryn Mileham, MD, chief of thoracic medical oncology at Levine Cancer Institute, was accompanied by Paige's nurse navigator, Elizabeth Hess. I thought it was bad news and Dr. Mileham knew I needed extra support," Paige says. "I thought they had run out of options and this was it."
She was correct about this being it.
But "it" was the opposite of what she feared.
Dr. Mileham had great, unexpected news that was years in the making. She had played out this scene in her head, over and over, determining how to share her joyful discovery. "I was going to remember this moment for the rest of my life," Dr. Mileham says. "I brought Elizabeth along just to be a witness."
---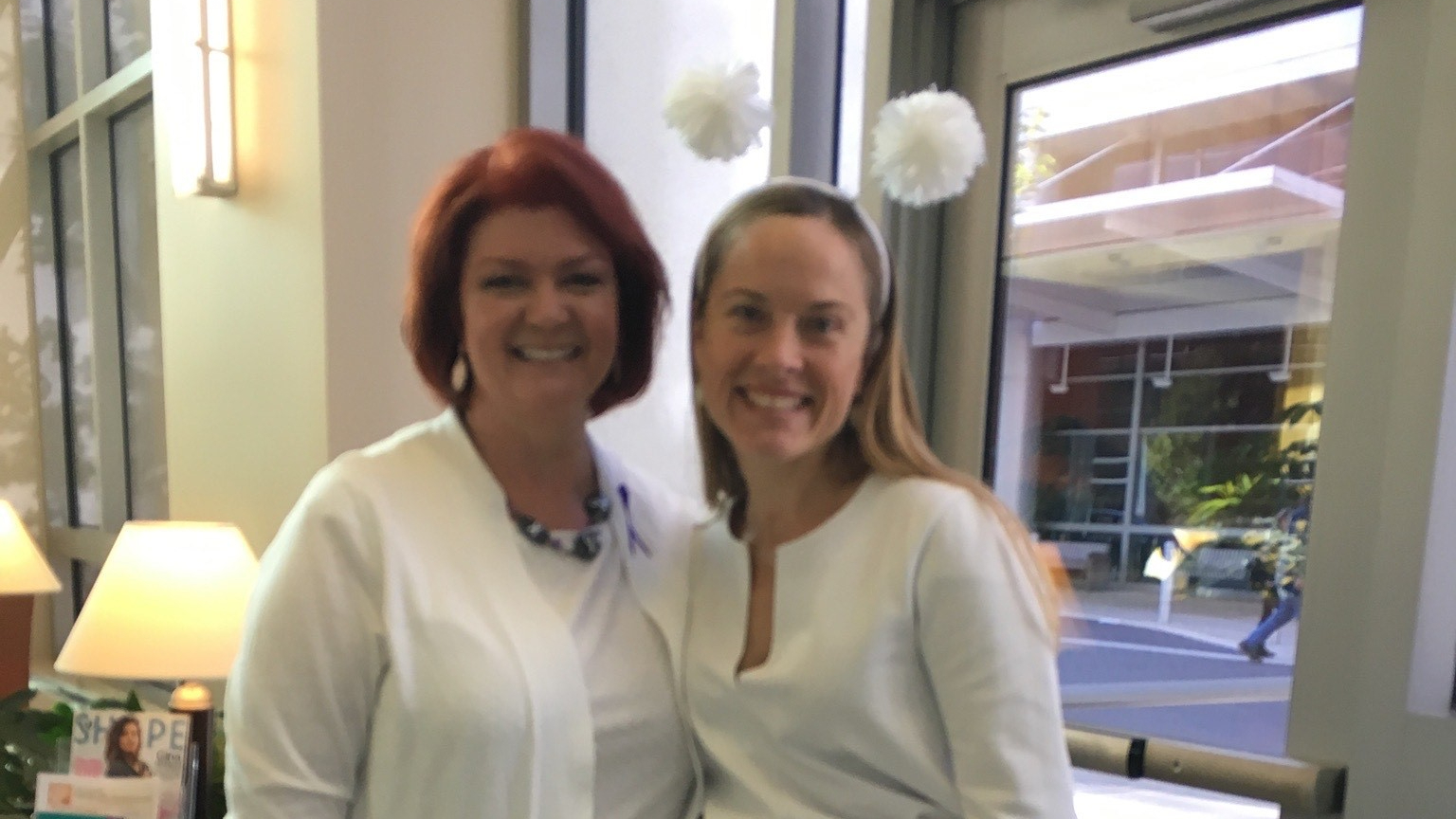 Editor's Note: The photo of Paige and Dr. Mileham was taken before the coronavirus pandemic and may not reflect current health and safety policies.
---
By that time, Paige was well-versed on her disease. A nonsmoker, she had been diagnosed with metastatic non-small cell lung cancer – incurable – in April 2017. Despite testing, a driver mutation (more commonly identified in young, female, nonsmokers) in the cancer was not identified. Additionally, the tumor did not express immune markers. However, immunotherapy administered in combination with chemotherapy had just been FDA approved. The treatment resulted in an excellent and durable response, allowing Paige to participate in events with her daughter.
But her health took a turn in 2019, shortly after a trip to Italy. The maintenance treatment was no longer effective, and the cancer returned. Despite attempts to reassess for driver mutations, tissue was not available for biopsy and blood was negative for mutations that would allow for targeted treatment by mouth rather than through the vein. Thus, traditional chemotherapy was started. "No more treatments were working," Dr. Mileham says. "We tried multiple chemotherapy regimens without benefit. Not only was the cancer growing, but she was getting sicker from the cancer progression and the treatment side effects."
"We had multiple conversations about life, quality of life, and end-of-life. Things were getting very bad."
Older and wiser, but sick again
When she was 23 years old, Paige was diagnosed with Hodgkin's disease, an experience that helped steel her 23 years. She went through two dozen chemotherapy infusions and had only a 30% chance of relapsing. The end of her treatment moved farther and farther in the past, with several good checkups over those years.
"I felt like, 'OK, I'm doing well,'" she says. "'I don't have to worry about it as much.'"
Life was much different when the lung cancer was diagnosed. No longer a carefree woman in her 20s, now Paige had a husband and 12-year-old daughter. When a pulmonologist uttered "stage IV lung cancer" and "terminable," Paige wondered how to tell her family.
"My daughter was a little kid," she says. "I told her I have lung cancer and I'm going to die from it, but I don't know how soon or how long. Of course, there were lots of tears that weekend."
Paige's pathology didn't reveal any changes in the tumor that would benefit from new targeted treatments. But she received unexpectedly good results from a combination of chemotherapy and immunotherapy.
"In 2017, we knew that most people who responded to immunotherapy had the immune marker PD-L1 expressed on the tumor," Dr. Mileham says. "Paige's tumor had zero. Yet despite that, she had a complete response to the treatment."
But deep in her heart, Dr. Mileham knew something about this cancer was different and really yet to be identified.
For a change, bigger leads to better
A major problem for Paige reads like a typo: Her tumor was too small.
"It's kind of weird to get excited that a tumor grows bigger," Dr. Mileham says. "I can't tell you the sense of relief I felt." The ongoing cancer progression made one tumor large enough and accessible enough to allow for a fresh tissue biopsy that previously couldn't be done. And liquid biopsies had thus far been unrevealing.
Meanwhile, Paige had become unsteady on her feet and all her hair had fallen out – eyebrows and eyelashes included. "I looked bad," she says.
The biopsy occurred in January and the tissue was sent for comprehensive biomarker testing. The results would not be back for a few weeks. "I was on pins and needles," Dr. Mileham says. "I didn't have any other cancer specific treatment to offer Paige. It was either going to be hospice or something based on findings from the biopsy."
Dr. Mileham found exactly what she hoped for – not just a target for a next treatment, but a well-established driver mutation in the tumor that has multiple effective and well-tolerated FDA-approved treatments against it. The tumor contained an ALK rearrangement which is identified in about 3-5% of non-small cell lung cancers. Now, Paige had a treatment, one that is a pill taken daily, and she could defer any discussion of hospice.
Dr. Mileham stared at the report, stared some more, and took a deep breath. She called to confirm the outcome. She used a different test in her lab to verify the results. "I had two different tests providing the same results before I told Paige," she says. "I needed so much reassurance and had to make sure everything was in line."
Paige and her husband were in the room when the two health professionals entered. Dr. Mileham handed over the report and Paige saw "ALK" and "actionable" atop the second page. She realized the significance instantly.
"It meant there's a treatment," she says. "That's the good type of lung cancer, one of the gene rearrangements they know more about and have quite a few drugs for."
Everyone started to cry. "I was happy to receive the news, but I was also happy for Dr. Mileham and Elizabeth," Paige says. "They got to tell somebody something good, which they don't get to do that often."
"It's really important for all of us to have positive experiences and be able to share the joy," Dr. Mileham says. "It's still cancer; a metastatic, not curable cancer. Yet, when you celebrate these moments, you want to share it and uplift everyone involved: the patient, a caregiver, and your own team members."
"We all share in those moments. And this one was really special."