In March 2017, Atrium Health Levine Cancer Institute (LCI) launched the first-of-its-kind mobile lung cancer screening unit. This groundbreaking vehicle is designed to make lung cancer screening accessible to everyone who is considered high risk for lung cancer— no matter who you are or where you live. The first vehicle – a 35-foot custom-built unit complete with a low-dose CT scanner, has become a life-saving way for rural communities to access screenings that they might have never accessed otherwise.
Due to the success of the first unit, along with the high demand for screenings of high-risk patients in communities without access to this level of care, Levine Cancer Institute leaders decided to add a second vehicle to its fleet, doubling efforts to give vulnerable communities the resources they need to take on lung cancer — the deadliest form of cancer.
"One of the tricky parts of lung cancer is spotting the symptoms," says Darcy Doege, RN, a nurse at Levine Cancer Institute and mobile lung unit program coordinator.
That's why screening is so vital, adds her colleague Mellisa Wheeler, director of disparities and outreach at Levine Cancer Institute. And there are unique, at-risk populations that may need screening but do not qualify under current national guidelines. The LCI team will deploy the new mobile lung unit to conduct targeted research for these special populations, such as those with high occupational risk or those individuals demonstrating high smoking rates but falling under the current recommended screening age of 55.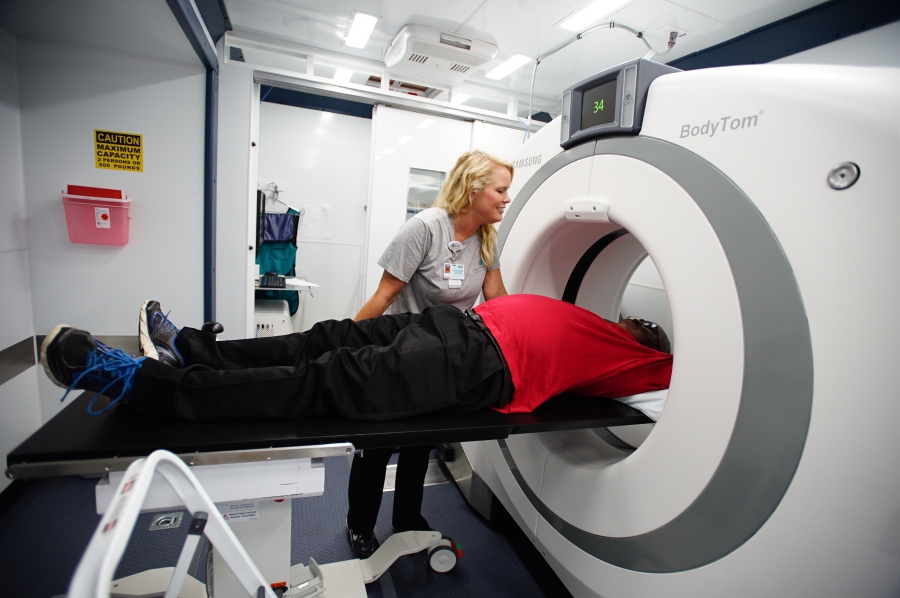 Reaching new communities
The national lung cancer-screening guidelines urge all smokers (or former smokers) between the ages of 55 and 74 to get a yearly low-dose CT scan. Most state Medicaid programs cover this screening for smokers in this age range, making it easier for people to catch lung cancer early.
"But lately we've found the age of lung cancer diagnosis is creeping down," says Doege. "There just isn't a lot of research validating 55 as a hard stop for screening." To explore this idea further, the LCI Outreach team has set up an under-55 clinical trial that targets patients in the Carolinas who are under 55 but not getting screened.
"A lot of people outside of the standard age range have reached out to our program," explains Wheeler. For instance, Doege and Wheeler recently spoke with a 50-year-old who was diagnosed with lung cancer but hadn't qualified for screening. The lung bus wants to reach these kinds of patients — and promote the idea that the age to begin screening is ready to be lowered.
Shifting the screening status quo
Age isn't the only area where screening guidelines could be adjusted. Currently, cancer screening guidelines aren't impacted by occupation. For an at-risk group like firefighters, this can be dangerous. Research indicates those in the fire service are at a significantly increased chance of cancer, including respiratory cancer, due to toxic exposures in the field. Yet, given the low prevalence of smoking amongst those in the occupation, most will never qualify for lung cancer screening under current guidelines. So how can the medical community make sure men and women in the fire service are getting the specialized care they need?
The health of firefighters is a cause that's gaining more and more attention. Several states, such as New York and Alabama, are passing new legislation that is drawing attention to firefighters who aren't receiving adequate care — but more work has to be done.
As more stories from firefighters struggling with lung conditions come out, the need for proper care and prevention only becomes more urgent. "Levine Cancer Institute is trying to shift the needle like other researchers to show that earlier detection and screening guidelines need to be adjusted for firefighters," says Doege. In effort to reduce the cancer burden and increase protections for those who serve, the Outreach team is preparing to launch a research study examining the correlations between the occupation and a cancer diagnosis across the state.
Screening is just the first step
Reaching these communities starts with "boots on the ground" education. Doege, Wheeler and their team have worked hard to make sure these communities are aware of the importance of screening — and understand the lung bus's unique ability to provide low-dose CT screening, free nicotine replacement therapy, tobacco cessation, free head and neck cancer screening and crucial follow-up resources.
Because in the end, screening is only one piece of the puzzle. The other essential part is care. That's why the lung bus team offers onsite counseling that educates patients and ensures they know what follow-up care is needed, why it's needed and how to access this care.
"Because we're mobile, we're reaching people who otherwise would not be diagnosed," explains Wheeler. "At the end of the day, we're wrapping our arms around vulnerable populations and making a positive impact."