Shavonda Courts is now a healthy, 35-year-old mom who lives in Charlotte. But that wasn't always the case. Shavonda was only 28 years old when she was first diagnosed with breast cancer, although she had no family history of the disease. After successfully completing treatment, Shavonda thought her breast cancer ordeal was over.
Some surprising news, times two
Five years after her original diagnosis, Shavonda was feeling good, and she and her husband were starting to try to conceive. But then Shavonda felt another lump in her breast. She went to see Jessica-Lyn, Masterson, MD, her oncologist at Levine Cancer Institute (LCI), who confirmed that her breast cancer had come back. But there was more news.
"I found out I was pregnant at the same time I was told my breast cancer had come back," Shavonda says.
A coordinated treatment plan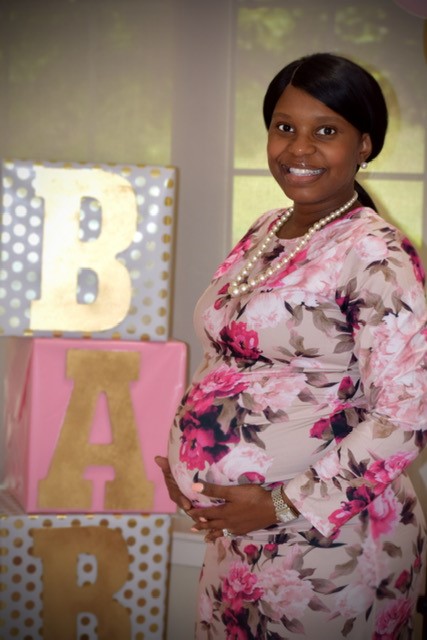 Shavonda's medical team included her oncologist, her regular OB/GYN, a maternal fetal medicine doctor who specializes in high-risk pregnancies, a surgeon, and a plastic surgeon — plus the nurses and office managers who made sure all of Shavonda's care was coordinated seamlessly.
"I would head to the maternal fetal medicine office at the Atrium Health Women's Institute, then head over to LCI for my treatment," Shavonda explains. "I had to wait until I was 16 weeks along before I could have chemotherapy. But then, even though I was pregnant, I didn't have too many side effects. I had a great support system — I always felt 100% taken care of. My husband came to every appointment, and I was in a doctor's office at least four times a week."
Lorene Temming, MD is a maternal fetal medicine physician at Atrium Health's Women's Institute who was Shavonda's high-risk OB/GYN. Atrium Health has the only maternal fetal medicine specialists in the Charlotte area and the robust team provides state-of-the-art high-risk maternity care services with maternal-fetal specialists, sonographers, genetic counselors and more.
"Shavonda was a special case because she'd already had breast cancer once before," says Dr. Temming. "She required very close follow-up and coordination of care, and I saw her frequently from early on in her pregnancy. She had a type of cancer that was sensitive to the hormones in pregnancy, which made the pregnancy more risky. Proper care and follow-up were extremely important. We had to time everything precisely – from when to give her the chemotherapy, and what kind, to when she received radiation and surgery."
Shavonda's medical team gave her a type of chemo that was relatively low risk for her to have while pregnant, and they started and stopped the treatments at optimal times to ensure that Shavonda and her baby were both healthy and safe. Dr. Temming and Dr. Masterson wanted Shavonda to finish up her last round of chemo three to four weeks before she delivered, and to induce her between 37 and 39 weeks.
"We were also monitoring her with ultrasound and visits for signs of preterm labor, which she was at high risk for," says Dr. Temming. Shavonda's team also had to give Shavonda additional medications and treatments as necessary to keep her side effects under control and make sure she and the baby remained healthy. At various points, Shavonda received medication to decrease her nausea, steroids, and a blood cell transfusion. "We have a great wealth of different specialists here at Atrium Health to help take care of the multiple issues Shavonda experienced," says Dr. Temming. She adds, "I have to give a lot of credit to Dr. Masterson, Shavonda's oncologist. All of the chemotherapy management was done under Dr. Masterson's supervision, and Dr. Masterson went way above and beyond when it came to coordinating all of Shavonda's care during her pregnancy, before her surgery."
Dr. Temming herself was pregnant while she was treating Shavonda, and gave birth to her own baby girl shortly before Shavonda had her daughter, further cementing the close bond between doctor and patient. Over a year later, they still keep in touch!
A successful delivery, followed by more cancer treatment
At 38 weeks, Shavonda was induced and was able to deliver her daughter at Atrium Health Carolinas Medical Center. She stayed in the hospital for five days and was reassured that her daughter, Eva, showed no signs of cancer.
"When I met Shavonda, she'd already had breast cancer in her left breast at age 28, which is incredibly early," recalls Lejla Hadzikadic-Gusic, MD, MS, Shavonda's breast surgeon at LCI "Only 6% of breast cancers occur in women under the age of 40. Then, at the time of her recurrence, she was 34 and pregnant. Breast cancer occurs only in about one in every 3,000 pregnancies, so it's pretty unusual."
As with all of Shavonda's care, her surgery was carefully coordinated among an interdisciplinary team, which Dr. Hadzikadic-Gusic says is "really the hallmark of Levine Cancer Institute." Shavonda's surgery following the birth of her daughter was coordinated between Dr. Hadzikadic-Gusic and the teams in maternal fetal medicine, oncology, and plastic surgery. "We all communicated with each other on a regular basis so that we really could make sure everything went smoothly," she says.
Shavonda had a double mastectomy to address the cancer in her left breast and as a preventive measure for her right breast. This was followed by radiation therapy and additional surgeries to ensure that Shavonda was cancer-free.
Levine Cancer Institute also has a special resource, called Sandra Levine Young Women's Program, for women under 40 who have breast cancer, as they have a set of unique needs that are different from post-menopausal women with breast cancer. The program includes a support group, educational sessions, and a "buddy system" where women are paired up with someone their age who has gone through a similar diagnosis and treatment.
"Having breast cancer is an incredibly stressful experience, and pregnancy, while enjoyable, can also be stressful," says Dr. Hadzikadic-Gusic. "But Shavonda went through the whole experience with as much grace as a person could possibly have. She has an incredibly special and positive attitude about everything."
Shavonda and Eva are healthy and happy
Now, Eva is a happy and healthy one-year-old.. "Developmentally, she's exactly where she's supposed to be. She's moving and grooving!" Shavonda says.
Shavonda advises anyone with breast cancer concerns, "Always trust your gut, even if it scares you. Getting to a doctor right away saved my life and my daughter's life."