Healthy eating is crucial, it's simple and it's for everyone.
Elaine Jones, RDN, LDN, the community engagement manager at Atrium Health Sanger Heart & Vascular Institute, devotes her career to those three ideas. She wants more people to know that nutritious eating doesn't rely on complicated diets or high-end food stores. She hopes people understand that what they eat has a direct consequence on how they feel. And she believes that everyone deserves to eat – and to feel – well.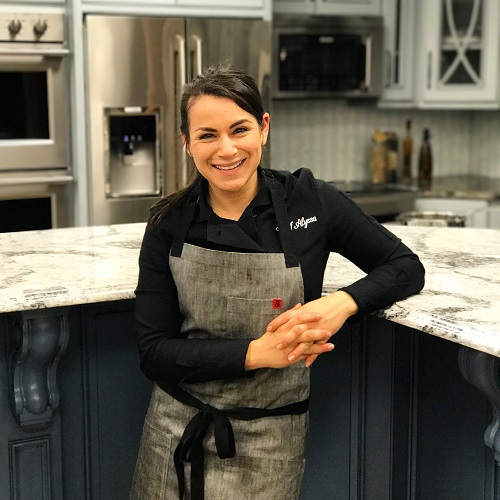 Here, she partners with Alyssa Wilen – known to Charlotte as Chef Alyssa – to share creative approaches to healthy eating. Wilen and her husband Andrew run Chef Alyssa's Kitchen, which teaches people how to cook with wholesome ingredients, whether they're new to cooking or looking for their next culinary adventure. They also offer to-go family meals made with seasonal, local ingredients. Both Jones and Chef Alyssa's Kitchen share a message: Healthy eating is crucial, it's simple and it's for everyone.
Here, Jones and Chef Alyssa share more about these endeavors with us – and even a heart-healthy recipe from Chef Alyssa that you can try at home.
---
Question 1: How do you encourage healthy living?
Jones: At Sanger, we help patients understand the power of food to be used as medicine and in the prevention of chronic disease, like heart disease. It can come down to simple changes that everyone should be able to make.
In this world of technology, a lot of people feel that they need to figure healthy eating out on their own and look things up themselves. It becomes overwhelming – it's hard to know where to start and whom to believe. There are a lot of people passing themselves off as experts, but their suggestions are so complicated and often financially unrealistic for the general community. We can work with patients to break nutrition down simply, even if it's just discussing two options and talking about which is the healthier option and why.
Chef Alyssa: Being healthy isn't about taking a drastic approach, especially with cooking. It's about taking a series of small steps. How I think about healthy food is about wholesomeness… about using whole ingredients and nourishing ingredients.
We teach all kinds of cooking skills, and the classes are certainly health-forward – there's never anything processed or pre-made. We try to make it so that people can get a little bit more comfortable with being uncomfortable approaching something. With all the seasonal classes that I do, I try to make them very healthy, and I can help people conform recipes around certain dietary restrictions they have.
Q2: What are key elements to a heart-healthy diet?
Jones: Every food we eat has an implication or a consequence to our body, good and bad. So when we think of our food choices, we want to err on the side of foods that help more often than the foods that harm. The foods that help us typically have higher fiber, less fat, less sodium and less added sugar. It is easy to get those healthier foods when most of our food selections are foods in their whole, natural forms – not processed or canned.
Fiber acts almost like a waste management system, so increasing fiber can eliminate some of the byproducts of our bad food decisions before they have a chance to absorb into our bloodstream. Decreasing salt can decrease blood pressure, which can decrease how hard the heart has to work. And then, let's add a little physical exercise as well. Even little breaks for exercise are incredibly beneficial.
The education that I and other dietitians at Sanger provide is about realistic, achievable, baby steps. When you combine these steps, you reach your goals.
Alyssa: My first approach when I think about healthy food is: How can I teach people to the skills they need to break down ingredients that might come from a farmer's market? How can people speed up their prep work while using natural ingredients, without looking to convenience foods? Eating healthy is different for everyone, so I help people find substitutions and alternatives because there's a lot of versatility that that you can have in a recipe.
I encourage people to use whole ingredients versus ones that are pre-prepped – let's say, cutting down a clove of garlic versus buying a garlic paste. If they understand that it's going to actually taste a lot better, then they start to have fun with the process. They start to see what exactly is happening with the cooking process – like, 'That food got so much more tender,' or "That is smelling so much different than what I'm used to.' By encouraging these steps along the way, people get excited to cook, and they can do it in a healthy way.
Q3: There are growing needs in the community for easily available nutritious options. How are new services helping to meet this need?
Jones: We will be opening the new Sanger Heart & Vascular Institute – Kenilworth location in April. The new flagship location, located in Charlotte, will have a state-of-the-art demonstration kitchen. With this kitchen, I get to combine my expertise as a dietitian with my passion for addressing food insecurity, nutrition education and community engagement. The on-site demonstration kitchen will feature educational opportunities for our cardiac rehabilitation program, and we'll offer virtual and in-person cooking classes and demonstrations for patients, the public and our employees. We'll include the basics of food preparation, meal planning and access to healthy foods.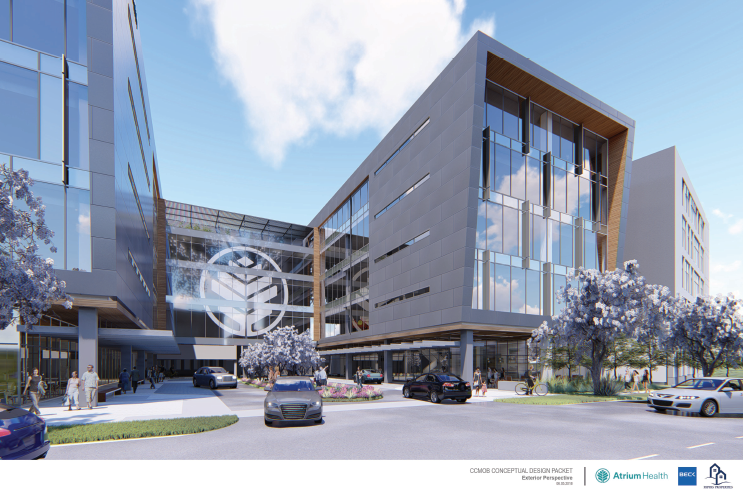 I want people getting away from fast food. I want people to feel the power of their own skills and to know that cooking doesn't have to be scary. I want to educate people on the benefits of developing menus around seasonal products and combining ingredients in easy ways that make healthy cooking achievable, safe and successful.
With virtual events, we can take cooking demonstrations beyond this kitchen. We can release the menu ahead of time, and people can join where they are, whether it's in their house, at a senior center, at their church.
It's part of our larger community outreach effort to find ways to get information out to more people. How do we build upon community relationships to facilitate more educational opportunities? We're really trying to eliminate barriers to healthier eating and healthy lifestyles.
Chef Alyssa: More farmer's markets are opening, and they're becoming more widespread – like Camp North End is going to get a farmer's market. In Charlotte, it's getting so much easier to find farmer's markets that accept SNAP benefits. So it's making healthy foods more accessible.
Through Chef Alyssa's Kitchen, we have really strived to make our to-go meals affordable for families, to create meals that are really well sourced, have great ingredients, and will feed families well. We also have affordable virtual cooking classes that have been pre-recorded that people can choose from and watch.
Q4: In what other ways does Atrium Health address food insecurities in the community to bring more people access to healthy choices?
Jones: The Kids Eat Free program is our summer food service program. Its goal is to ensure that any child in need aged 18 years and younger has access to a healthy breakfast and a healthy lunch during the summer when those free and reduced school meal programs are not available. There is much to be gained for providing these children with hot meals with a variety of fruits and vegetables – we are exposing these children to new foods.
And we're giving educational information to them as well, like about the 5210 program, for example, that encourages them every day to eat five servings of fruits and vegetables, have fewer than two hours of recreational screen time, get one hour of physical activity, and have zero servings of sweetened beverages. We also use this program to connect families to community resources, mental health resources and even their local library. The Kids Eat Free program is not just about the food, it's about caring for the whole child and the whole family.
---
Moroccan Spiced Chicken Braised with Carrots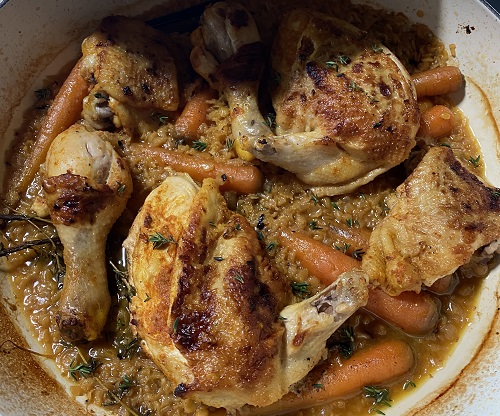 Serves 4
2 lemons
2 to 4 Tbsp. olive oil
Salt and black pepper to taste
1 whole chicken, broken down into breast, thighs and legs OR 2 pounds chicken thighs, bone-in and skin-on
3 garlic clove
1 ½ tsp smoked paprika
1 tsp cumin
1 tsp coriander
½ tsp ground turmeric
1 shallot, finely minced*
½ cup dry lentils
1 pound carrots, baby or large ones sliced to ¼" thick
1 cup chicken stock
1 cinnamon stick or 1 tsp ground
6 to 8 fresh thyme sprigs
Preheat oven to 375°F.
Place the lemons in a sheet tray and drizzle with enough olive oil (about 1 Tbsp.) to coat and sprinkle with salt and pepper. Place in the oven for about 15 minutes, until very soft and the skin becomes golden brown in places. Remove from the oven and set aside to cool. Reduce the oven temp to 325°.
Trim the chicken of excess fat. Pat dry and run your fingers under the skin to separate. Set aside.
Once the lemons are cooled, pierce each one with a paring knife and squeeze the juices and pulp through a mesh strainer and into a bowl. Be sure to scrape the juices from the tray into the strainer as well, the caramelized lemon is amazing! Press the lemon through the mesh strainer until all you have left is the seeds.
Using a microplane to grate the garlic (or a garlic press) add it into a bowl with the lemon, along with the paprika, cumin, coriander, turmeric and a pinch of salt and pepper. Mix to make a paste.
Coat the chicken with the spice mix, making sure to get it mostly under the skin. Allow to sit for 30 minutes.
Using a heavy-bottom and oven safe shallot pot or pan such as a cast iron skillet, heat the remaining olive oil in the pan over medium heat for 3 to 4 minutes. Once warmed through and beginning to develop smoke, place the chicken in, skin-side down, and allow it to cook for about 5 minutes, until golden brown. Remove and place the chicken onto a separate tray and set aside. Note: the chicken won't be fully cooked, only partially on the skin.
Add the shallots to the pan and stir with a wooden spoon to sweat and sweeten.
Add the lentils and carrots and allow them to toast in the oils of the pan for a minute or two.
Pour in the chicken stock as well as the thyme and cinnamon stick. Turn off the heat in the pan and place the chicken in, skin-side up.
Cover the pan and place in the oven for 30 minutes. The chicken will become tender and the lentils and carrots will fully cook.
Before serving, remove and discard the thyme and cinnamon stick.
*You can substitute a half yellow onion finely diced.
---
Learn more about heart care at Sanger Heart & Vascular Institute. For information on cooking classes and to-go family meals from Chef Alyssa, visit Chef Alyssa's Kitchen.