When you're facing a cancer diagnosis, you're not just coping with the physical effects of the disease. Cancer impacts many areas of life for patients and their families, including work, finances and mental health. Even in survivorship, you may continue dealing with challenges in these areas.
To cope with ongoing challenges, patients and their families deserve care that focuses on the whole patient. Cancer experts from Atrium Health Levine Cancer Institute's Department of Supportive Oncology have found that incorporating pain and symptom management into the treatment plan can help patients feel better and even improve outcomes.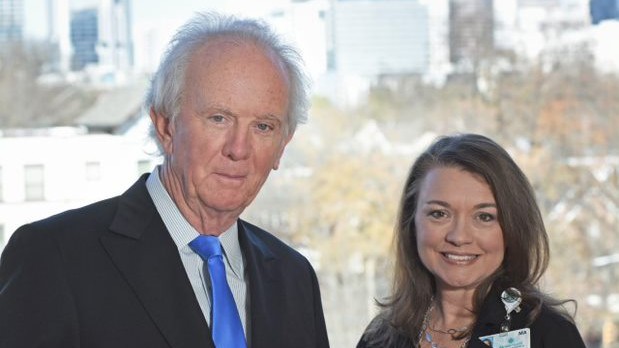 "We now realize that applying palliative techniques in the early stages of disease can change the outcome of the illness," explained Declan Walsh, MD, chair of Levine Cancer Institute's Department of Supportive Oncology. "We've seen these supportive oncology techniques like patient navigation and nutritional support increase survival, improve surgical outcomes, reduce the number of hospitalizations and improve satisfaction for patients and families."
While supportive oncology isn't new, it's not as established as some areas of medicine – both inside and outside the U.S. To keep up with the demand for supportive care, experts with the Department of Supportive Oncology have established 4 fellowship tracks to provide physicians and clinicians the skill sets and techniques needed to deliver patient-centered cancer care.
"Our new training programs bring groundbreaking opportunities and synergies to the field of supportive oncology," revealed Beth York, administrative director of the Department of Supportive Oncology. "In fact, our new Supportive Oncology Fellowship is the only one of its kind." We are thrilled to have Dr. Walsh, an internationally renowned physician, researcher and educator, at the helm of our new programs."
The department is now seeking fellowship applicants who are graduating from an accredited program and will be eligible to practice medicine in North Carolina. "We're looking for dedicated, passionate people who want to further the emerging discipline of supportive oncology," said York.
Diverse training in clinical care and program management
The Department of Supportive Oncology is launching 4 new fellowship tracks over the next 2 academic years:
Summer 2021: Supportive Oncology Fellowship and Psycho-Oncology Fellowship
Summer 2022: Cancer Rehabilitation Fellowship (in partnership with Carolinas Rehab) and Hospice and Palliative Medicine Fellowship (in partnership with Carolinas Hospice and Palliative Care Group)
The Hospice and Palliative Medicine Fellowship is accredited by the Accreditation Council for Graduate Medical Education. "For physicians who want to enter the field, it's important to have an accredited specialty qualification," explained Dr. Walsh. "By committing to the Hospice and Palliative Medicine Fellowship followed by the Supportive Oncology Fellowship, physicians can become board certified in hospice and palliative care and become leaders in the multidisciplinary field of supportive oncology."
The training programs are structured to provide experience in multiple areas of clinical activity under the supervision of experts in the multidisciplinary field of supportive oncology – all within a single department. The programs also include teaching opportunities, research projects and elective time for trainees to further explore a specialty of their choice.
According to York, many other training specialties focus on medical care without considering how environmental and programmatic developments impact patient care. "Our well-rounded fellowship programs help trainees understand how to fit in with modern healthcare systems that include virtual and pathway-driven care," York said. "By teaching vital program management skills, our trainees not only learn how to take better care of patients medically but also how to build successful supportive oncology programs at other institutions."
Integrated services from a single department
Over the past decades, the award-winning Department of Supportive Oncology has developed care techniques that focus on reducing the physical suffering in patients while considering the psychological, social and economic impact of cancer. The department also provides integrated services in a centralized manner to improve patient care.
"Our department is the first in the U.S. to bring all specialized cancer services into 1 clinical and administrative unit within a cancer institute, putting supportive oncology at the same level of other traditional oncology departments, including hematology oncology, radiation oncology and surgical oncology," Dr. Walsh noted. "This unique structure helps us deliver integrated services in a way that focuses on treating the whole patient, not just the cancer."
As the department continues to grow, both Dr. Walsh and York anticipate additional educational development and strategic opportunities. "With the advent of the new medical school in Charlotte, we'll likely have fellows enrolled in the school who can share information they're learning with their colleagues and educators," Dr. Walsh noted. "This could have a ripple affect across healthcare in multiple disciplines, including nursing, nutrition and pharmacy."
Learn more
To learn more about supportive oncology services at Atrium Health, visit the Department of Supportive Oncology page or email LCISupportiveOncology@AtriumHealth.org.