Skip Navigation
Weather Alert:
Some locations may be closed or opening late.
View a list of our closings and delays
.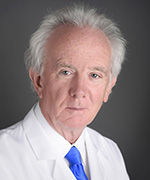 Chair of the Department of Supportive Oncology
Levine Cancer Institute
A pioneer in palliative medicine, Dr. Walsh is an internationally renowned physician, researcher, educator and administrator. He developed the first palliative care program in the United States. Before joining Levine Cancer Institute, Dr. Walsh served at the Cleveland Clinic in senior leadership positions. In 2017, he assumes the position of editor-in-chief for the BMJ Supportive and Palliative Care journal. In recognition of his achievements, he received the John Mendelsohn Award from MD Anderson Cancer Center, a lifetime achievement award from the Multinational Association for Supportive Care in Cancer and a Visionary Award from the American Academy of Hospice and Palliative Medicine.
EDUCATION
Medical school
University College, Dublin
Fellowship
Memorial Sloan-Kettering Cancer Center
Specialty: Medical oncology/pharmacology
Other education
Master of Science
University of Newcastle
BOARD CERTIFICATIONS
American Board of Internal Medicine
American Board of Internal Medicine – Medical Oncology