Advanced, specialized heart care at Atrium Health Sanger Heart & Vascular Institute has been made even more accessible thanks to a newly renovated vascular lab located in Atrium Health's Carolinas Medical Center, which opened November 10.
According to Dr. Frank Arko, chief of vascular and endovascular surgery at Atrium Health Sanger Heart & Vascular Institute, the newly updated vascular lab aims to improve outcomes for patients and decrease the need for major surgery.
"It gives us great satisfaction to offer this updated lab to patients in the greater Charlotte region," says Dr. Arko. "The advanced technology will increase efficiency, allow us to transmit case education to a global audience, and foster a safer, more comfortable environment for families who come in."
The new equipment will specifically benefit those with vascular disease such as leg perfusion, aneurysms, deep vein thrombosis, pulmonary embolism, and more.
"The updated software will allow us to better evaluate these issues pre- and post-procedure," says Dr. Arko. "In the long run, this helps guide therapies necessary in salvaging those at risk for diabetes-related outcomes, such as limb loss."
Patients who visit the newly renovated space will benefit from a spacious room with comfortable lighting and receive any necessary imaging with fiber optic technology instead of radiation. This type of advanced technology is among the first of its kind in the region, and now available close to home for Charlotte and surrounding communities.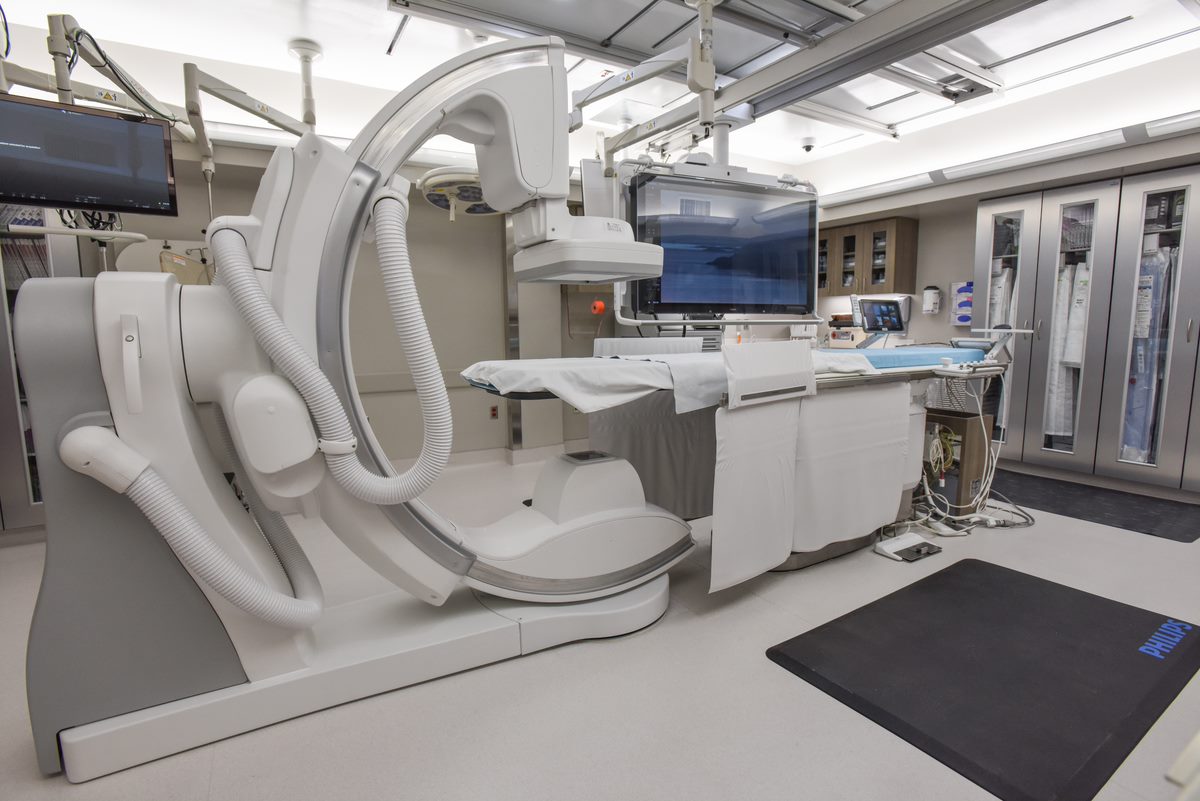 "One major benefit of the lab's upgraded technology is that our patients and staff will experience minimal radiation during treatment," adds Dr. Arko. "Our physicians, nurses, radiologists, and technicians will benefit from these changes, and in an environment where a more efficient workflow is priority."
Updates to the vascular lab include:
New Philips Volcano IntraSight Integrated Ultrasound: this equipment offers advanced imaging and visualization that enables care teams to clearly identify coronary and peripheral artery disease and develop specialized care plans for each patient.
New Philips Azurion Fluoroscopy System: a type of advanced imaging tool that allows care teams to view real-time moving images of a patient's vascular system.
"This equipment will allow us to lean on minimally invasive surgeries where applicable," says Dr. Arko. "This means shorter hospital stays, less recovery time and a more comfortable experience for our patients."
To learn more about heart and vascular care at Sanger Heart & Vascular Institute, visit online.