Scott Plassman always led an active lifestyle – he grew up running cross country and playing basketball. Scott, who is now 66 years old, was still running almost daily up until he unexpectedly suffered from a heart attack in 2018. After recovering, he still walked several miles a day and made it a priority to play golf regularly. He describes himself as "someone who can't sit still." It seemed like nothing could really slow Scott down – until the hip pain started.
Hip pain nearly stopped Scott in his tracks
In November 2021, Scott started having pain in his left hip. He tried to relieve the discomfort using over-the-counter pain relievers and massage, but his hip kept bothering him. He finally made an appointment at Atrium Health Musculoskeletal Institute, where he saw a physician assistant and underwent an X-ray that showed he had arthritis in both hips, particularly the left one. An MRI provided further insight into Scott's condition, revealing that he didn't have much cartilage left in his hip socket.
"I was told I was probably going to be a candidate for hip replacement. I just thought, well, that's for older people," says Scott. "I thought I was too young." He tried some non-surgical options, including physical therapy and needling (a procedure similar to acupuncture that can help relax muscles), but the pain persisted.
Seeking more advanced care
Scott was soon referred to Kevin Weiss, DO, an orthopedic surgeon at Atrium Health Musculoskeletal Institute who specializes in hip and knee replacement surgery, including direct anterior hip replacement surgery.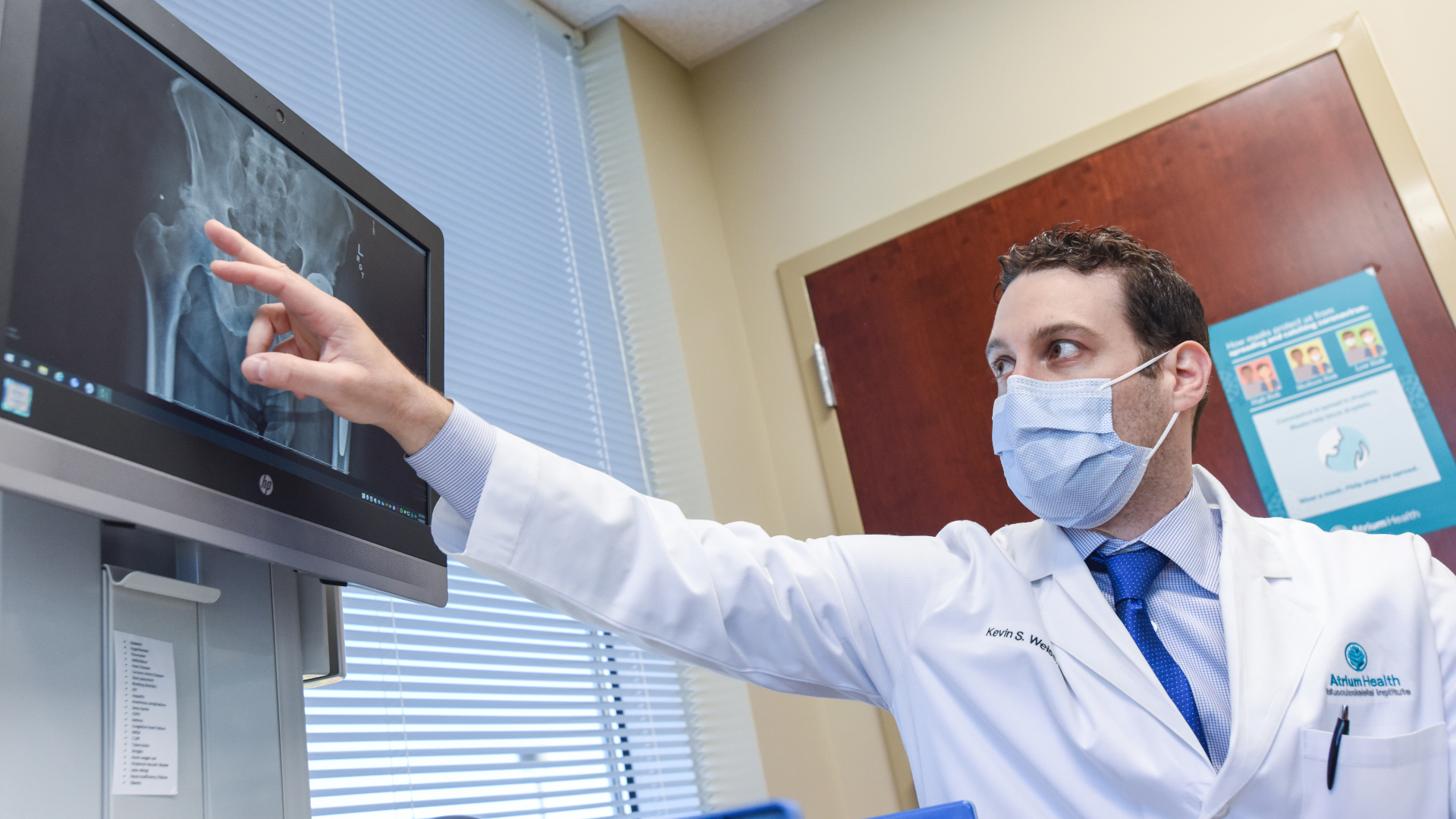 Scott received a steroid injection in his hip to help him manage his pain. It provided relief, but the relief only lasted about four weeks.
"By that point, I couldn't walk, and playing golf was painful," recalls Scott.
According to Dr. Weiss, "We tried conservative treatments at first, but these treatments couldn't fix Scott's condition permanently, they could only manage it. To truly fix Scott's hip, anterior hip replacement surgery was the best option."
Scott says Dr. Weiss never pushed him to choose surgery, saying the decision was up to Scott, but he made Scott feel comfortable by providing with him a lot of information about what to expect. Scott had done his own research as well, and felt that Dr. Weiss had the experience and training that would ensure the best possible results.
What is anterior hip replacement surgery anyway?
Anterior hip surgery is a minimally invasive approach to hip replacement surgery.
"During this surgery we don't cut into the muscles, but rather, we go between them to gain access to the hip joint in the front of the hip," explains Dr. Weiss.
This type of surgery allows the surgeon to replace the femur head ball and remove the damaged part of the ball and cartilage in the hip. Most patients who undergo anterior hip replacement surgery respond well to it and can walk and go home the same day as the surgery.
But because anterior hip surgery is a newer approach to hip replacement surgery compared to posterior hip replacement surgery, fewer surgeons specialize in the procedure. Dr. Weiss, along with Atrium Health orthopedic surgeon Matthew Duffin, MD, are among the few surgeons in the South Charlotte/Rock Hill area who are fellowship trained in anterior hip replacement surgery.
A successful outcome
The day of his surgery, Scott was nervous, but Dr. Weiss and his entire staff put Scott at ease, answering all his questions and making sure he felt comfortable at all times. Scott's surgery went just as planned, and he was able to go home the same day.
"I see a lot of patients who are apprehensive about hip replacement surgery," says Dr. Weiss. But once they understand how much the surgery can help them, they'll often agree to it and are pleased with the outcome.
In Scott's case, he had little pain after the surgery, and he saw results very quickly. "I was moving around right away," he says. Scott used a walker for a few days, then graduated to a cane, and was back to walking on his own in a matter of days. He diligently performed the post-surgery exercises he was assigned to do, and followed up with physical therapy with Atrium Health. Now, he's back to walking 2 miles a day, playing golf, and chasing his grandson around.
"I can't say enough nice things about Dr. Weiss and his professionalism and skill. It was just incredible," says Scott. "I would recommend this type of surgery to anyone who's a candidate for it."
The Musculoskeletal Institute includes orthopedic and sports medicine physicians, PAs and nurses who work collaboratively to provide multidisciplinary care as well as research and teaching. Learn more about hip replacement surgery and the services offered by Atrium Health Musculoskeletal Institute