Cheryl Saffles woke up around 2 a.m. on March 15 with contractions. Things were progressing quickly, and by 3 a.m. the nurse from Cheryl's OB/GYN practice told her to make her way to the hospital. While Cheryl's husband, Jon, packed the car, she called her mom, who was staying at a nearby hotel – on stand-by for this very moment. When Cheryl's mom arrived forty minutes later to watch their three-year-old daughter, Cheryl and Jon hit the road.
Cheryl, a social worker at the Union County Health Department, and Jon, a teacher at Porter Ridge High School, live in Indian Trail, about 30 minutes south of uptown Charlotte. Cheryl was under the excellent care of the team at Eastover OB-GYN throughout her pregnancy and planned on delivering at Atrium Health Carolinas Medical Center (CMC) in Charlotte. But baby Saffles had other plans.
"We still planned on going to CMC when we left the house, but we realized on the way that we weren't going to make it," Cheryl said. So Cheryl and Jon decided to make a pit stop at Atrium Health Union West. Located just off U.S. Highway 74, and only 10 minutes from Jon and Cheryl's house in Indian Trail, the Saffles say the new Matthews hospital was the perfect haven. "It's kind of a miracle that the hospital was right there," Cheryl said.
A Rapid Arrival
As soon as Cheryl and Jon arrived, the team with Atrium Health Women's Care Creek Pointe OB-GYN, who have a home base at Union West, jumped into action to safely deliver baby Saffles. "We got to the hospital at 3:55 a.m. and we thought we might not make it to a room," Cheryl recalls. "But we made it to the room just in time to start pushing."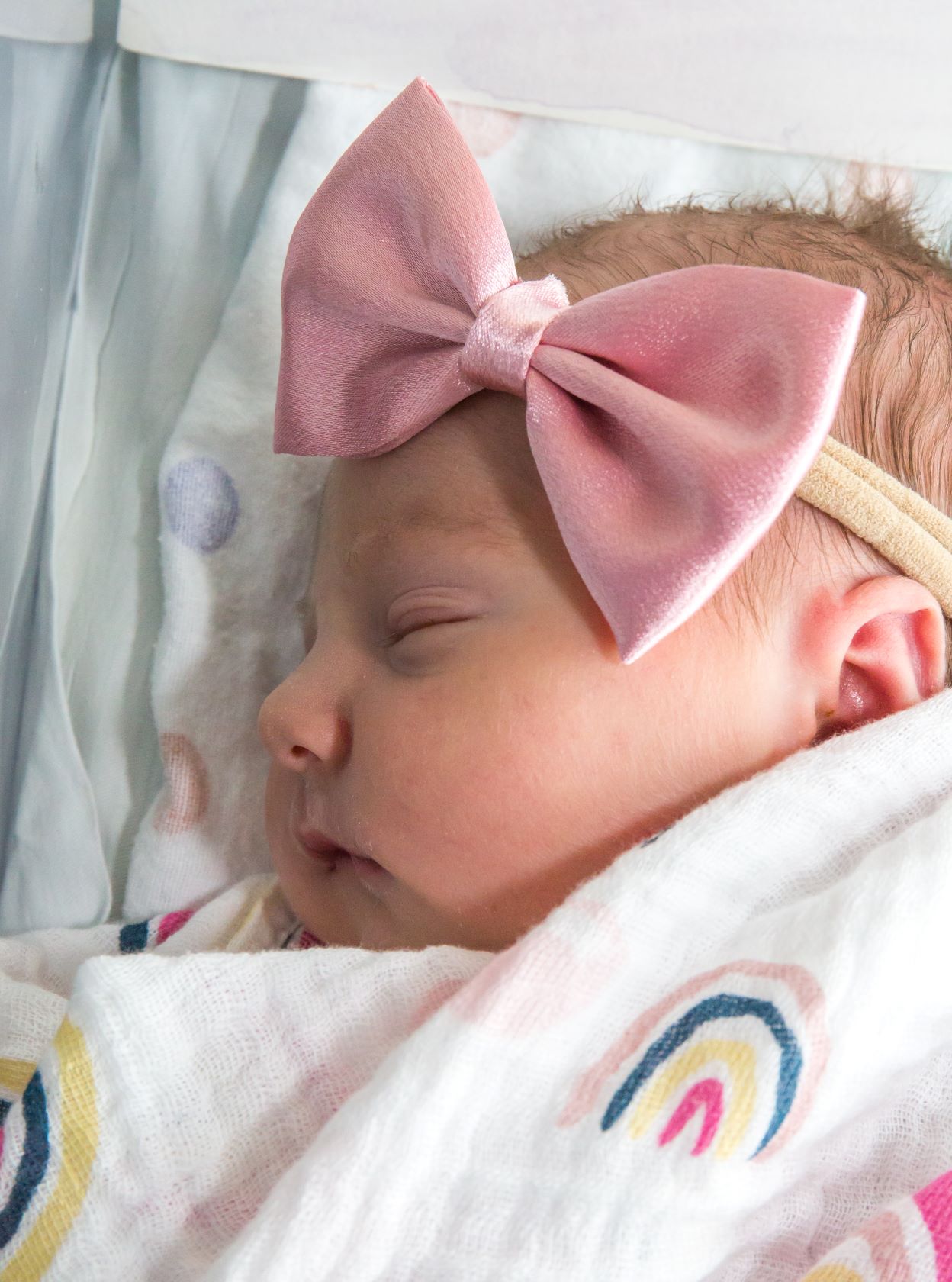 Addilyn Rae Saffles graced the world bright and early on Tuesday, March 15 at 4:27 a.m. measuring 7 lbs., 3 oz. Addilyn is one of the first babies to be born at Union West – and she is the first baby Tamara Meekins, M.D., has delivered at the Union County hospital. Meekins started with Creek Pointe OB-GYN when the practice was formed in 2021. She worked as a general OB-GYN at Atrium Health Union in Monroe for six years and transitioned to an OB hospitalist role with the Creek Pointe practice when she returned to work from having twins.
Meekins says Union West is a special location because it provides access to healthcare between Union and Mecklenburg Counties, including Matthews, Indian Trail and Stallings. "The Saffles family is a prime example of how this hospital bridges the gap between counties," Meekins said. "There's no doubt that we will be able to provide many people critical access to care at this location."
"If we had continued on to CMC, she would have been born in the car," Jon said. "Plus it was nice to be close to home so Jon could check in on our older daughter and grab a few necessities before we brought Addilyn home," Cheryl adds.
Cohesive Care Brings Peace of Mind
For Cheryl and Jon, the unified care was key to a calm, healthy delivery. "The staff was so kind and helpful, which was great for me because it was a scary situation," Cheryl said. She adds that it was reassuring to see the teams working together despite the change of plans – a testament to the cohesive care across the women's care division at Atrium Health. "Everything happened so fast, it was all a blur," Cheryl said. "But everyone worked together and made me feel as comfortable as possible in the moment. The nurses coached me through the birth and were so comforting." Cheryl specifically recalls the support of her care team, including Verona Adams, RN, Solange Doldron, RN and Brittney Horne, RN.
"Labor and delivery can be unpredictable, but our team was able to step into action as soon as we were notified," Meekins said. "We come to work ready for moments like this because we spend years learning how to provide emergency care. This is a standard I feel we strive to uphold across the women's service line at all our hospitals."
Small Touches Make a Big Impact
Next-level care is matched with thoughtful details at the new Union West facility. Each of the six labor, delivery, recovery and postpartum rooms are designed to help moms feel more settled in the same space throughout their stay. The floor-to-ceiling windows and cozy amenities make the stay more soothing for patients and their support person. "Having the labor and recovery room in the same space made the process more comfortable," Cheryl said. "Plus the personalized care was amazing – I felt like the only patient on the floor."
Atrium Health's maternity care extends beyond the delivery room. Fourth trimester support – such as lactation assistance, support groups and pelvic health care – helps moms navigate their new normal. There is also a dedicated maternity navigator to assist new parents in coordinating and scheduling the first follow-up appointments for mom and baby. There is also a 24/7 nurse advice line to help answer questions, day or night. Not to mention Union West's connection to Atrium Health Levine Children's, the region's most awarded children's hospital with eight U.S. News & World Report pediatric specialties, including neonatology.
Little things make a big difference when it comes to caring for a new life. For the Saffles family, it was Union West and the labor and delivery team being in the right place at the right time when baby Addilyn decided she was ready to meet her family.