At Atrium Health, we constantly talk about our "for all" mission. But what does that really mean? Simply put, it means that if someone needs medical care, we won't turn them away, regardless of their ability or inability to pay. Our mission also goes much farther than providing medical care. Some of the most important aspects of health are derived far away from the nearest hospital, clinic or doctor's office. It also includes access to food, housing and economic opportunity.
Atrium Health is widely regarded as the leading and largest health provider in the state, which we are very proud of. We're even more proud of the impact we have within the communities we serve across North and South Carolina, Georgia and Alabama.
Atrium Health is the largest provider of community benefit among all health systems in this region, totaling $2.46 billion in 2021, which is $160 million more than the previous year and our highest-ever community benefit number. Atrium Health's community benefit is also among the highest in the nation, representing 19.1% of our total operating expense – greater than the 10 largest health systems in the nation.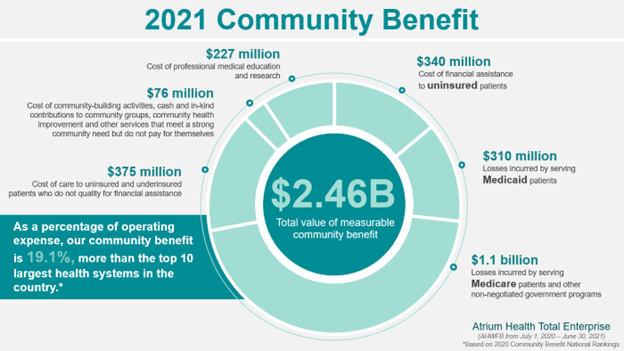 To put that into context, the amount we gave back to our communities is slightly less than the state of North Carolina's annual budget spending for the Department of Public Safety last year. With roughly 7 million people living in our service areas, that's more than $350 per person invested back into the community in uncompensated or under-compensated care and other community benefits!
So, where does all that money go?
In most instances, hospital systems are paid for providing care to patients on a government-funded health care program, such as Medicare or Medicaid. But, the fact is, that this payment does not cover the actual cost of providing that care. Last year, Atrium Health incurred $1.1 billion in losses serving Medicare patients and other subscribers to non-negotiated government programs. As the largest Medicaid provider in the state of North Carolina, we provided $310 million in under-compensated care for Medicaid patients. Because of the non-negotiable rates paid by government payers, Atrium Health is largely a price-taker, not a price-maker.
Not everyone has access to or is eligible for health insurance coverage, but our for all mission calls on us to provide care when it's needed to them too. Atrium Health has a generous financial assistance program in place designed to help those patients with charity care, discounts and no-interest and low-interest payment options. We often automatically waive bills without the patient even having to ask for it, based on their income – in fact, over 100,000 patients benefit from this each year. An additional 160,000 uninsured patients each year automatically receive an uninsured discount.
Atrium Health provides free charity care to patients who are at or below 200% of the federal poverty level (FPL) and offers substantial discounts to those who are below 400% of the FPL. As part of that, we write off another $340 million of treatment for uninsured patients and $375 million for uninsured or underinsured patients who don't qualify for one of our programs.
Making sure the people who live and work in our community are healthy is part of our "for all" mission and investing into the health of our community by giving back at these levels and in this fashion is a great source of pride for our organization's leaders and teammates.
But wait – there's more!
Atrium Health is on the leading edge of community health initiatives and other efforts to combat important issues like affordable housing, combatting hunger and addressing disparities in access to health care. Our involvement across a myriad of issues like these represented an additional $76 million investment back into the communities we serve.
One last element included in the annual community benefit number is something that will be of growing importance in our enterprise as a leading academic medical center: professional medical education and research. Wake Forest University School of Medicine is the academic core of Atrium Health. It will soon open a second campus in The Pearl innovation district in Midtown Charlotte. As that happens and the innovation district comes to life, we will certainly be expanding on the $227 million invested last year into training the next generation of medical professionals and searching for new therapies and cures that will improve health, elevate hope and advance healing – for all.