Atrium Health and the Charlotte Knights have had a long-standing partnership since the team's inception in 1976. Through this collaboration, Atrium Health provides event medicine support and a team physician to the minor league baseball team.
| | |
| --- | --- |
| Atrium Health Musculoskeletal Institute sports medicine physician Dr. Eric Warren stands in front of the Charlotte Knights' batting cages. | |
Atrium Health is also the official healthcare provider for the Charlotte Knights, ensuring that athletes and spectators alike receive the best medical care. This year, Dr. Eric Warren, a sports medicine physician with Atrium Health Musculoskeletal Institute, began his first season working with the Charlotte Knights. A longtime fan turned team physician, Dr. Warren brings fifteen years of experience working with professional and elite athletes, including those in international championships, ACC Championships and Olympic qualifying events.
Atrium Health also provides event medicine for the team and its fans. Led by director Jennifer Gardner, this includes a first aid care center and roving team who support the spectators at the Knights games and private event functions at the facility.
"Our doctors care for athletes at all levels – from those in recreational sports to the pros in the Carolinas and beyond. They rely on us to provide the best sports medicine care on the sidelines, in the athletic training room and in our facilities," said Gardner.
Atrium Health is the official healthcare partner for numerous professional teams and sporting events, such as Charlotte FC, Carolina Panthers, Charlotte Knights, Charlotte Motor Speedway, UNC Charlotte, Davidson College athletics and more. Atrium Health also provides team physicians, athletic trainers and support care to more than 90 high schools across North Carolina.
The Best Sports Medicine Care
Dr. Warren's passion for sports medicine shines through his work with the Knights players. "My desire to help people heal has been inside of me as long as I can remember," said Warren. "It also helps that I was an athlete myself, so I understand firsthand that injuries and illnesses can take away the limited opportunities we have. I never want to have another person miss the chance to be as successful as possible."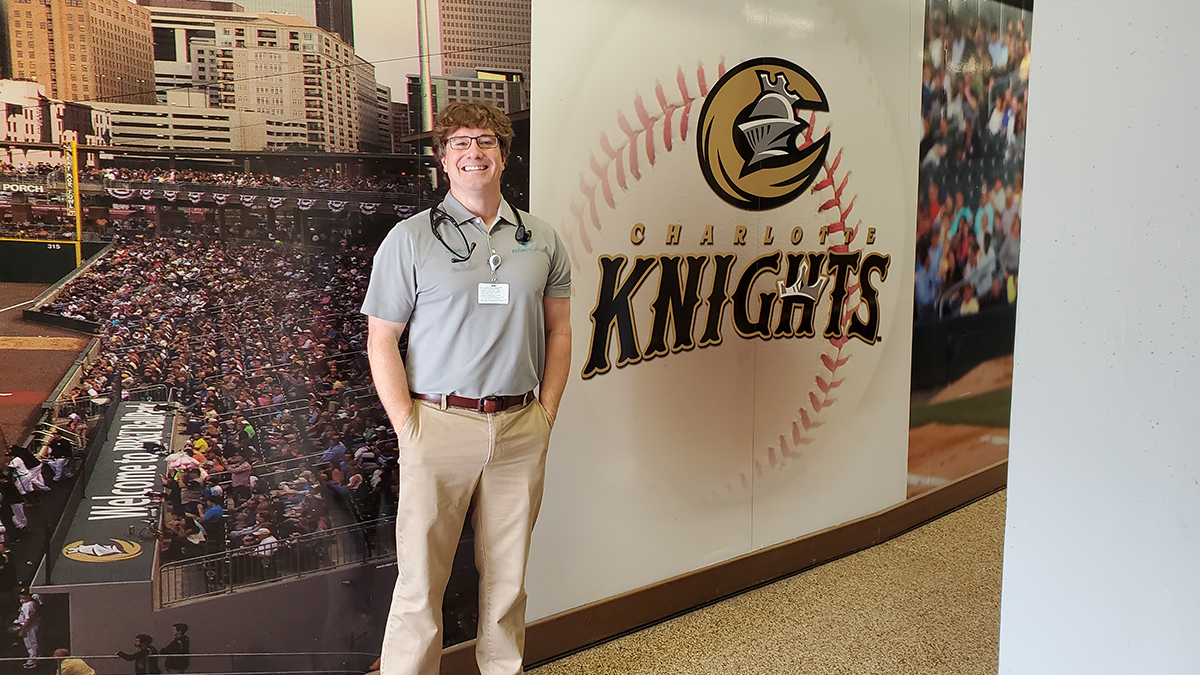 Dr. Eric Warren stands in front of a photo wall at the Charlotte Knights stadium.
He also finds that enthusiasm goes a long way. "When an athlete needs help, there's usually a time crunch as seasons are short and the next game will come quickly. Plus, it helps you establish trust with the athletes when they see you're invested and working for their benefit."
To help the team reach its goals, Warren makes himself available 24/7. Thankfully, he's got a great team of his own backing him at Atrium Health. They assist with late-night emergency room and hospital navigation and cover for Warren when he takes a vacation.
Top-Notch Event Medicine Care
| | |
| --- | --- |
| | Michael Weber, an EMT with Atrium Health event medicine, stands outside at the Charlotte Knights stadium. |
In addition to Warren's efforts as the team physician, Michael Weber, an EMT with Atrium Health event medicine, works alongside the Knights staff to ensure spectators and staff have the best care.
At a Knights game, the Atrium Health Event Medicine team works closely with the Knights staff, CMPD/Sheriff's Office, Charlotte Fire, and Show-Pros. 
"Throughout the season, our team will be at the ballpark for five to six games during the week, in addition to any special events that are occurring within the facility," said Weber. "The venue itself, as well as the dedicated staff, really give the Knights games a special attribute. The open style of the venue creates a level of visibility and interaction amongst the teams that we don't experience at many other events."
Weber notes that there is a consistent group of people working with each organization so over time the Knights games have come to feel like a group of friends getting together. 
"There is a mutual trust and open communication between the Atrium Health team and the Knights organization that allows us to provide the best level of care possible to everyone who makes their way into Truist Field," said Weber.
This excitement spans across his role into other areas that Atrium Health supports. "One of the things I really enjoy about my job is how unique it is," said Weber. "Because of the relationships Atrium Health has with numerous organizations and corporate partners, our team gets to serve in a wide variety of settings. For this reason, every day at work is completely different. From NASCAR races and PGA events to baseball games and soccer matches, we get some very unique opportunities to serve the community."
Atrium Health has a reputation for excellent sports medicine and orthopedics. U.S. News & World Report 2022 hailed Orthopedics at Atrium Health Carolinas Medical Center as a Top Performing Hospital. The teams at Atrium Health Musculoskeletal Institute Orthopedics & Sports Medicine care for all kinds of patients throughout the region offering innovative, effective surgical and nonsurgical treatment for a wide range of conditions from fractures and sprains to painful joints. Our board-certified doctors provide excellence orthopedic and sports medicine care to get you back to the activities you love.
Learn more about Atrium Health Musculoskeletal Institute orthopedic and sports medicine services.