It can be a struggle to put your best foot forward after a severe foot or ankle injury, a stroke or even the daily challenges of moderate-to-severe arthritis.
To help individuals experiencing these setbacks get back on their feet, Atrium Health Musculoskeletal Institute clinicians and researchers created the Return to Performance Pathway Program to get people back to their desired physical activities in under six weeks. One component of Return to Performance involves wearing a uniquely designed brace – called the Variable Cadence Orthosis – that was engineered by Atrium Health researchers and is now being widely used by physicians and orthotists across the country. The other portion of the program involves a specialized and succinct physical rehabilitation program that has provided the blueprint for countless other programs throughout the United States.
Return to Performance is based on the Return to Run Program that was developed and tested by the military for servicemen and women who had experienced lower limb trauma. The Return to Performance Program was spearheaded by Dr. Joseph Hsu, an orthopedic trauma and limb deformity surgeon at Atrium Health Musculoskeletal Institute and associate dean for research at Wake Forest University School of Medicine. Hsu is an Iraq war veteran and a recipient of the Bronze Star Medal – the fourth highest ranking award a service member can receive for a heroic and meritorious deed performed in conflict – and has adapted his military training and service to positively impact the everyday individual who is experiencing a lower limb setback.
The Return to Performance Pathway Program consists of a team of experts including physical therapists, surgeons, orthotists and researchers from Atrium Health, Carolinas Rehabilitation and the Hanger Clinic, who are all working toward giving individuals the best possible tailored care that allows them to return to an active lifestyle.
"With Return to Performance, we wanted to create a sustainable and reproducible model that would give patients the best opportunity to get back to their desired activities and provide other clinicians with an outline on what has worked for us that they can potentially adapt and make this work for their own patients," said Hsu.
How Does the Program Work?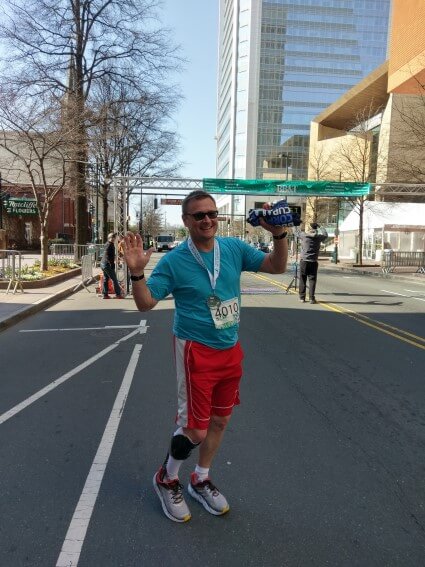 The two functions of the Return to Performance Pathway Program work in tandem and the end result can't be successful without the other one. First, experts create a custom Variable Cadence Orthosis – built to meet the patient's exact needs – that helps them increase their comfort and abilities during movement.
The Variable Cadence Orthosis functions so effectively because of the design. The device has a cuff that's placed right under the knee and has a small bar that goes down the back of the leg and wraps around the foot. This design stabilizes and protects the ankle and foot which allows loading and springing of the device, even with painful conditions. This device helps patients increase their comfort and abilities during movement and as a result, even if they have had a fused ankle or they're missing muscle or they have a nerve defect, they still are able to run and jump or do high level activities.
"The Variable Cadence Orthosis was designed to store and return energy to the lower limb area, while providing stability and support for pain relief and improved functionality," said Hsu. "There hasn't always been good solutions for those experiencing these issues and Return to Performance has proven to be a good answer for many of these patients to regain enough function to return to their former activities."
Next up in the program is physical therapy. Based on the patient's desired level of activity, they are placed in either the 'athletic performer' or the 'community performer' category of physical therapy. Both classifications are personalized to the individual and their distinct goals and their rehabilitation time in this program is between four to six weeks. Some physical therapy is even designed to do at home and is self-directed.
It's important to wear the orthosis anytime the individual wants to enhance performance while moving – even after the program is complete – it's not a temporary correction for an injury, like wearing a boot. The team works to make each patient feel confident and comfortable while wearing the Variable Cadence Orthosis.
Rachel Seymour, vice chair of research at Atrium Health's Musculoskeletal Institute and associate dean of research at Wake Forest University School of Medicine, has also helped Hsu expand the Return to Performance Program throughout the country.
Who's a Good Fit?
The Return to Performance Program most commonly works with patients who have experienced traumatic lower leg injuries or ankle and foot fractures. Those experiencing other foot and ankle problems, including flat foot conditions, post-surgical clubfoot and moderate-to-severe arthritis also can benefit from the program. This can be especially helpful for people who have tried bracing but have not reached their desired level of recovery and activity.
Find Your Footing
Whether someone runs marathons or enjoys walking around the block, it's important to stay active and practice safe physical activity to ensure injuries stay at bay. Be aware of reasons for common foot or ankle injuries:
Sudden changes in training: A dramatic increase in activity or intensity are common factors. Drastic change in terrain also can cause injury.
Improper or worn out gear: Exercising or running with inadequate or old footwear is a common problem that can put excessive stress and load on the body.
Not stretching before and after: Stretching before a workout helps muscles, ligaments and tendons become loosened up and prepared for exercise. Stretching after a workout helps cool down muscles and reduce tissue tightness.
No days off: Schedule rest days. Over exercising puts continuous stress and strain on the body and muscles, which increases the risk of injury.
To learn more about the Return to Performance Pathway Program or to potentially become a patient, call 980-402-1970. If you have experienced an orthopaedic injury, our experts at Atrium Health Musculoskeletal Institute and Atrium Health Wake Forest Baptist are available for same-day or next-day appointments.