Atrium Health has been on the leading edge of virtual care for years, including standing up a hospital at home program in less than three weeks during the early stages of the COVID-19 pandemic to lessen hospital overcrowding. It now has the largest, most successful hospital at home program in the country, capable of caring for such conditions as heart failure, COPD, pneumonia, asthma, various infections and other medical and post-operative conditions using wearable technology, virtual visits with providers and twice-daily home visits from Atrium Health community paramedics.
"When they said, 'would you like to do this at home?' I said, absolutely," says Derrell Hollifield, an 84-year-old Atrium Health hospital at home patient. "It really blows my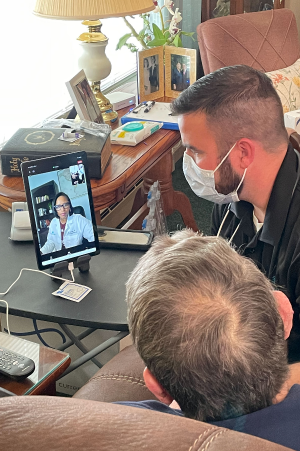 mind. I'm not much on electronics, but this is unreal."
In February, Atrium Health added new technology enhancements to its program, partnering with Best Buy Health.
"This is the coming together of technology and empathy," says Dr. Rasu Shrestha, executive vice president and chief innovation and commercialization officer for Advocate Health, which Atrium Health is a part of. "We're able to leverage the power of social workers, paramedics, nurses and physicians, but also technology to take care of the patients in their homes. We can bring forward things like remote patient monitoring and sophisticated wearable devices that capture their vital signs and combine it with the human touch – bringing it directly into our patients' homes.
"We've seen the need for us to bring a very strong technology partner that has a strong network," he adds. "Best Buy Health has a national network that's able to bring in complementary capabilities – really enhance the clinical services delivered by Atrium Health, as well as the offerings that we're going to be creating together."
Best Buy's strengths also include innovative omnichannel experience, distinctive in-home service and supply chain expertise. In 2021, it acquired Current Health, which specializes in telehealth, including remote patient monitoring. Together, Atrium Health and Best Buy Health will address the complex requirements of the hospital at home program, such as patient education and enabling technology in the home, with the help of specially trained Best Buy Geek Squad agents to assist with logistics and technical support.
"They won't be necessarily the same team that's doing your home theater," says Deborah Di Sanzo, president of Best Buy Health. "They will be Geek Squad agents specially trained in health to deliver specific services in the home. When we talk about helping people with technology in their homes, that's what Best Buy has done for years. We're never going to provide health care but, with Atrium Health, we want to help enable health care at home for everyone. It's getting the devices to the home when Atrium Health and the patient needs them."
The new technology is quickly winning over those who have encountered it.
"With this new Current Health technology, we're able to monitor vital signs continuously, at all times, just like you would in a hospital setting," says Manny Mill, an Atrium Health community paramedic. "With this new device, you just put it directly on their arm and you're able to kind of see everything all at once.
"Anything that you would normally do in an in-patient setting, you can do here," he adds. "We can get an EKG if needed; we can draw labs; we can give basically any medication that you would normally give in a hospital setting."
"We give the patients a chance to come home and we treat them in their home just like they would be in the hospital," says fellow Atrium Health community paramedic John Turner. "We see them twice a day. They get to talk to a doctor every day through a video conference call. They also have a nurse, 24/7 and it's just a great opportunity for them to get the care that they need at home."
"At first, I thought, how am I going to know what to do? What all to do, you know, with the medicines and the vitals and all that," says patient Gena Kinsey. "But it's very simple and they help you in any way that they can. If anything happened, they're coming out to check on me, or I can make a phone call to my nurse any time. You know you're being taken care of, just like you were in the hospital. And, it's easy to do."
"I'm glad to be able to be home," says Atrium Health hospital at home patient James McGee. "I feel more comfortable here than I would there and don't get woke up as much."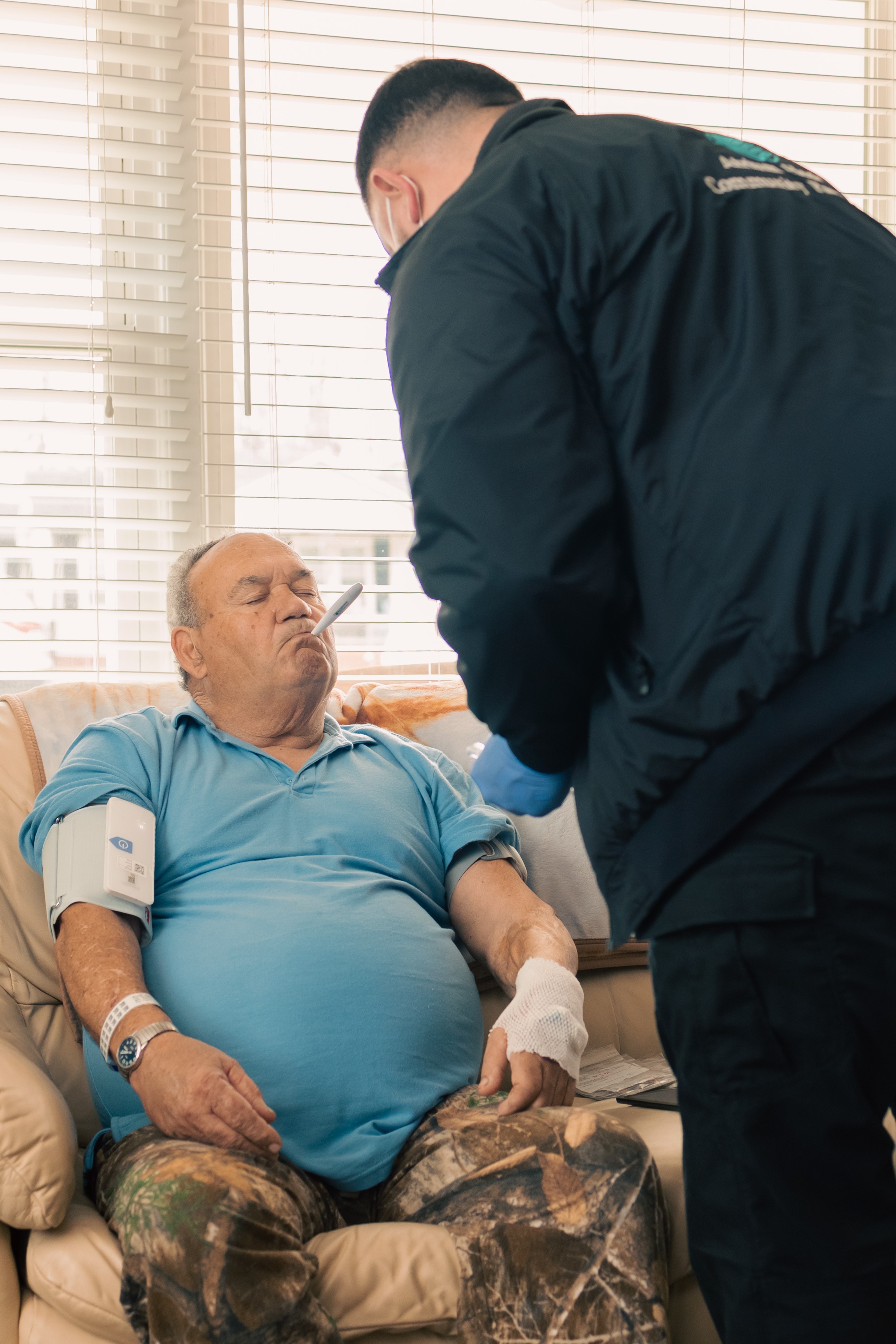 He also notes that, as someone who lives in a rural community – roughly 30 miles from the nearest hospital, the added convenience of receiving his care at home makes a big difference for him and his family.
"My son doesn't get off until 6 or 7 o'clock at night," McGee adds. "By the time he gets off, he can't come see me (in the hospital). My wife doesn't like to drive in traffic, so she isn't out on the road driving. That means a lot to me. Plus, we're on a fixed income, so it also saves money on gas."
"Roughly a quarter of Atrium Health hospital at home patients are underserved or at-risk populations," says Colleen Hole, an Atrium Health vice president and the administrator of its hospital at home program. "In addition to providing the convenience of high-touch service delivered in the home, Atrium Health community paramedics are trained to identify potential challenges to a patient's health, such as food insecurity, unsafe housing, risks of falls in the home and patients being unable to afford their medications, just to name a few. When these types of challenges are identified, our care team engages an Atrium Health hospital at home social worker who can connect the patient with the community resources available to help address and overcome them. By addressing needs beyond the immediate health challenges, Atrium Health improves people's overall well-being and helps them live more fully."
As his afternoon visit with Mill, the community paramedic, progresses, McGee marvels at the simplicity of the core hospital at home technology – an electronic blood pressure cuff and an armband with a "puck" that communicates with a tablet computer.
"It's a transmitter that transmits everything," he says. "It reads into my little laptop computer and the doctor can read it, just like at the hospital. I don't know a thing about a computer, but I trust this."