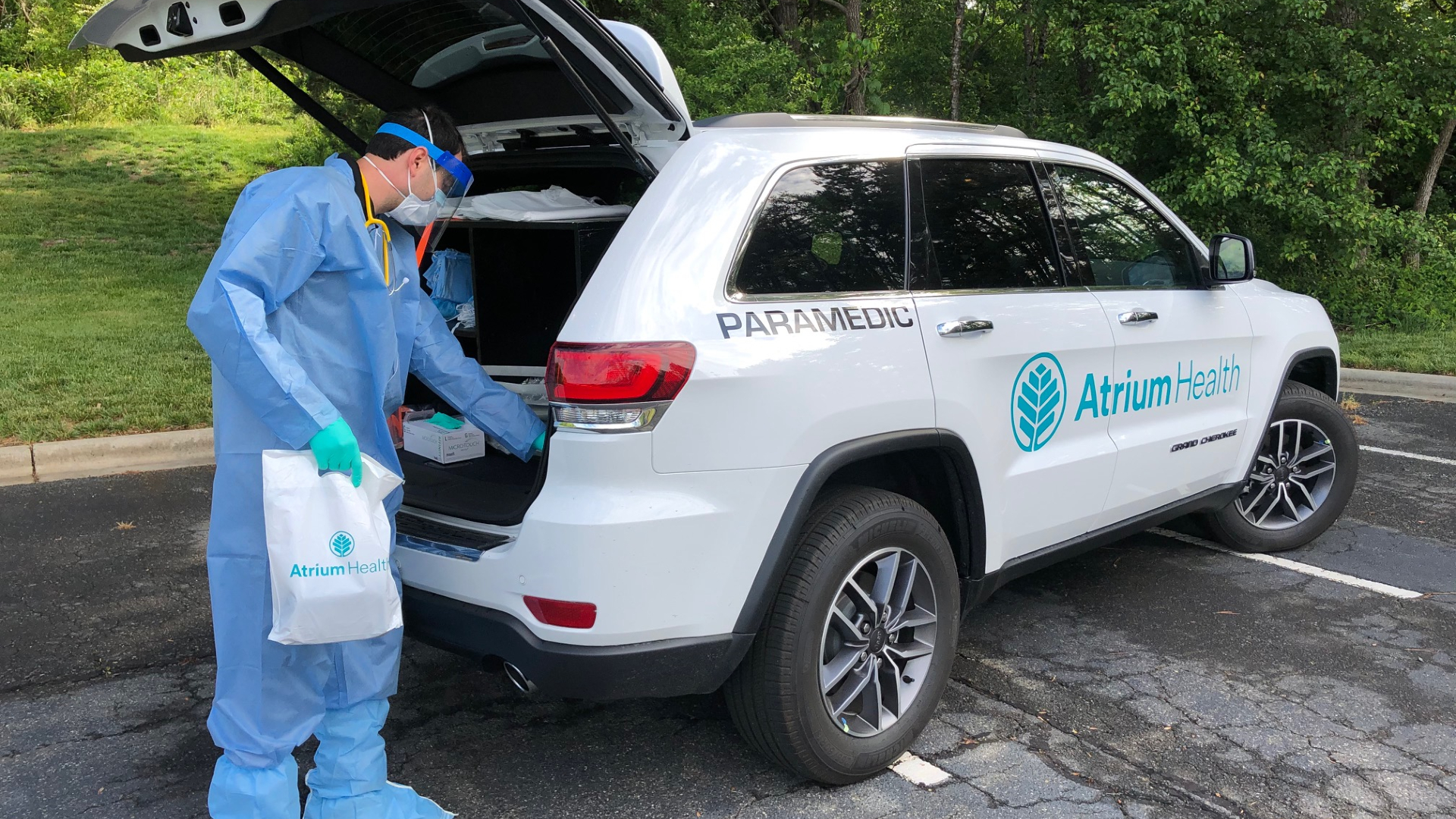 Atrium Health Hospital at Home Nabs Second Publication in Annals of Internal Medicine
05.13.2021
Atrium Health News
Atrium Health's Hospital at Home program, (AH-HaH) which allows patients to be remotely monitored and receive hospital care in the comfort of their home, along with the Center for Outcomes Research and Evaluation, (CORE) have landed a second, follow-up publication in Annals of Internal Medicine, one of the most influential specialty medical journals in the world. The study, "Factors Associated with Risk for Care Escalation Among Patients with COVID-19 Receiving Home-Based Hospital Care" was published May 10, 2021, and is the first to detail the findings that presenting oxygen saturation and the presence of other chronic illness should be considered as objective guideposts when selecting patients appropriate for receiving hospital level care at home. (The first publication in Annals of Internal Medicine featured how Atrium Health deployed AH-HaH to respond to the COVID-19 crisis.)
Three key takeaways from the research include:
AH-HaH is a safe, patient-centered care delivery model for appropriately selected patients.
Atrium Health will continue to intentionally and thoughtfully grow the AH-HaH program and its supporting evidence so that it becomes a widely accessible, patient-centric, affordable care option for our patients.
Learning health systems like Atrium Health can help ensure that care innovations like AH-HaH are critically evaluated to confirm that we are truly providing the best, evidence-based care for all, and subsequently sharing what we discover with others.
Congratulations to Shih-Hsiung Chou, PhD, Andrew McWilliams, MD, MPH, Stephanie Murphy, DO, Kranthi Sitammagari, MD, Tsai-Ling Liu, PhD, Colleen Hole, BSN, MHA, Marc Kowalkowski, PhD, authors on this study, and the entire team of AH-HaH, including nursing support that is available 24/7 to run the program, for their dedication to improving healthcare for patients during the COVID-19 pandemic and beyond. The authors shared insights into the significance of this research study and a glimpse into what's ahead for a virtual care model, based off their findings.
What did the team set out to find, and what were the results of the research?
In the first days of the COVID-19 pandemic, Atrium Health's Hospital Medical Group rapidly stood up AH-HaH, which leveraged virtual technology and Atrium Health's Mobile Integrated Health team to care for patients in the comfort and safety of their homes. This immediately increased Atrium Health's capacity, enabling us to continue to provide high quality care to the large influx of new patients from the pandemic.
However, as the nationally recognized care model pivots to becoming a standard care offering within Atrium Health, providers and patients need guidance on who is most appropriate to safely receive hospital-level care in their home, in lieu of a brick-and-mortar hospital.
What are future plans to follow the findings of this research?
The recent strategic combination between Atrium Health and Wake Forest Baptist Health presents a unique opportunity to spread the implementation of highly successful innovations like AH-HaH across the reach of our combined footprint. Looking ahead, Atrium Health is working to expand access to AH-HaH across its communities, while also broadening reach to clinical conditions beyond COVID-19.
Using this study and other findings, Atrium Health will further refine patient selection criteria, while also developing data driven and digital solutions that will guide patients to AH- HaH when it is the care location that best matches their needs.
While this specific study was conducted by AH-HAH, the team is looking forward to leveraging findings to ramp up collaboration efforts with Wake Forest Baptist Health moving forward.
How will the collaboration between Wake Forest Baptist Health and Atrium Health ultimately provide a better experience and outcome for patients?
"We are one of only a handful of organizations in the country to achieve this level of care outside of the walls of the hospital. AH-HaH is just one example of how our new organization is focused on listening to the things that our patients want and finding new ways to meet their needs. We are constantly pushing ourselves to provide a more personalized approach to patient care." - Ryan Brown, MD, FACP, SFHM, Specialty Medical Director, Hospital Medicine
"The collaboration between Wake Forest Baptist Health, Atrium Health and Atrium Health Navicent will create a natural synergy of caring for over 2,300 inpatients per day across two states and 43 hospitals in urban and rural settings. By being able to move from initial stages of pilot and implementation to the final stages of cross-pollinating best practices with LEAN, Six Sigma, or Agile methodology, our patients and families will receive better, patient centric care." -Chi Huang, MD, SFHM, FACP, Executive Medical Director of General Medicine and Hospital Medicine Shared Services, Wake Forest Baptist Health
What's been the best part of working together with a new organization?
"We get excited about the same things! We are passionate about delivering great care and helping our patients live healthier lives." -Dr. Ryan Brown
"Our cultures are more similar than different. The common threads are a desire to be innovative, a willingness to be part of learning healthcare mindset, and the humble aspiration to be the very best in what we do in the nation." -Dr. Chi Huang
Can you share some details as to how this collaboration will grow and evolve in the year ahead?
"By connecting some of the most talented providers in their fields with some of the best technology in medicine, we will be able to deliver care more quickly and more conveniently to our patients in the future- no matter where they are located." -Dr. Ryan Brown
"Our collaboration has already started to pay off dividends in the space of deploying the Hospital at Home Program this past December 2020 within the Wake Forest Baptist Health system, submitting a shared research grant, and providing insight to Atrium Health with our EPIC integration journey. Our future over the next year will evolve in the areas of social impact, diversity, education, expanded research synergy, key service line collaboration, and improved financial stewardess." -Dr. Chi Huang