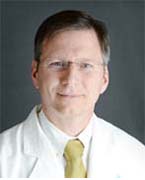 Chief, Adult Cardiology
Sanger Heart & Vascular Institute
As chief of adult cardiology for Sanger Heart & Vascular Institute, Dr. Rose has been a champion of quality improvement initiatives to enhance patient outcomes. He has published extensively about the intersection of quality improvement and his specialty of echocardiography, as well as about the evolution of healthcare reform.
A fellow of both the American College of Cardiology and the American Society of Echocardiography (ASE), Dr. Rose serves as the program chair for the ASE 2017 Scientific Sessions. He has also played an active role in the Intersocietal Accreditation Commission (IAC), having served as president of IAC: Echocardiography and chair of the parent IAC Board. He helped establish IAC's program of research, which funds proposals originating outside of IAC that are designed to demonstrate the value of accreditation in improving healthcare.