Skip Navigation
Visitor Restrictions Update:
Because flu & RSV cases are on the rise, starting November 16, children 12 and younger are restricted from visiting hospitals, certain inpatient facilities, and all emergency departments.
Learn more
.
For more than 65 years, the most complex rehabilitation cases have found a better chance of recovery at Carolinas Rehabilitation, part of Atrium Health. As pioneers in translating clinical research into practice, our specialized teams focus on optimizing patient outcomes across a wide network of inpatient and outpatient locations.
One of the largest rehabilitation providers in the nation, we have earned accreditation by CARF (Commission on the Accreditation of Rehabilitation Facilities) for 12 of our programs – the most of any rehabilitation center in North Carolina – including the world's first CARF-accredited cancer rehabilitation program. We have maintained CARF accreditation continuously for 40 years.
Our 20+ board-certified physical medicine and rehabilitation physicians help our patients regain the highest level of functioning possible for virtually every kind of life-altering injury or disease, from traumatic brain injury to stroke to cancer.
Our specialty programs include:
Amputee – Specializing in innovative treatment and amputation management, we champion leading-edge prosthetic design and give patients access to custom-made limbs.
Brain injury – As a TBI Model System follow-up site, we offer some of the highest intensive therapy hours during inpatient rehabilitation of any facility in the nation.
Cancer – We're one of the few providers nationwide to offer both inpatient and outpatient rehabilitation for cancer patients, with preventive, supportive, restorative and palliative care.
Medical rehabilitation – Through supervised exercise sessions, nutritional assessment and counseling, and medication management, we help address issues arising from cardiac conditions and debilitating or degenerative diseases.
Orthopedic – We help patients regain their strength, mobility and endurance after fractures, joint or knee replacements, or spinal surgery.
Pediatric – With the only dedicated pediatric inpatient rehabilitation facility in North Carolina, we treat more pediatric patients than other centers in the region, topping national benchmarks for functional gain and length of stay.
Spinal cord injury – No other regional facility offers more advanced spinal cord injury services, including one of the area's only post-polio programs.
Stroke – One of the first programs in the nation to receive CARF certification in stroke, our intensive inpatient therapy leads to 69 percent of stroke patients being sent home rather than to skilled nursing facilities.
Advancing Clinical Practice with Rehabilitation Research
At Carolinas Rehabilitation, our research crosses disciplines to address the diverse pathologies of our patient populations. From psychiatry to neurophysiology to biomedical engineering, we bring together specialists across Atrium Health – and other academic institutions – to develop innovative treatments that translate into improved care.
Since its founding a decade ago, the Carolinas Rehabilitation Research Laboratory has applied leading-edge technology in dozens of sponsored and investigator-initiated studies in areas ranging from spinal cord injury to Parkinson's disease to post-chemotherapy care.
Closing the distance between the lab and the bedside, we fully integrate our research program into clinical care and resident education. This allows us to bring the latest insights in cognitive neuroscience, motor neuroscience and outcomes research straight to our patients.
To improve the overall quality and safety of healthcare services for rehabilitation patients before, during and after their hospital stay, we created the EQUADR℠ (Exchanged Quality Data for Rehabilitation) network. This network of rehabilitation hospitals across the nation – currently 39 and growing – helps inpatient rehabilitation facilities drive quality improvement by sharing best practices. The first rehab-specific quality database in the US, EQUADR has data on nearly four million rehabilitation patient days.
By creating EQUADR, Carolinas Rehabilitation became the first rehabilitation hospital to develop a rehabilitation Patient Safety Organization as designated by the Agency for Healthcare Research & Quality (AHRQ).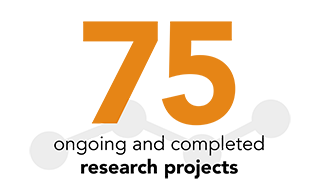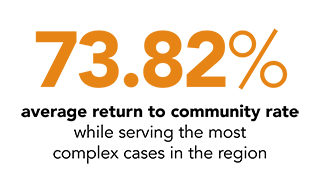 Today's Latest Technology to Maximize Recovery
Carolinas Rehabilitation invests in the most advanced technologies as part of a comprehensive rehabilitative program, including:
Lokomat® – Robot-assisted gait training that provides real-time feedback to retrain the brain and improve walking following a spinal cord injury (SCI) or brain injury
ReWalk™ – Wearable robotic exoskeleton that gives patients with SCI the ability to stand and move, helping to build strength and stamina
Bioness Integrated Therapy System® (BITS®) – Interactive touchscreen that helps improve patients' visual motor activities, visual and auditory processing, cognitive skills and endurance training
Functional Electrical Stimulation Bike – Cycle that uses pulses of electrical current to stimulate muscles and help reverse atrophy
Armeo® – Advanced arm and hand rehabilitation device that allows patients to play video games to improve motor coordination
AlterG® – Zero-gravity treadmill that lets patients rehabilitate with less pain and helps therapists precisely track patient progress
With a network that includes more than 600 board-certified therapists, five inpatient hospitals and 18 outpatient locations, expert care is never far away. Even more important than being close to our patients is helping our patients stay close to their families. Following inpatient care, our average return to community rates are at or above the national average despite the medical and functional complexity of the patients we admit.
Our full range of rehabilitative services include:
Assistive technologies
Balance and fall prevention
Continence therapy
Day programs
Neuropsychology
Occupational therapy
Pelvic therapy
Physical therapy
Speech therapy
Wheelchair seating evaluation
To refer a patient, call 877-REHAB51 (877-734-2251) or locally 704-355-3558. We'll connect you with the right specialists at one of our 20+ locations throughout North and South Carolina.