Notice of unauthorized access that may involve personal information | Learn more: English - Español
Child visitor restrictions now in place. Learn more.

Carolinas Rehabilitation Resources
Levine Cancer Institute Resources
Levine Children's Hospital Resources
Musculoskeletal Institute Resources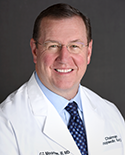 Creating a New Kind of Academic Musculoskeletal Institute
Claude "T." Moorman III, MD, recently became president of our new Musculoskeletal Institute, drawn by the chance to help redefine academic musculoskeletal care.
Neurosciences Institute Resources
Sanger Heart & Vascular Institute Resources