by Abdelrahman Nimeri, MD, MBBCh, FACS, and Brent Matthews, MD
Institutions providing nonessential metabolic and bariatric surgery (MBS) are all facing the same key question: How do you safely restart MBS — and prioritize patients — after the COVID-19 peak has passed? This question is especially important given that patients with obesity and diabetes have a higher risk for severe complications and mortality from COVID-19, and that unexpected mortalities were reported in a small series of asymptomatic MBS patients with COVID-19.
At Atrium Health, we developed a tiered approach that prioritizes low-risk patients, postpones care for higher-risk patients, and includes robust testing, social distancing protocols and strict limits on clinic capacity. We published this innovative approach in the Journal of Obesity Surgery.
Our rationale for prioritizing lower-risk patients is to protect the more vulnerable higher-risk patients based on the higher mortality rate in older patients with risk factors, while there are still COVID-19 cases in the community. When patients come back to the office, we want them to know their safety is our top priority, and that we've developed processes to keep their risk of infection to an absolute minimum.
Read the paper in the Journal of Obesity Surgery
Watch a video about our new clinic protocols
To refer your patients for bariatric surgery, please contact Dr. Nimeri at Abdelrahman.Nimeri@AtriumHealth.org.
About the Authors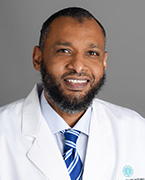 Abdelrahman A. Nimeri, MD, MBBCh, FACS
Chief, Bariatric & Metabolic Surgery
Director, Atrium Health Weight Management
Director, Bariatric Fellowship Program - Atrium Health Carolinas Medical Center
Dr. Nimeri specializes in bariatric and metabolic surgery, minimally invasive surgery, surgical quality and surgical education. Dr. Nimeri has published more than 40 peer-reviewed articles, several book chapters and is an associate editor of the Obesity Surgery Journal. He has received numerous awards, including the Presidential Award from the International Federation for the Surgery of Obesity and Metabolic Disorders (IFSO), Cleveland Clinic's Zielony Nursing Institute Award, and a surgical residency Teacher of the Year Award from SEHA (Abu Dhabi Healthcare Company).
In addition, he is the vice chair of the IFSO communications committee, a member of the IFSO ethics committee, and a member of the American Society of Metabolic and Bariatric Surgery (ASMBS).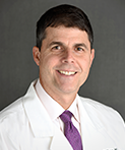 Brent D. Matthews, MD
Chair, Department of Surgery
Senior Medical Director, Surgery Care Division, Atrium Health Medical Group, Surgeon-in-Chief
Throughout a distinguished surgical career, Dr. Matthews has been pursuing the innovative frontiers of minimally invasive surgery. He specializes in primary and re-operative foregut surgery (GERD, hiatal hernia and paraesophageal hernia), advanced spastic/motility esophagus disorders, Barrett's esophagus, abdominal wall reconstruction, ventral incisional and inguinal hernia repair, and minimally invasive solid organ surgery. Dr. Matthews has published more than 100 articles in peer-reviewed journals across his surgical specialties.