Some of our locations have temporary changes to hours. To make an in-person or virtual appointment, call your healthcare provider. If you need help finding care, call
704-468-8888
.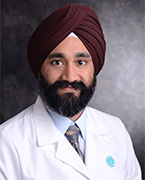 By Rajdeep Singh, MD, MS Medical Director, Epilepsy and Neurodiagnostics
Three million Americans live with epilepsy – and around 25% of them have seizures that fail to respond to antiepileptic drugs (AED). This intractable form of the disease severely impacts patients' quality of life and can cause anxiety, depression, migraines, sleep disorders and progressive damage to cognitive functions.
But an experimental drug called Padsevonil – also known as the ARISE trial – offers a promising new option. Unlike earlier AEDs, Padsevonil acts on multiple brain receptors at the same time – a novel approach that could help control seizures.
Padsevonil recently completed a Phase II proof-of-concept study in patients with drug-resistant focal seizures and is now in Phase III. Atrium Health is one of just a handful of centers in the Southeast where epilepsy patients can access this new therapy.
A Unique Mechanism of Action
Padsevonil is the first AED that acts on all isoforms of synaptic vesicle protein-2 (SV2). It simultaneously binds to the benzodiazepine site of the GABAA receptor. This multiple receptor activity – unique to Padsevonil – may more effectively target epilepsy, giving us good reason to think the drug could be an improvement over existing AEDs.
An abstract presented at the 2017 American Epilepsy Society Annual Meeting showed that Padsevonil was safe and generally well-tolerated in healthy clinical trial participants. CNS effects (measured through cognitive and motor performance tests) were generally consistent with those of CNS drugs with GABAergic and SV2 activity.
Who's Eligible for the ARISE Trial?
The trial is recruiting participants 18 or older who:
Were diagnosed with focal epilepsy at least three years before entering the study
Failed to achieve seizure control with four tolerated and appropriately chosen prior AEDs
Have an average of four spontaneous and observable focal seizures per month
Are currently being treated with at least one (and up to three AEDs) for the eight weeks prior to the screening visit, with or without additional Vagus Nerve Stimulation (VNS) or other neurostimulation treatments
12-Week Outpatient Trial
Participants will take Padsevonil or a placebo as an adjunctive therapy to prescribed AEDs. Seizure diaries and blood tests will be used to measure the safety, efficacy and tolerability of Padsevonil. The trial's primary outcome is a reduction in observable focal-onset seizure frequency.
To make participation as convenient as possible, patients can visit our Charlotte or Concord locations for follow-up appointments in North Carolina. Patients typically have four or five of these appointments during the 24-week study period. They can continue to see their primary neurologist during this period if the need arises, and will remain under their care after the trial.
The Atrium Health Difference
The ARISE trial is just the latest example of Atrium Health's commitment to providing excellent care – and the most promising new treatment options – to patients with epilepsy.
Backed by the expertise of our Neurosciences Institute, Atrium Health's epilepsy program is truly comprehensive. We have the highest level of accreditation from the National Association of Epilepsy Centers, and our experts help nine out of 10 patients get their seizures under control. We're eager to consult with you and develop a plan that helps your patients live active, healthy lives.
Refer a Patient
For more information or to refer a patient to the trial, contact Clinical Research Nurse Tierney Scott at 704-446-1925 or Tierney.Scott@AtriumHealth.org, or Dr. Rajdeep Singh at Rajdeep.Singh@AtriumHealth.org.