By Vedra A. Augenstein, MD, FACS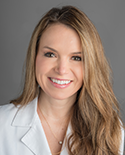 Every year, doctors around the world refer hernia patients to Atrium Health for specialized care. So it was no surprise when, in 2017, a South Carolina trauma surgeon sent me a 49-year-old patient after a motorcycle accident left him with 5 broken ribs, and severe head and abdominal injuries. He'd also been in a controlled coma for 5.5 weeks.
The patient had a 20 cm ventral hernia, had gained 40 pounds and had an ileostomy. We used innovative techniques – including neurotoxin injection and component separation – to repair the hernia, reverse the ostomy and quickly get the patient back to a healthy, active life.
How Neurotoxin Helps with Hernia Repair
Obesity increases the risk of developing a hernia and of having it come back. Losing weight before surgery reduces intraabdominal fat, makes it easier to close the abdominal wall and facilitates a lasting hernia repair. Fortunately, the patient was committed to losing the weight he'd gained and was able to lose 40 pounds leading up to the surgery.
We then used a creative, and somewhat experimental technique: Our radiologist, Robert Lopez, MD, injected the patient's abdominal wall with a neurotoxin a month before his hernia surgery. This paralyzed the muscle and made it more compliant.
Combined with weight loss and component separation, this technique made it possible to pull together the patient's abdominal wall. Atrium Health is one of just a few places in the world where this technique is used, especially for such complex hernia repairs.
Reducing Infection Risk
Our surgeons are often challenged to repair hernias in a contaminated scenario, and this case was no exception. Fortunately, our group is the world leader in studying mesh infections, and we recently published a comparison study of different meshes used here at Atrium Health.
This helped us make the safest mesh choice for this patient. We also employed preperitoneal mesh placement to keep the mesh out of contact with the intestine, which reduced the chances of mesh infection and adhesion formation.
Raising the Bar on Hernia Repair
The surgery took about 2.5 hours and the patient left the hospital after just 4 days. Even better, this patient – a retired military officer with an active lifestyle – was back to intense workouts in just 8 weeks.
This successful case illustrates how we combine innovative techniques with research to improve outcomes. And it's just one example of how we're raising the bar on hernia repair, whether a patient's hernia is simple or highly complex.
We see patients from around the world, drawn here by our expertise and a team approach that brings together specialists – including other surgical specialties, radiologists, internists and wound care experts – to evaluate patients from every angle and deliver all the care they need.
We're eager to work with you to understand your patients' needs and develop a plan that gives them the best chance at a healthier, happier life.
Learn More
In addition to complex abdominal wall reconstruction, Dr. Augenstein specializes in minimally invasive surgery and robotic surgery; performs panniculectomies and is actively involved in research to evaluate innovative strategies and optimize care.
To learn more about our hernia program, contact Dr. Augenstein at Vedra.Augenstein@AtriumHealth.org , or reach her nurse at 704-446-1311