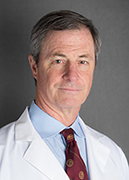 By E. Hunter Dyer, MD, Medical Director, Skull Base Surgery Program
A young woman with delayed puberty and a history of hypothyroidism recently came to us for treatment. She was 21 but had the stature of a 12-year-old, and her vision was getting worse. An MRI revealed a craniopharyngioma – a tumor in front of the pituitary gland – as the likely cause.
Traditionally, doctors would have cut open her skull to remove her tumor. We offered a better option: An extended endoscopic transsphenoidal surgery to remove her tumor through the nose, with far fewer risks – and far shorter recovery times – than cranial surgery.