Skip Navigation
Weather Alert:
Some locations may be closed or opening late.
View a list of our closings and delays
.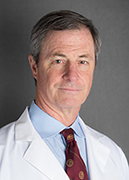 By E. Hunter Dyer, MD, Medical Director, Skull Base Surgery Program
A young woman with delayed puberty and a history of hypothyroidism recently came to us for treatment. She was 21 but had the stature of a 12-year-old, and her vision was getting worse. An MRI revealed a craniopharyngioma – a tumor in front of the pituitary gland – as the likely cause.
Traditionally, doctors would have cut open her skull to remove her tumor. We offered a better option: An extended endoscopic transsphenoidal surgery to remove her tumor through the nose, with far fewer risks – and far shorter recovery times – than cranial surgery.
How Extended Endoscopic Transsphenoidal Surgery Works
The 21-year-old patient is among a growing number of patients benefiting from an extended endoscopic approach to parasellar tumors – or tumors near the pituitary gland at the base of the skull. These tumors are typically benign, but can diminish quality of life, and cause vision loss and headaches.
Neurosurgeons at Atrium Health facilities are using extended endoscopic transsphenoidal surgery to remove some meningiomas and craniopharyngiomas. During this three- to four-hour procedure, an endoscope and instruments are inserted into the nostril and through the sinus to an air pocket behind the nasal cavity. We also remove bone from the side of the sella, the compartment holding the pituitary, to access the tumor. Patients are good candidates if they have midline tumors that are small enough to remove without injuring blood vessels.
Preventing Spinal Fluid Leakage
In the past, one barrier to this surgery was the risk of spinal fluid leakage because surgeons didn't have a good way to seal holes in the skull base. The team at Atrium Health used an innovative solution for the 21-year-old patient: ENT collaborators cut a piece of tissue with its own blood supply from the septum. They used this vascularized nasal flap to seal the skull base, significantly reducing the risk of leaks and meningitis. This flap was augmented with lumbar drain replacement.
For the 21-year-old patient, surgeons collaborated with Atrium Health ear, nose and throat (ENT) specialists to resect most of her tumor without complications. Post-operative images showed an excellent resection with a small, right-sided residual.
Faster Recoveries
Thanks to these innovative approaches, the 21-year-old patient tolerated surgery well and her lumbar drain was discontinued four days after surgery. She was quickly out of the hospital and mostly back to normal within two weeks – a stark contrast to cranial surgery patients who typically take about four to six weeks to recover and have to endure multiple follow-up visits during that period.
Even better, the patient's vision improved dramatically, and post-operative images suggested her condition remained stable. She will require continued surveillance, but we're hopeful that the tumor will not return.
Which Surgery Is Best for Your Patient?
This is just one example of how skull base surgery experts who treat patients at Atrium Health use everything from traditional approaches to minimally invasive procedures to improve patients' lives. We've treated more than 1,000 parasellar lesions over the last two decades, with excellent outcomes in both children and adults. And collaboration between neurosurgeons and ENT specialists is sparking continued innovations that promise to make these outcomes even better. We're eager to help you find the best options for your patients, and to work hand-in-hand with you to give them the best possible care.
Learn More
To learn more about our skull base surgery program, contact Dr. E. Hunter Dyer at Hunter.Dyer@CNSA.com