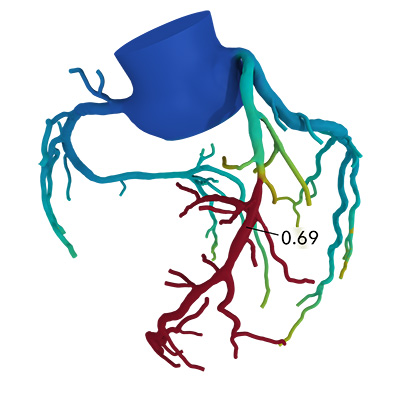 For patients with chest pain, physicians typically rely on noninvasive stress tests or invasive heart catheterizations to determine if coronary artery disease (CAD) is the underlying problem. Using this approach, more than 50 percent of patients undergoing heart catheterizations will not have obstructive CAD.
That's why Sanger Heart & Vascular Institute was one of the first centers in the nation to use coronary CT angiography (CCTA) and provisional CT-derived fractional flow reserve (FFRCT) to improve the noninvasive detection of CAD and reduce these unnecessary heart catheterizations. And we are not the only ones embracing these new technologies: private insurers and the Centers for Medicare & Medicaid Services (CMS) are also getting on board, paving the way for CCTA and FFRCT to become the front-line approach nationwide for CAD evaluation.
How CCTA and FFRCT Help Assess CAD Risk
CCTA can pinpoint if a patient's symptoms are related to CAD by (1) determining whether cholesterol plaques are present in the coronary arteries, and (2) if so, estimating the degree of arterial blockage. Data show that CCTA is as good or superior to nuclear stress testing – but CCTA can be done at a lower cost and with less radiation. If there are intermediate blockages identified by CCTA, FFRCT helps determine whether or not these blockages are functionally significant.
At Sanger, CCTA and FFRCT help us better risk-stratify patients.
If the CCTA is normal, patients are reassured that they do not have CAD.
When a mild blockage is found (less than 30 percent narrowing), we recommend preventive therapies and no further CAD testing.
In patients with an intermediate blockage (narrowing of 30 to 69 percent), FFRCT is often added to assess if the stenosis is functionally significant and would warrant referral for cardiac catheterization and subsequent revascularization.
Patients with a severe blockage (narrowing of greater than or equal to 70 percent) in a major coronary artery are often sent directly for cardiac catheterization.
Under some circumstances, FFRCT is added to evaluate stenosis in higher ranges (70 to 90 percent) to help direct therapy.
Using FFRCT to Evaluate Coronary Artery Blockage
Fractional flow reserve (FFR) is the gold standard for determining if a blockage is functionally important. It is assessed invasively in the cath lab, measuring the pressure drop across a coronary blockage. FFRCT uses a patient's CCTA images to noninvasively estimate this FFR value. Clinical trials have demonstrated excellent correlation between FFRCT and invasively measured FFR values. When performing CCTA, no additional medications or CT scanner time are required to also perform FFRCT.
It's often difficult to know when patients with intermediate to high-grade blockages should be managed medically or undergo stenting or bypass surgery. FFRCT delivers information that helps us decide the best course of action.
A landmark study showed that heart catheterization could be safely canceled in over 60 percent of patients if FFRCT showed that the blockages were not significant. At Sanger, by using of CCTA and FFRCT to evaluate patients with chest pain, we aim to produce similar superior health outcomes.
Adopting CCTA and FFRCT as Front-Line Tests
CCTA and FFRCT is an appropriate front-line test for many patients, but not all.
For patients with no known history of CAD, CCTA and FFRCT is an appropriate front-line testing strategy for evaluating chest pain thought to be related to a coronary blockage.
For patients with known CAD (history of stents), CCTA and FFRCT may be helpful but are not always the most appropriate front-line tests. FFRCT is not approved for use in CABG patients.
In early 2018, CMS approved payment for FFRCT. This was welcome news at Sanger, where these technologies have become so vital that we performed more than 2,000 CCTAs in 2017. We are now adding more CT scanners to accommodate patients referred by providers looking for an alternative to traditional stress test approaches.
It's all part of our push to raise the bar on cardiac care. We want to assure that all providers – whether within Atrium Health or outside our organization – have access to the tools they need to deliver the best possible patient care.
For questions, or to make a referral, call 877-999-7484.