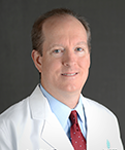 Chief, Section of Soft Tissue and Breast Oncology
Richard White, MD, FACS, is the chief of surgical oncology at Atrium Health Levine Cancer and Department of Surgery and professor of surgery at Atrium Health. Dr. White's acclaimed career has included the American Cancer Society awarding him the St. George National Award in recognition of outstanding contributions to the control of cancer and being listed in America's Top Doctors for Cancer. His primary clinical interests are breast cancer and cutaneous malignancies/melanoma.
Receiving his Doctor of Medicine from Columbia University's College of Physicians and Surgeons, Dr. White underwent his surgical training at Georgetown University and served as a fellow in surgical oncology and immunotherapy at the National Cancer Institute. He currently serves as the president of the Sentinel Node Working Group, an international research organization devoted to the care of patients with melanoma, and has previously held the role of chair of the American Society of Clinical Oncology Breast Symposium. Dr. White has also served University of North Carolina's department of surgery in several capacities, including clinical professor of surgery and clinical associate professor.