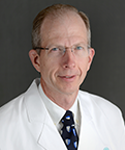 Chief, Section of GI Surgical Oncology

Jonathan C. Salo, MD, specializes in surgical oncology at Atrium Health Levine Cancer. Serving as data integration committee chairman, cancer conference director, and on the executive committee of the cancer committee are among his valued contributions to the Institute. Dr. Salo was honored as the 2010 Teacher of the Year at Atrium Health's Department of Surgery.
Previously a lieutenant commander at the National Institutes of Health from 1993 to 1996, Dr. Salo held a surgical oncology fellowship at Memorial Sloan Kettering Cancer Center and a research fellowship at the National Institute of Health. He is presently a clinical associate professor of surgery at the University of North Carolina at Chapel Hill, a role he's held since 2009.