Skip Navigation
COVID-19 cases are rising.
Find information about testing
and visit our
COVID-19 Resource Center
for more updates.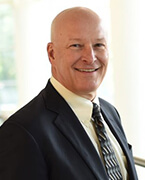 President, Children's Services and Chair of Pediatrics
Dr. Nicholson oversees all of our pediatric physicians and practices, including Levine Children's Hospital and Jeff Gordon Children's Hospital. In addition to his role as president of our children's service line, Dr. Nicholson is also the Sarah H. Bissell and Howard C. Bissell Endowed Chair in Pediatrics. Nationally, he serves on the Board of Directors for the American Board of Pediatrics and is the immediate past chair of its pediatric hematology/oncology sub-board. Dr. Nicholson's previous leadership experience includes his roles as physician in chief at Phoenix Children's Hospital and the pediatric department chair at Oregon Health & Science University. He is a national leader in pediatrics and has led a variety of education initiatives and research programs, including publishing clinical trials on pediatric oncology and cancer survivorship studies.
EDUCATION
Medical school
Medical College of Georgia
Residency
Children's National Medical Center
Specialty: Pediatrics
Fellowship
Children's National Medical Center
Specialty: Pediatric hematology/oncology
Other education
Master's in Public Health
George Washington University
Focus: Biostatistics
BOARD CERTIFICATIONS
American Board of Pediatrics (Pediatrics; Pediatric Hematology/Oncology)