Atrium Health Cabarrus has exceptional care for both moms and babies.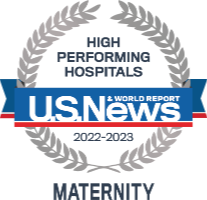 We're recognized among the nation's best maternity centers by U.S. News & World Report, for our safety and expertise. After delivery, Atrium Health Levine Children's providers care for your newborn. They're backed by the region's mostwarded children's hospital, with 8 U.S. News & World Report-ranked pediatric specialties – including neonatology.
From the first contraction to the first trip home, have peace of mind knowing you and your baby are getting the support you deserve.
Atrium Health Cabarrus offers high-quality maternity services in the newly renovated Mariam Cannon Hayes Women's Center. We are committed to providing personalized, family-centered care to meet the needs of you and your family.
We offer many education classes to prepare you and your family for the birth and care of your new baby.
We achieved Four-star Breastfeeding Designation from the NC Maternity Center
Our certified lactation consultants provide care and counseling prenatally, during your hospital stay and after you go home.
We offer the highest level of care available for babies in our Level IV Neonatal Intensive Care Unit (NICU) at our Jeff Gordon's Children's Center.
Why Choose Atrium Health Cabarrus for Your Birth Experience?
Private labor, delivery and recovery suites with sleeping accommodations for a significant other or guest, flat-screen TV and free wireless internet.
One nurse cares for you and your baby in your room promoting family bonding and personalized care.
Our NICU at Jeff Gordon Children's Center is staffed 24/7 by board-certified neonatologists to care for sick and premature infants with complex healthcare needs.
Certified lactation consultants support your breastfeeding needs during your hospital stay and when you go home.
Our team of inpatient obstetric doctors are in the hospital 24/7 and available to partner with your OB doctor if needed.
Specially trained maternal-fetal medicine doctors and healthcare team to care for high risk pregnancies.
Secured units and an infant security system to monitor all newborns for increased safety, security and peace of mind.
Child Birth Classes and Tours
Atrium Health Cabarrus offers a variety of classes to prepare you and your family for the birth of your child, including breastfeeding basics, boot camp for new dads, infant safety, taking care of baby and more. See our list of classes and events.
Public Cord Blood Bank Donation
Atrium Health Cabarrus is one of a handful of hospitals in North Carolina participating in umbilical cord blood collection for public banks. This means when you have a baby, you can choose to anonymously donate the blood from the placenta and umbilical cord to a cord blood bank.
Instead of being thrown out, donated cord blood can be used to treat more than 80 different diseases, including leukemia and lymphoma. Free and painless for you and your baby, cord blood cells could potentially be lifesaving for someone battling a life-threatening condition or waiting for a transplant.
If the cord blood meets all criteria, it'll be stored at Carolinas Cord Blood Bank and listed on the Be The Match ® cord blood registry, where it'll be matched with a person who needs it.
Interested in donating?
Most women who are healthy and having one baby are able to participate in the easy collection process, and it won't change your labor and delivery in any way. Remember the choice is entirely yours, so talk to your family and care team as soon as possible to determine what's best for you and your baby.
For more information, please call 704-403-6687.
Patient and Visitor Photography
We know you will want to capture those first special moments with your new baby in pictures or video. For the safety and privacy of our moms and babies, we ask patients and visitors to please follow these guidelines.