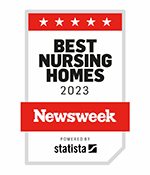 A trusted care provider since 1926, Atrium Health Huntersville Oaks is an award-winning nursing and rehabilitation facility that focuses on providing short term rehabilitation so that you, or your loved one can return home. Atrium Health Huntersville Oaks was designed with the patient in mind to enhance recovery while providing care for your rehabilitation and medical needs. Our team of therapists is specially trained and will work with your physician to help meet your therapy goals.
Atrium Health Huntersville Oaks offers:
State of the art Nautilus equipment
Our Freedom Through Functionality program to help you increase independence and functionality
Large private rooms with in room showers
24-hour care from trained staff.
Get Back to Life…Faster
Whether recovering from surgery, illness or accident, Atrium Health Huntersville Oaks provides individualized short term nursing and therapy to help get you back to your feet.
Our patients have access to:
Up to three hours of therapy every day
Physical, occupational, speech and recreational therapy
On-site doctors or nurse practitioners five days a week.
Most importantly, we coordinate with the referring physician to determine your specific treatment plan.
Personalized Care
Our comprehensive care team includes physicians, nurses, therapists, social workers, nutritionists and others who work with you and your family to develop a treatment plan and goals designed just for you.
For your comfort we offer:
Amenities
Private, spacious rooms with in-room showers available
Therapy gym with new equipment
Restaurant style dining
Cybercafes and internet access
Rose garden and pavilion for outdoor enjoyment
Beauty salon and barber
Chapel
Gift shop
Continuing Care Services
As part of Atrium Health, Huntersville Oaks provides its patients access to a variety of services that many facilities cannot offer.
It has never been easier to access services such as:
On-site mobile dentistry
Financial counseling
Home healthcare
Home infusion/specialty pharmacy
Home medical equipment
On-site palliative and hospice team
Personal care management
Sleep services
Pain services
Skilled Nursing Facility residents, families and representatives, click here for the current status of confirmed or suspected COVID-19 cases in the facility.