Located at Atrium Health Union, Atrium Health Jesse Helms Nursing Center offers world-class care from trained clinicians in a home-like setting.
Our family-style dining experience provides residents the opportunity to socialize with family members and friends, both old and new. We focus on personalized skilled nursing and rehabilitative care with the goal of enabling residents to lead a healthier life. We are committed to enhancing the quality of life and well-being of all our residents.
At Atrium Health Jesse Helms Nursing Center, you'll find a warm, healing environment, lively activities and a caring, experienced staff.
Additionally, our care settings and technology are all state-of-the-art and our trained clinicians provide 24-hour care.
Atrium Health Jesse Helms Nursing Center was named one of the Best Nursing Homes by U.S. News & World Report.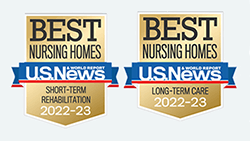 U.S. News & World Report evaluates nearly 16,000 skilled nursing facilities (nursing homes) across the United States, annually. The organization creates a calculation that rates the best skilled nursing facilities at 4.5 to 5 stars. This rating is based on each facility's performance over time, calculating key quality care measurements, in conjunction with therapy hours and nursing staff to patient ratios. This time-lapsed measurement makes such a designation for skilled nursing facilities difficult to achieve. Only 26 facilities in the state of North Carolina earned such a designation. North Carolina currently has 425 skilled nursing facilities.
Continuing Care Services
Carolinas Mobile Dentistry
Financial counseling
Home healthcare
Home infusion/specialty pharmacy
Home medical equipment
Hospice
Palliative care
Personal care management
Sleep services
Pain services
Community Features
Beauty salon and barber
Guest dining room
Individual resident and family-directed lifestyle
Life-enhancement and wellness activities
Wellness and rehabilitative gym
Services Provided at Atrium Health Jesse Helms Nursing Center
Short-term Nursing and Rehabilitation Services
Atrium Health Jesse Helms Nursing Center provides short-term nursing and therapy for individuals recovering from surgery, illness or accident. Short-term programs help residents achieve their maximum functional capacity and return to their homes and communities in the shortest time possible.
To achieve this goal, residents may receive physical, occupational and speech therapy from compassionate, skilled therapists. Therapists are part of a comprehensive care team that includes physicians, nurses, social workers, nutritionists and others who work with the resident and family members to develop an individualized plan of care and goals for each patient.
Long-term Care Services
Our long-term care services are designed for individuals who can no longer be cared for at home or in an assisted living facility. Long-term care services can include:
Healthcare services
Social and cultural activities
Nursing and restorative care
Case management
We believe in quality care, compassion and enhancing the lives of every individual.
End-of-life Services
Residents needing end-of-life care deserve to be treated with dignity, respect and compassion. We deliver care that is focused on the resident's and family's preference. End-of-life care addresses undesirable symptoms, emotional, spiritual and personal suffering of the patient as well as grieving. This includes hospice and palliative care services.
Skilled Nursing Facility residents, families and representatives, click here for the current status of confirmed or suspected COVID-19 cases in the facility.