Atrium Health Pineville has exceptional care for both moms and babies.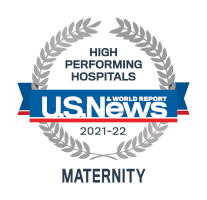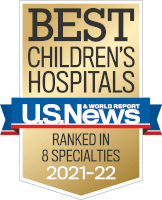 We're recognized among the nation's best maternity centers by U.S. News & World Report and Newsweek, for our safety and expertise. After delivery, Atrium Health Levine Children's providers care for your newborn. They're backed by the region's most awarded children's hospital, with 8 U.S. News & World Report-ranked pediatric specialties – including neonatology.

From the first contraction to the first trip home, have peace of mind knowing you and your baby are getting the support you deserve.
Atrium Health Pineville offers comprehensive maternity services in a warm and comfortable environment. Our maternity center has been recognized for supporting multiple birthing options and working with you to accommodate your birth plan. Our family-centered approach involves mother-baby care and allows you and your baby to stay together in your private room. The same nurse cares for you and your baby, encouraging family bonding and breastfeeding. Skin-to-skin contact and mother-baby care is important in the first hours of life.
Our private rooms are designed around the needs of your family. Each room offers a TV, free Wi-Fi, whirlpool tub and a guest bed for a comfortable, home-like experience.
For premature infants or newborns needing special care immediately after birth, we offer a Level III Neonatal Care Unit (NCU). Our NCU staff includes neonatologists, registered nurses and neonatal nurse practitioners who offer the latest technology in a warm and supportive environment.
Our NCU can provide extra assistance for babies born as early as 28 weeks. Should even more specialized care be required, transport to the Level IV Neonatal Intensive Care Nursery at Atrium Health is available.
Patient and Visitor Photography

We know you will want to capture those first special moments with your new baby in pictures or video. For the safety and privacy of our moms and babies, we ask patients and visitors to please follow these guidelines.
Childbirth Classes
Atrium Health Pineville offers a variety of classes and education for you and your family including breastfeeding basics, boot camp for new dads, infant safety and taking care of baby. See our complete list of maternity education classes.
Special Care Nursery
Our Special Care Nursery cares for babies who need medical monitoring and specialized services. We regularly care for babies who are born prematurely or at a low birth weight. We are staffed 24 hours a day by board-certified neonatologists, nurses and respiratory therapists. State-of-the-art ventilation equipment is available for babies whose lungs aren't mature and special enclosed beds called isolettes are used for infants who need a carefully controlled environment.
Breastfeeding Resources for New and Expectant Parents
Lactation Services:
The lactation team at Atrium Health Pineville includes board-certified lactation consultants who combine the most up-to-date medical information with a personal approach to give the nursing family the individual guidance you need. We provide a full range of services in the hospital, including breastfeeding classes, support and encouragement.

For questions and more information regarding breastfeeding, please contact 704-667-1390
Breastfeeding Resources:
We encourage our families to read the important information below to help you and your baby get off to the best start with breastfeeding in the hospital.
Prenatal Breastfeeding and Baby-Friendly® Education