Atrium Health Carolinas Medical Center, in Charlotte, NC, has three roof-top helipads that are used strictly for authorized Air Medical Helicopter Services transporting critically ill or injured patients to the hospital. Private or charter helicopter services are not permitted to land on these helipads.
Prior authorization to land at any Atrium Health facility helipad must be obtained by contacting our Communications Center.
Helicopter Approach and Departure Procedures:
Note: maximum gross weight limitation of Helipad 1 and 2 are 10,000lbs and Helipad 3 is 11,000lbs
Contact Charlotte Approach on 120.05 when 20 to 25 miles out from our main hospital.
Notify Approach that you are inbound to Carolinas Medical Center and obtain clearance into Class B Airspace prior to penetrating the 7 NM arc around the Charlotte VOR (115.0).
Contact MedCenter Air Dispatch (FlightWatch) on primary 155.325 - PL 10 (91.5) or secondary 123.025.
Recommend 1500' - 1800' MSL for altitude.
Fly to a point just south of the skyscrapers of Charlotte (approximately 1/4 mile). Fly over top of the large hotel next to the Interstate 277.
Contact MedCenter Air FlightWatch and report "North IP for Pad?"
Follow the four-lane road (Kings Drive) southwest leading from the interstate area towards Carolinas Medical Center. When near the hospital at 500' AGL, make the turn toward Pad 1, 2 or 3.
Avoid flying any other route into or out of the hospital for noise abatement. Avoid low flight over residential areas near the hospital.
If the patient's condition is extremely critical, you can fly directly to the helipads. However, notify MedCenter Air Flight Watch or one of our crew members so a flight deviation report can be completed.
For departure from CMC helipad, contact MCA (FlightWatch) on primary 155.325 - PL 10 (91.5) or secondary 123.025 prior to start, then Charlotte ATC Tower while on the helipad on frequency 118.1. When communications with Charlotte Tower is established, advise the tower of your intentions, and request clearance to depart the pad and proceed. Do not depart the helipad without an ATC clearance, since the helipad is located inside Charlotte Class B Surface Area.
CMC Helicopter Landing Pads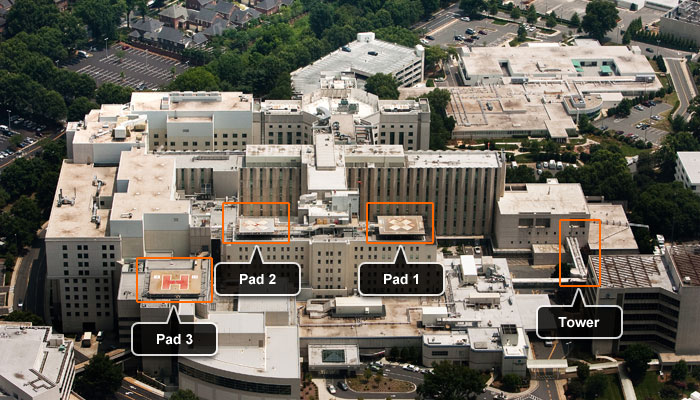 Contact MedCenter Air
For more information, call us at 800-421-9195 or 704-512-7941. Or, email us