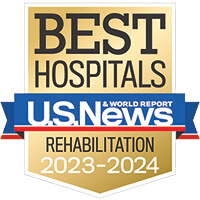 Cancer care goes beyond treating the disease: Cancer and its therapies can take a toll on your body during and after treatment. Ranked among the top 15 rehabilitation hospitals nationwide by U.S. News & World Report, Atrium Health Carolinas Rehabilitation is here to support you throughout your cancer journey for you, whether you're just starting treatment or coping with its after-effects.

We were the world's first program to earn accreditation in cancer rehabilitation from the Commission on Accredited Rehab Facilities (CARF), certifying that we offer the highest quality of care. We're one of only a few programs in the nation offering inpatient and outpatient cancer rehabilitation, and we use the latest techniques to help you stay as strong and healthy as possible.

Patient Care – What to Expect
---
Our program tailors care to your exact needs, from the time you're diagnosed until long after treatment ends. Here's why patients choose us:
Customized therapy: We'll talk about your goals and create a plan for you to achieve them.
Collaborative care: Our team is integrated with Atrium Health Levine Cancer. We work closely with your doctors to understand what you need and how we can help.
Empowering caregivers: We help caregivers understand what you're going through. We know how challenging cancer can be, and we are here to support you and your loved ones.
Help at home: We can help patients transition home by making safety recommendations to decrease the risk for falls and recommend changes to make moving around the house easier.
Leading experts: The majority of our staff have more than a decade of training and are leading the way in this new field. We're also actively involved in research to improve cancer rehabilitation, and we regularly publish our findings and share our insights at national and international conferences.
Support groups: We offer a variety of patient and family support groups, plus a peer mentorship program where patients can connect with others who've gone through a similar illness.
Supportive care services: Levine Cancer offers many supportive programs including music therapy, nutritional classes, support groups and exercise classes.
Supporting palliative care: Cancer treatment has seen incredible progress but, unfortunately, some cancers don't respond to treatment. We help patients with terminal cancer reduce pain and improve their quality of life.
Cancer Rehabilitation Programs and Services
---
Our team is here to help you navigate any challenges you may face during and after cancer treatment. Our cancer rehabilitation services include:
Helping you manage fatigue, nerve problems, pain, weakness, difficulty with balance, and joint stiffness caused by chemotherapy, radiation, or surgery
Creating meal plans to help you get the nutrients you need
Mental health support to restore confidence, and prevent or manage anxiety or depression
Exercise programs, tailored to you
Care for neurological issues related to cancer and its treatments
Guiding patients as they need orthotics, prosthetics, and assistive devices to help them with their movement
Helping patients manage problems with memory or brain function, swallowing difficulties, and speech and language challenges
Cancer Rehabilitation: Treatments
---
We use the latest treatments to support cancer patients and survivors, including:
Inpatient Therapies for Cancer Patients
Aromatherapy: Using essential oils to reduce stress, nausea and other issues faced during cancer treatment.
Aquatic therapy: Helping patients regain strength and mobility in our heated pool.
Dry needling: Inserting thin needles to tense muscles to relieve pain.
Exoskeletal upper and lower extremity robotic device: Helping patients who have lost mobility increase their strength and range of motion.
Functional electric stimulation: Using tiny electrical pulses to improve muscle function.
Kinesiotaping: Using special tape to support and relieve pain in muscles and joints.
Wheelchair seating clinic: Helping patients who need wheelchairs select the appropriate chair, cushions and controls to maximize comfort, mobility and health.
Outpatient Therapies for Cancer Patients
Dry needling: To reduce muscle pain.
Laryngectomy services: To help patients recover and adapt after having their larynx removed.
Lymphedema therapy: Helping patients whose cancer treatments caused lymphedema, a condition where lymph nodes stop problems cause swelling and stiffness.
Neuro-cognitive assessment: To see if cancer treatments have impacted cognitive functions like memory, reasoning capabilities and processing.
Pelvic rehabilitation: To help patients overcome pain or dysfunction in their bladder, bowel or uterus.
Return to work assessment: Providing a comprehensive evaluation of whether you're ready to go back to work.
Your Care Team
---
Our team includes qualified professionals who understand how cancer and cancer treatment affect individuals and their families. Our team includes:
Rehabilitation physicians: Who oversee your care and manage impairments related to your diagnosis and treatment.
Physical therapists: Who help you address balance problems, difficulty walking, endurance, and pain to improve your safety and maximize physical function.
Occupational therapists: Who help you manage limitations with daily activities to improve your safety and well-being.
Speech therapists: Who help you address problems with cognitive function, swallowing, speech and language.
Clinical nutritionists: Who can optimize your diet and help you plan healthy meals.
Psychologists: Who help you cope and find ways to stay mentally healthy.
Rehabilitation nurses: Who can help you adapt to your diagnosis by developing realistic goals and treatment plans.
Supportive Services:
---
In addition to our rehabilitation specialists, you'll also have access to supportive services that make your time with us as easy as possible. Our supportive services and staff include:
Nurse navigators: Who can help with everything from scheduling appointments to understanding treatments.
Palliative care: Helping patients with terminal cancer control symptoms, reduce pain and improve quality of life.
Social workers: Who support families by helping them find financial assistance, connecting them with support groups and more. They help coordinating your care during inpatient rehabilitation and after you leave the hospital.
Spiritual Care: Provided by on-call chaplains who can support you and your loved ones, no matter what denomination, faith or spiritual belief.