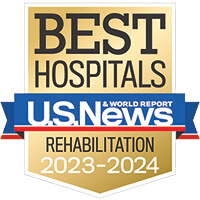 When you experience a spinal cord injury, you need care from experts who can help you get back to living life to the fullest. Atrium Health Carolinas Rehabilitation is here for you. We're home to experts with decades of experience in helping patients navigate spinal cord injuries. We use the latest treatments and techniques to help you lead a happier, healthier life.
Patient Care – What to Expect
---
Our team will help you with everything from maximizing your independence to boosting your mental health. Here's why patients choose Carolinas Rehabilitation:
Care for life: We're by your side for the long haul. We'll help you at any point in your recovery and support you for years to come.
Expertise in getting you back to daily life: From basic skills like bathing and household mobility to riding the bus and community activities, we'll help you get comfortable with the things that matter most to you. We offer a transitional living apartment, to simulate your home environment and help you practice routine tasks before leaving the hospital. We encourage families to participate in your program to learn what life will be like when you return home.
Help with home modifications: Our specialists can help you understand if you need to make any changes to your home after your injury. These changes, such as installing a wheelchair ramp or widening doorways, can make it easier for you to navigate your home and daily life.
Improved quality of life: A spinal cord injury can affect every part of your life. We created the Living Fit and Engaged (LIFE) program to help improve your quality of life through exercise, employment counseling, and training that can help you start or return to school, work or volunteering.
Access to advanced technology and clinical trials: Our team is actively involved in research, working to find new ways to help patients like you. We go out of our way to give our clients access to the best equipment, treatments and medications.
Specialized care for women: Most gynecologist offices don't have exam tables for women with disabilities. Atrium Health is home to gynecologists who are trained to work with women with disabilities and can care for all their needs.
Emergency preparedness: People with spinal cord injuries may have additional equipment or needs that make evacuating in an emergency difficult. Our team helps prepare plans and documents to facilitate a safe evacuation.
What We Treat
---
No matter what type of spinal cord injury you've had, we'll pair you with a specialist who knows exactly how to help. We care for patients with traumatic spinal cord injuries as well as those with conditions that affect the spinal cord such as:
Treatments and Programs for Spinal Cord Injuries
---
We create an individualized treatment program for each patient. We offer the following treatments for inpatients and outpatients:
Your Care Team
---
Our specialists work together to help you deal with a spinal cord injury. This team approach means we can provide expert care for your exact needs. Our team includes:
Physical medicine and rehabilitation physicians who are board-certified in spinal cord injury. These specialists help you manage medical issues related to your injury and oversee your care.
Rehabilitation certified registered nurses and certified nursing assistants who are by your side throughout treatment and have deep experience caring for patients like you.
Medical social workers who help families find financial assistance, connect with support groups and more.
Physical therapists who specialize in helping you get stronger, improve your mobility and decrease pain.
Occupational therapists who help you regain the skills and strength you need to get back to your job, school and daily life.
Speech and language pathologists speech therapists who assess and diagnose swallowing, speech and communication issues you.
Recreational therapists who use activities like arts, crafts, sports and games to help you improve or maintain your physical, cognitive, social, emotional and spiritual health.
Wound care specialists can help treat and prevent open wounds and guard against infection.
On-call chaplains can provide spiritual support for those who want it during treatment.