Visitor Restrictions Update:
We're continuing to ease some of the visitor restrictions, while ensuring COVID-Safe standards are in place.
Learn more
.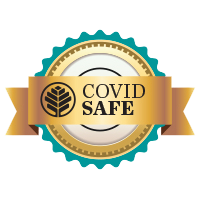 Safety and Appointment Updates
Whatever your medical needs are, we're here for you – with COVID-Safe care. We're setting the national standard with innovative safety measures, so you feel comfortable and confident each time you visit. See what we're doing to keep you COVID-Safe.
To schedule an appointment, call your doctor's office or 704-302-9234. We'll help you decide if your next visit should be in person, by phone or a video chat.
In a medical emergency, go to an emergency room or call 911 right away.
Specialized Care From Expert HPB Surgeons
At Atrium Health, our skilled surgeons are committed to delivering exceptional care to treat diseases of the liver, pancreas, bile duct and gallbladder. This area of medicine is called Hepato-Pancreato-Biliary, or HPB Surgery.
Hepato means liver
Pancreato relates to the pancreas
The biliary system includes the gallbladder and bile ducts (thin tubes that go from the liver to the small intestine)
As one of the largest HPB programs in the country, we use the latest surgical techniques and technologies to help you get the best possible results. Because these are often highly complicated cases affecting multiple organs, our team works hand-in-hand with experts in other medical specialties, including oncologists, gastroenterologists, therapeutic endoscopists, interventional radiologists and hepatologists. This allows us to provide you with specialized and complete care.
In this video, you'll learn more about our program and service offerings from our team of HPB surgeons.
Why Choose Us for HPB Surgery Care?
Expert care. As leaders in the field, our HPB surgeons are nationally and internationally regarded. They are often sought after to teach surgeons at other health systems how to perform these procedures.
Experience. We're one of the most experienced HPB teams in the nation, performing more HPB surgeries than most other centers in the nation and seeing more than 3,000 patients each year.
Innovation. Depending on your specific needs, our surgeons can use traditional open surgery, as well as progressive cutting-edge technologies to destroy cancers and minimally invasive laparoscopic and robotic procedures that result in less pain, fewer infections and a faster recovery overall.
Research. We oversee and take part in research aimed at developing new procedures and innovative technologies – studies that have and continue to move the field forward. Our clinical trials unit provides you access to some of the newest, most innovative treatments available for HPB-related conditions.
Patient-centered care. Our focus is on you and your needs. Our dedicated HPB team provides guidance and expert care across the continuum -- helping you to understand your diagnosis, make informed decisions about what treatment is best and supporting you throughout your recovery.
Complete support. Many of our patients take advantage of our custom education classes. Led by advanced care practitioners, these classes help you become an expert on your disease, your particular procedure and what to expect. You can also take advantage of other services that can support your recovery, including physical therapy, nutrition and counseling before and after your procedures.
Improved recovery. The HPB program is accredited by the International Enhanced Recovery After Surgery (ERAS) Society and distinguished as the first Academic Center of Excellence in the United States.
HPB Conditions Treated
The most common conditions we treat include:
Benign (non-cancerous) tissue growth in the liver, pancreas, bile duct or gallbladder
Cancers of the liver, pancreas, bile duct or gallbladder
Neuroendocrine tumors (when certain cells develop into tumors)
Gallstones (hard particles that can develop and get lodged in the gallbladder)
Acute and chronic pancreatitis (inflammation of the pancreas)
Infections or abscesses (pockets of fluid or pus)
Portal hypertension (abnormally high blood pressure in the large vein that brings blood from the intestine to the liver)
Complete HPB Surgical Care
Our program offers a wide range of treatment options, and we tailor care plans to your individual needs.
Treatments may include:
Ablation therapies that use heat usually delivered through a small tube to destroy tumors
Resections that are performed to cut out or remove diseased or damaged areas of the affected organ or organs. While these operations are often done through open surgery, we specialize in using minimally invasive approaches either using a robot or laparoscopically. Unlike open procedures, these techniques usually involve tiny video cameras and several small incisions.
Some types of resections include:

Whipple procedure to take out part of the pancreas, gallbladder and intestine
Hepatectomies to remove a portion of the liver
Distal pancreatectomies to remove the bottom or tail of the pancreas
Irreversible electroporation (IRE) that uses pulses of electricity to poke holes in tumor cells in the pancreas and sometimes the liver to destroy the tumor
Our Locations
Atrium Health HPB Surgery - NorthEast
200 Medical Park Drive, Suite 430
Concord, NC 28025
704-403-5890
Morehead Medical Plaza
1025 Morehead Medical Dr.
Suite 600
Charlotte, NC 28204
704-355-1813
Levine Cancer Institute
1021 Morehead Medical Dr.
Suite 600
Charlotte, NC 28204
980-442-2000
For Providers
We work with you to ensure you receive the highest quality care available.
Together, we'll determine a personalized treatment plan based on your needs. And our referral coordinators will assist you in obtaining an appointment with the appropriate physician.
Refer a patient:
To refer a patient, call 704-355-1813 for non-cancer cases and 980-442-2000 for cancer cases.