National Nursing Leader Joins Carolinas HealthCare System
10.09.2017
Atrium Health News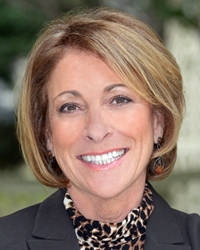 Charlotte, NC – Carolinas HealthCare System welcomes Maureen Swick, PhD, MSN, RN, NEA-BC, as she joins the leadership team as the System Nurse Executive today.
As System Nurse Executive, Swick will represent over 16,000 nurses throughout Carolinas HealthCare System to ensure consistency in nursing policy, strategy, practice and quality.
Swick is well known in the healthcare field as she has served in nurse leadership roles, advocating for caregivers and patients, for more than 30 years – most recently as chief executive officer of the American Organization of Nurse Executives and chief nursing officer at the American Hospital Association (AHA). Prior to joining the AHA, she served as system chief nursing officer at Inova Health System in Virginia. Swick will continue to serve as the past president of the AONE Board.
"Maureen is known widely for her abilities to design, optimize and integrate clinical operations across the care continuum," said System Executive Vice President and Chief Operating Officer Ken Hayes. "She has an excellent reputation as a collaborator and problem solver who is passionate about patient care.
"Caregiving is at the center of everything we do. It was important to build upon the legacy of outstanding nursing and patient care that Carolinas HealthCare System has built over the decades. In Maureen, we have found a leader who embodies our mission to improve health, elevate hope and advance healing – for all. I have every confidence her leadership will be firmly grounded in our mission, as it is how she lives her life today, and how she sees the future of our field."
Advocating for the important role of nurses play in shaping the future of healthcare is second nature to Swick, as she comes from a family of nurses. Her mother and her mother's two sisters were nurses. Two of her four children are also nurses.
"I am charged with listening to our nurses, caring for their needs, and advocating for the unique role they play in driving excellent patient care," said Swick. "At the same time, I'm also accountable for making sure that we are all working toward the same goals by maintaining a focus on the future and how we can serve our patients better."
During her first days on the job, Swick will be visiting with a variety of teams across the organization.