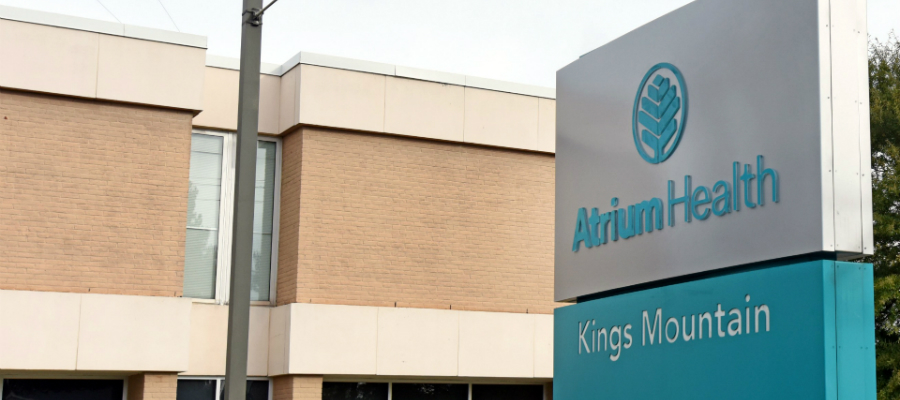 Atrium Health Kings Mountain is 67 Years Strong
12.18.2018
Atrium Health News |
Sanger Heart & Vascular Institute
The recent name change to Atrium Health Kings Mountain on Nov. 1, 2018, occurred some 67 years after the hospital first opened in 1951. And Beverly Berry, a progressive care nurse, has been serving patients in that facility for two thirds of that time.
Berry started as a fresh-out-of-nursing-school grad from Gaston College in 1975 (a year when Gerald Ford was president). And she has enjoyed all her specialties since then, including surgery and intensive care, before her current assignment. "Beverly's tenure would be remarkable in any profession," says hospital administrator Alex Bell, "especially so given the profound changes she's seen in healthcare over the last four decades."
Atrium Health Kings Mountain currently has 67 licensed beds. Bell points out that it is difficult in today's world for community hospitals that small, situated in rural areas, to survive financially. He attributes the hospital's continued success to its longstanding partnership with its sister hospital in Shelby, Atrium Health Cleveland, and the Atrium Health system itself.
That partnership dates back to 1994, when Kings Mountain Hospital signed its first management services agreement with Carolinas HealthCare System. Bell himself has a lengthy tenure with Atrium Health, having started out as an administrator at Carolinas Medical Center in 1993.
He says the various administrative transitions at Kings Mountain – from a CHS management agreement, to a lease agreement, to full ownership – were all positive and all relatively seamless. "We had a 20-year partnership before we finally got married to CHS," Bell says, "so the benefits of full integration were clearly understood."
Bell doesn't hesitate to name the biggest change he's observed during a lengthy career in Kings Mountain: the impact of technology.
"Even though we're a small hospital," he says, "we can serve patients in a way that combines the best of two worlds. The quality of individual care is extraordinary, because the staff and patients all know one another. And they know that on a given day they might end up treating a personal friend or family member.
"Also, our connection with Atrium Health enables us to address a broad mix of complex medical problems on site, through telemedicine, and refer people out quickly if they need hands-on care at a more specialized facility."
He highlights specifically the benefits of virtual cardiology, virtual intensive care and virtual behavioral health. Also, in emergency situations when timing is critical (such as Code STEMI heart attacks), patients can reach Charlotte by helicopter in 45 minutes or less.
"I can honestly say that each major transition along our journey has been accompanied by tangible and lasting enhancements in patient services and better opportunities for staff growth and advancement."
Berry also endorses the benefits of being connected to a larger system, and says the biggest changes she has seen over time are the safety improvements associated with technology.
"In the old days," she remembers, "we'd admit a patient based on a one-page paper form with maybe 10 simple questions. Now, the screening procedures are so much more sophisticated and carefully thought out that there is no comparison.
And how does she feel about her unusually long tenure, 40-plus years, at a single facility?
"Well," she responds, "they say the grass is always greener on the other side of the fence. I wouldn't know, because I've never been on the other side of the fence. But it's certainly been rewarding to be able to look after the people living in my own hometown. For me, working here has always been a calling, not just a paycheck."
Timeline of Key Events at Atrium Health Kings Mountain
1951: Hospital opens with the name Kings Mountain Unit (so-named because it was considered one part of a public hospital "system").
1957: Kings Mountain Hospital becomes a standalone facility with its own governing board.
1994: Management services agreement is signed with Carolinas HealthCare System.
1995: Carolinas HealthCare System leases the hospital property from Cleveland County and assumes full operation of Kings Mountain Hospital.
2003: Kings Mountain Hospital is consolidated into CRMC. The combined system is renamed Cleveland County HealthCare System.
2013: Cleveland County conveys hospital property to Carolinas HealthCare System.
2015: Cleveland County HealthCare System is merged into Carolinas HealthCare System, and both hospitals are renamed, one as Carolinas HealthCare System Cleveland and one as Carolinas HealthCare System Kings Mountain.
2018: Carolinas HealthCare System changes its name to Atrium Health, and both hospitals are renamed as Atrium Health Cleveland and Atrium Health Kings Mountain.