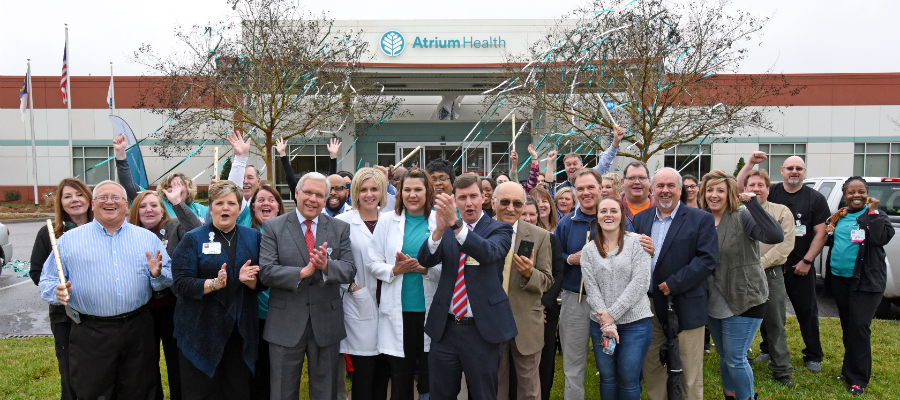 Atrium Health Anson: More than a Century of Caring
01.03.2019
Atrium Health News |
Heart Health |
Primary Care |
Diet and Nutrition
When Carolinas HealthCare System Anson changed its name to Atrium Health Anson this month, the change required little more than an update in signage, stationery and business cards.
This was a radical departure from the changes that occurred in July 2014, when the entire staff relocated from the old Anson Community Hospital to a brand new facility nearby. That move required everyone to adapt to some dramatically new concepts in patient care that included emergency services, hospital beds and primary care all on one campus.
As significant as it was, this relocation was just one chapter in a lengthy history of changes dating back to the World War I era, when the "Anson Sanatorium" was first built.
Back then, the childhood immunizations we have today did not exist. As a result, common diseases like measles posed a much more serious threat to public health. Local physicians coped as best they could, seeing patients individually, but recognized the need for a dedicated healthcare facility. This led to the Sanatorium's opening in 1913.
A local newspaper article, published years afterward, summarized the rationale for that development:
The Sanatorium was, from the beginning, planned for the benefit of the sick and suffering of Anson County. Diseases that have since been conquered – typhoid, diphtheria, measles and small pox – kept doctors busy in their offices. But there were no hospital facilities to care for the sick. The seriously ill or injured who could afford it traveled by train to Philadelphia, Baltimore or Chicago."
This passage illustrates, in dramatic fashion, the extent to which public expectations have changed in 100 years. It was taken for granted back then that access to services would be limited to the fortunate few – a stark contrast to today's world, where Atrium Health Anson strives to ensure high quality healthcare for all.
Jill Lucas, director of Ancillary and Support Services, is one of Anson's longest-serving employees. Having started in 1996, she is too young to remember the glory days of the Anson Sanatorium. Nonetheless, she is well-versed in hospital history and likes to point out a special role the hospital fulfilled during the early years of World War II.
At that time, North Carolina had a critical shortage of hospital beds, not only in coastal communities but in larger inland cities such as Charlotte. As a result, a significant number of wounded soldiers were transported to Anson for care. This gave local providers an opportunity to support not only local community needs but the burgeoning national war effort as well.
Reflecting on more recent history, Lucas says one challenge of the 2014 move was helping residents understand the new medical home model that accompanied the move to a new campus. "Our residents had never seen a facility quite like ours," she says.
Dave Anderson, vice president and administrator of Atrium Health Anson, notes that improving healthcare in Anson County did in fact require a dramatically new approach to healthcare delivery.
The new facility has a primary care physician practice located adjacent to a 10-bay emergency department. This provides increased access to primary care, he says, while keeping patients who do not need to be seen in an ED out of the ED.
The facility's design also includes 15 acute care hospital beds, one trauma room, one operating room, and ancillary services including a HealthQuest pharmacy, imaging and laboratory.
Atrium Health Anson opened with another big challenge as well: providing education and support to a population with unusually high rates of poor nutrition, obesity, diabetes and tobacco use. New community outreach programs were needed; and, consequently, a diabetes educator, a nutritionist and a patient navigator were incorporated into an expanded scope of services.
Lucas emphasizes that being part of a larger healthcare system offers tremendous benefits for patients. For example, sepsis cases can be referred immediately to Atrium Health Union, and heart attack patients requiring immediate intervention can be transported by air to Atrium Health Pineville. "Telemedicine has also been a significant benefit," she says. "Right at our fingertips, we have instant access to Atrium Health's best specialists."
Anderson adds that the key to making things work at Anson is the extraordinary quality and dedication of the staff.
"We run an efficient operation," he says. "All prospective employees are peer-interviewed and then carefully hand-picked. This makes for a great working atmosphere, and that in turn makes a significant difference in the quality of care provided for our patients."
Timeline of Key Events at Atrium Health Anson
1913: Anson Sanatorium, Anson County's first hospital facility, opens.

1954: Anson Sanatorium is replaced by a newly constructed facility, owned and managed by the County, called Anson County Hospital.

1997: Anson County Hospital is acquired by Carolinas HealthCare System.

1998: Following the acquisition, the hospital's name is changed to Anson Community Hospital.

2014: All hospital operations move into a new replacement facility, located at 2301 US 74 in Wadesboro, which opens with the name Carolinas HealthCare System Anson.

2019: In keeping with a system-wide corporate re-branding, Carolina HealthCare System Anson changes its name January 1 to Atrium Health Anson.