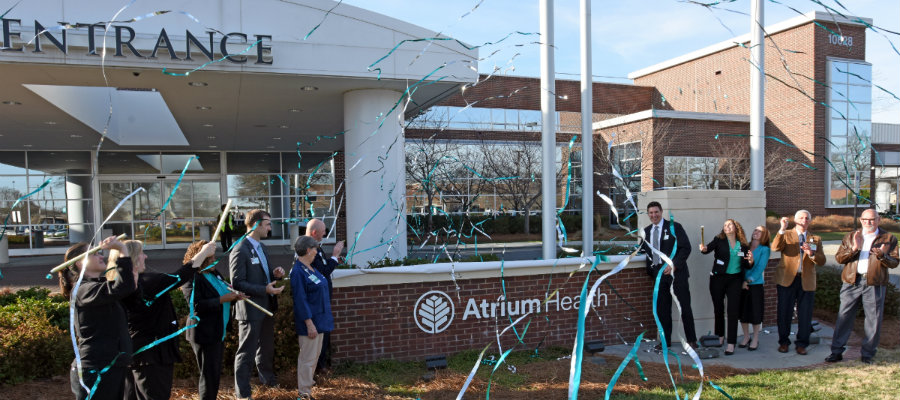 Atrium Health Pineville: From Sleepy Outpost to Major Healthcare Hub
01.08.2019
Atrium Health News
Even as the hospital in Pineville undergoes a name change to Atrium Health Pineville, it's safe to say that some natives will continue to refer to it as "little Mercy South." This familiar expression dates back to the time Mercy Hospital South opened in 1987, a branch of the then-independent Mercy Hospital located near uptown Charlotte.

Debra Godfrey, RN, has learned that once a name sticks, it's hard to dislodge. But she says "little Mercy South," by any name and under any ownership, has always had a big reputation.

Godfrey, who worked in Pineville from 1996 until her recent retirement, says the campus was long regarded as an oasis of green – the Miller Farm – in an area surrounded by suburbia. In response to an exploding population and rising demand for services, that open space has provided an opportunity for growth and has been filled in with new buildings.

According to Godfrey, when the new bed tower opened in 2012 the property really took on a new look and feel. The expansion increased the licensed bed count in Pineville from 120 to 206 and facilitated the hospital's transition to a major tertiary care center, with highly specialized services such as open-heart surgery and dialysis.

Another 29 beds were added for inpatient rehabilitation in a separate building in 2014. An additional 15 hospital beds were added during 2018. And, just recently, the hospital received a Certificate of Need (CON) approval to construct a new eight-story tower. If CON approval is granted for the beds themselves, this tower will facilitate the addition of 50 more acute care beds.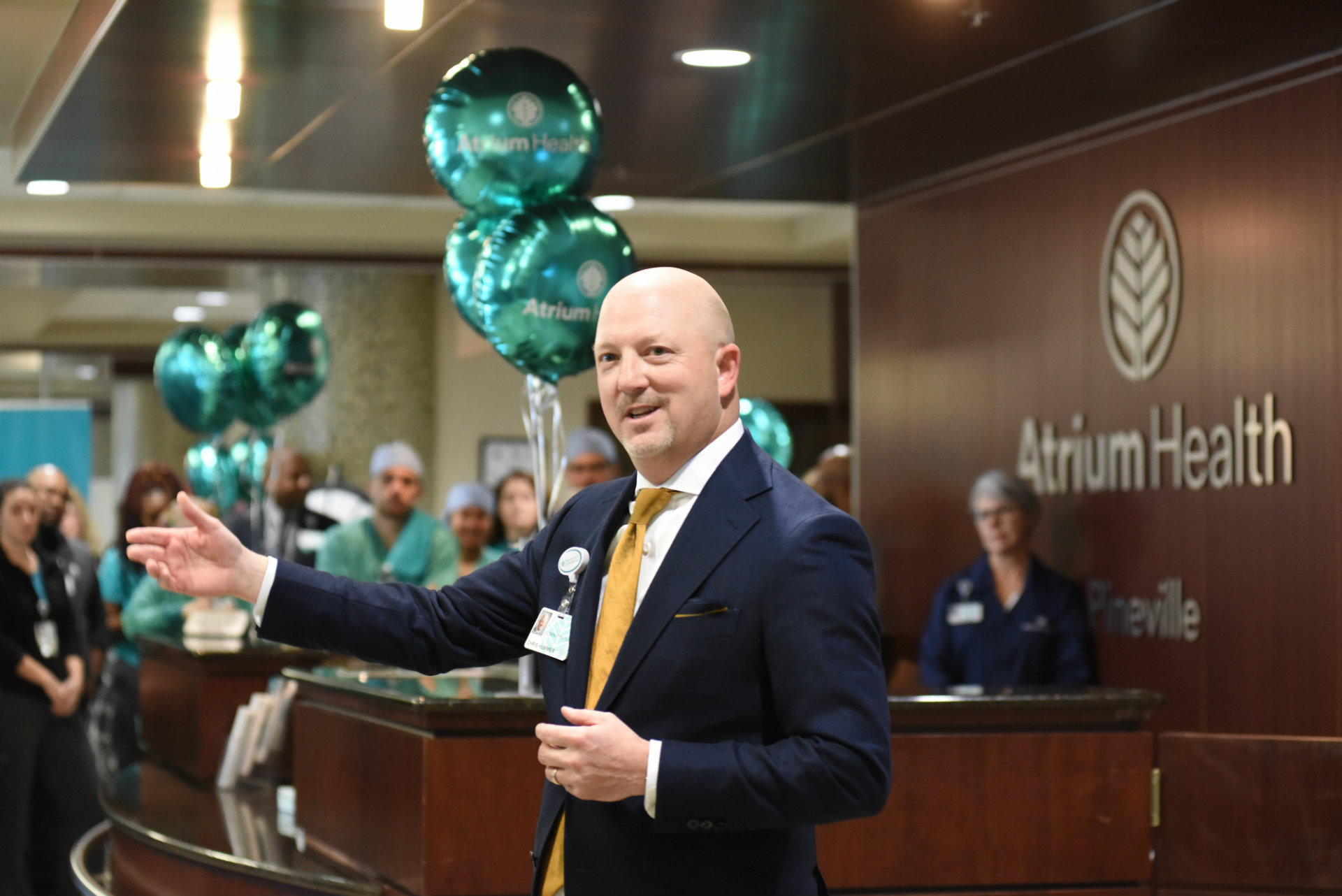 Chris Hummer, president of Atrium Health Pineville and executive vice president of the Southern Division, credits the Sisters of Mercy for having tremendous vision when they first acquired land for Mercy South. "Thank goodness the Sisters acquired extra land at a time when it was both available and affordable," he says. "Had they not done so, the momentous physical growth we've been experiencing would not have been possible."

Godfrey notes that the hospital had only one medical-surgical unit with an average daily census of about 20 patients when she first started. "Now there are five of those units, often completely full," she says.

She's also seen the number of birthing suites grow from 10 to 36, and a tenfold increase in the number of births each year. The number of ED visits has also grown – from roughly 15,000 yearly to upwards of 100,000.

Dave Bilotta, pharmacy director, has a tenure that stretches back three years longer than Godfrey's. He remembers when "little Mercy South" had only one 40-bed unit open, despite a licensed capacity of 80, due to limited demand. At that time there were seven people on the pharmacy team. Now, Bilotta directs a staff of 42.

Bilotta is grateful that the culture in Pineville has remained the same, despite dramatic growth. "There's an attitude that we're all in this together," he says. "You don't find that often in today's world."

Godfrey shares this sentiment, noting that high staff morale was crucial when so many new services were added in 2012. "We wanted to make sure that every single aspect of the transition was well-handled," she says. "It was a big challenge, but I wouldn't trade that experience for anything."

Hummer is quick to praise his Pineville teammates for extraordinary flexibility, saying the thing that has always impressed him is that they don't just endure change. "They are quick to adapt all the positives, while gracefully shedding those parts of the culture that would impede everyone's ability to stay relevant," he says. "Throughout each distinct stage of growth, our people have never lost their caring touch. This makes a huge difference for our patients."
Timeline of Key Events at Atrium Health Pineville
1906: Mercy Hospital opens in the Elizabeth neighborhood near uptown Charlotte. Operated by the Sisters of Mercy religious order, it is the first Catholic hospital to be built in North Carolina.

1987: Mercy Hospital, having acquired land in Pineville, opens a smaller hospital in Pineville called Mercy Hospital South.

1995: The Sisters of Mercy sell the main hospital and Mercy Hospital South to Carolinas HealthCare System.

1996: Mercy Hospital South is renamed Carolinas Medical Center-Pineville.

2012: Carolinas Medical Center-Pineville opens a new bed tower that accommodates an expansion from 120 to 206 licensed beds as well as the start-up of numerous tertiary care services such as heart surgery and dialysis.

2014: Carolinas Medical Center-Pineville adds 29 rehabilitation beds, bringing the total of licensed beds from 206 to 235.

2015: Carolinas Medical Center-Pineville changes its name to Carolinas HealthCare System Pineville.

2018: The state awards 15 additional acute care beds in June, bringing the total of licensed beds from 235 to 250. (A Certificate of Need was issued on June 7, 2018. The 15 beds were licensed and came online on Oct. 23, 2018).

2018: In October, Carolinas HealthCare System Pineville files a Certificate of Need for an additional 50 acute care beds. If approved, the licensed bed total would increase to 300.

2019: In keeping with a system-wide corporate re-branding, Carolina HealthCare System Pineville changes its name January 1 to Atrium Health Pineville.