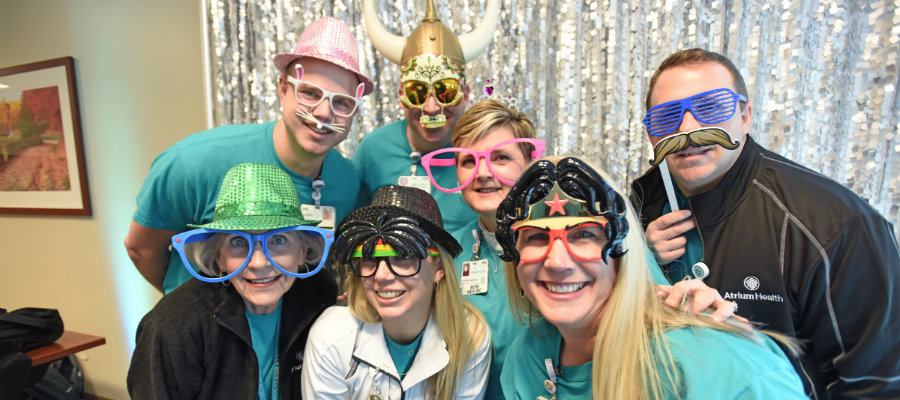 Family Atmosphere Keeps Atrium Health Union Grounded
01.11.2019
Atrium Health News
The January name change to Atrium Health Union represents another milestone in a story that has parallels in rural communities throughout North Carolina. Union Memorial Hospital, which opened for business in 1953, evolved over time from a county-owned, county-operated hospital to a hospital operating under a long-term lease with an outside healthcare enterprise – in this case, Atrium Health.
Joyce Preslar, administrative assistant to the chief nursing officer, has witnessed much of this history firsthand. Preslar is currently the facility's longest serving employee, having started her job at Union Memorial Hospital in 1975 – fresh out of high school. She also has the distinction of having worked in the exact same position for more than four decades.
Preslar says steady growth is undoubtedly the biggest change she's observed over the years. Despite the growth, she says the hospital's family atmosphere has never changed. In fact, this camaraderie has helped Preslar stay grounded while serving six different chief nursing officers and two interims.
Marlene Griffin is another long-timer who started working at the facility in 1975. Not one to feel "old" with her many years of service at the facility, she jokes that she started at Union Memorial shortly after her 12th birthday.
Griffin, a specialist in elder care, was part of the hospital staff during most of her time in Monroe because elderly patients were housed for decades in the hospital's own "Smith Wing." (She currently works in the Jesse Helms Nursing Center, a freestanding long-term care facility on the Atrium Health Union campus that opened in 2007.)
Griffin says she fully intended to go to work as a "regular hospital nurse" back in 1975, but there was a staff shortage in the Smith Wing and she was asked to fill in. She loved the work so much she never looked back.
Griffin considers geriatrics to be a special calling and says one attraction of her job is being personally acquainted with so many families that have a loved one living in the facility. In fact, she provided on-site care for her own mother and grandmother. She notes that many hospital physicians have brought their own parents to the Smith Wing (and later to Jesse Helms) because of their high level of confidence in the caregivers.
Like Preslar, she is impressed by the profound changes in patient care that have occurred over time, including – in her own area – EMRs and new pharmacy technology.
She remembers when nurses used to carry huge medication trays through the halls, with pills and handwritten notes stuffed loosely into paper cups. "We all lived in fear of dropping a tray or even running into a strong gust of air," she says. "It would have been quite the disaster."
Griffin has also been impressed by the many other enhancements in patient care that occurred after Union Regional Medical Center affiliated with Carolinas HealthCare System. The nursing center not only has strong remaining ties to the adjacent hospital, she says, but has benefited greatly by being a part of Atrium Health's Continuing Care Division.
Michael Lutes, president of Atrium Health Union and senior vice president of the Southeast Division at Atrium Health since 2008, says his job is easier thanks to the long-tenured teammates at Atrium Health Union like Preslar and Griffin.
"The family atmosphere these folks talk about is real," he says. "We have low turnover, and there's a sense of camaraderie and team spirit on this campus that you really can't buy. It's a natural byproduct of knowing your co-workers well and knowing so many of the families who depend on you for care.
"It would be difficult to measure the impact of the many service enhancements and physical improvements that have occurred since our affiliation with Atrium Health," Lutes adds. "Simply stated, today's capabilities enable a lot more people to stay close to home for highly sophisticated care. It's a win-win. The public benefits, of course, and all of us privileged to work here get to experience a much stronger connection to the community."
Timeline of Key Events at Atrium Health Union
1953: Union Memorial Hospital is opened on the hospital's current site, replacing the county's original hospital, the Ellen Fitzgerald Hospital, which remains open as a long-term care facility at a separate location.
1965: The Smith Building of Union Memorial Hospital is opened, providing dedicated space within the hospital complex for long-term care patients. (The building is named in honor of George Marvin Smith, MD, who delivered more than 7,000 babies during a 52-year medical career in Union County.)
1968: Union Memorial Hospital is reorganized in order to change its status to that of a non-profit operating company.
1995: Union County leases Union Memorial Hospital to Carolinas HealthCare System and the hospital is renamed Union Regional Medical Center (URMC).
2005: Union Regional Medical Center is renamed Carolinas Medical Center-Union.
2007: The old Smith Building is shut down and replaced by the Jesse Helms Nursing Center, which is located adjacent to the hospital.
2015: Carolinas Medical Center-Union is renamed Carolinas HealthCare System Union.
2019: In keeping with a systemwide corporate rebranding, Carolina HealthCare System Union changes its name January 1 to Atrium Health Union.