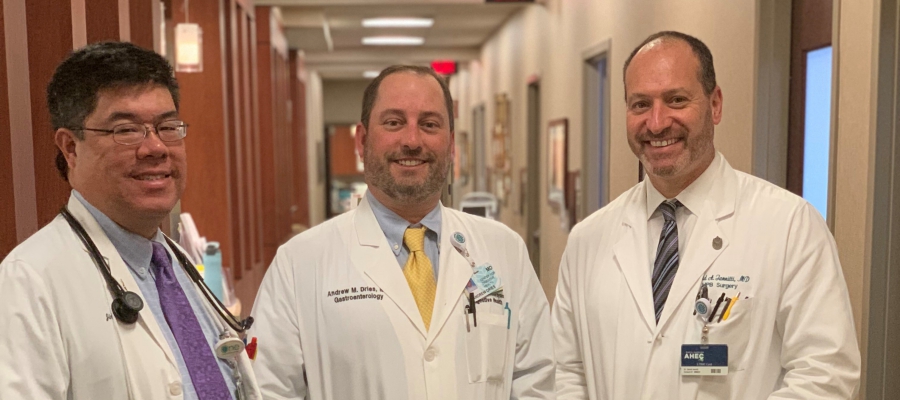 Levine Cancer Institute Earns National Award for Treatment of Pancreatic Cancer
02.18.2019
Levine Cancer Institute |
Atrium Health News |
Cancer Care
Atrium Health's Levine Cancer Institute's multidisciplinary pancreatic cancer program is now designated as a National Pancreas Foundation (NPF) Center, one of 42 hospitals nationwide, and the only adult hospital in Charlotte to earn this distinction. LCI received this prestigious award for their focus on implementing a well-rounded treatment of pancreatic cancer; treating the "whole patient" with an emphasis on the best possible outcomes and an improved quality of life.

An approved NPF Center must meet the criteria that were developed by a task force made up of experts and patient advocates. The criteria include having the required expert physician specialties such as medical and radiation oncologists, gastroenterologists, pancreas surgeons, pathologists and interventional radiologists, along with patient focused programs such as a pain management service, psychosocial support and more.

"Having a National Pancreas Foundation Center designation is validation and acknowledgement that everyone in our program is committed to the care of our patients and that we've created an exceptional program that offers them the most robust treatment options to manage their disease," said David Iannitti, MD, chief of HPB surgery at Levine Cancer Institute. "Pancreatic cancer cannot be beat with one approach, so we are attacking it on multiple fronts; including surgery, chemotherapy, radiation and clinical trials, and are starting to impact the outcomes of this disease."

Levine Cancer Institute has a highly trained, experienced and focused team of specialists focused on treating pancreatic cancer, allowing patients and their families to stay close to home while receiving the most effective, comprehensive care available. The team consistently develops new treatments and treatment paradigms to improve the care of and outcomes in patients with pancreatic cancers.

"This kind of designation reflects a large and dedicated group of professionals, who work hard to improve the care of patients with pancreatic cancer, "said Jimmy Hwang, MD, FACP, chief of GI medical oncology at Levine Cancer Institute. "Ideally, we work towards curing them, but in the instance when a cure is not feasible, our goal is to help improve the quality of their lives, as well as helping them live longer."
Joining the efforts with surgery and medical oncology against pancreatic cancer is the advanced endoscopy program at Atrium Health. This team is dedicated to improving the standard of care and outcomes for patients by offering and excelling in cutting edge endoscopic evaluation and treatment.
"This is a major achievement that demonstrates we are one of the most comprehensive pancreatic clinics in the nation, and we are proud to offer patients in North Carolina and beyond access to our team approach for specialized care," said Andrew Dries, MD, Atrium Health's department of Gastroenterology.

For more information about the National Pancreas Foundation, please visit www.pancreasfoundation.org.