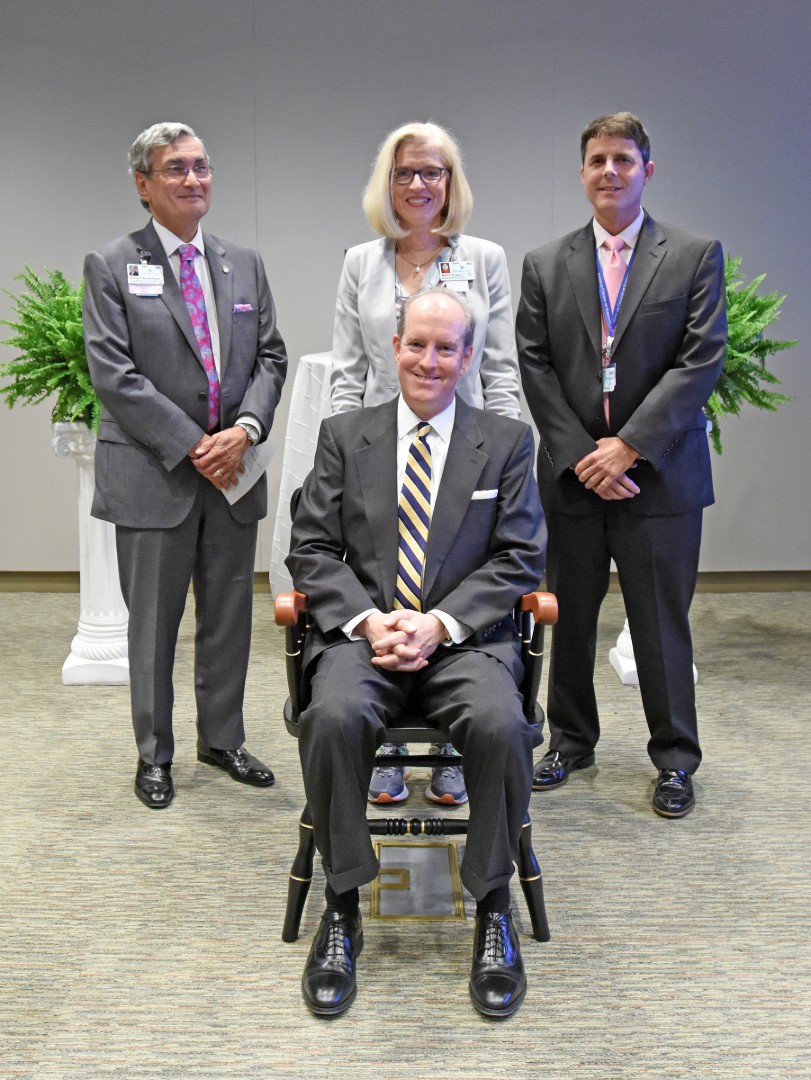 $1 Million Gift Establishes Distinguished Chair for Surgical Oncology
05.06.2019
Atrium Health News |
Cancer Care |
Levine Cancer Institute
A $1 million gift from an anonymous grateful patient family in December 2018 has established the Richard L. White, Jr., MD, Distinguished Chair in Surgical Oncology at Levine Cancer Institute.
"This is a transformational gift that will help distinguish our surgical oncology services as among the most advanced in the country," said Derek Raghavan, MD, PhD, President of Levine Cancer Institute. "We are honored to receive such generous support from grateful patients and families."
Dr. White was honored at an investiture held at Levine Cancer Institute in Charlotte on April 29, 2019, during which he was named the inaugural distinguished chair in surgical oncology.
Access to world class care is important to Dr. White, who expressed his gratitude for the support he has received for his program. "Thanks to gifts such as these, physicians like me have access to funds for innovative research, educational opportunities, and special projects that may lead to new therapies," said Dr. White. "Not to mention, grateful patients who give back to our program are inspiring others to give."
Mary Hall, MD, Chief Academic Officer for Atrium Health, underscored the importance of establishing distinguished chairs to help recruit and retain world-class talent. "Distinguished chairs are given the freedom to pursue ideas that can move medical science forward and lead to novel therapies to benefit patients."
As the Distinguished Chair in Surgical Oncology, Dr. White will continue to lead and help advance the Institute's division of surgical oncology and the management of cancerous tumors. A renowned physician and surgeon, Dr. White is renowned for developing Atrium Health's novel immunotherapy program. He earned a medical degree from Columbia University in New York and completed his residency at Georgetown University, followed by a fellowship at the National Cancer Institute. Dr. White's tenure at Atrium Health spans over 24 years. He has been the recipient of numerous notable awards and has served on many nationally distinguished boards which include but are not limited to the Board of Directors of the American Cancer Society South Atlantic Division, the American College of Surgeons on the Commission on Cancer, the Alliance for Clinical Trial in Oncology, the society of Surgical Oncology and the American Society of Breast Surgeons.
The surgical oncology and breast program at Levine Cancer Institute provides a wide range of services including breast radiology, surgical oncology, medical oncology, reconstructive surgery, radiation oncology, genetics risk assessment and testing, and integrative medicine. With three centers involved in the program, the Institute is able to provide state of the art care, close to home.
Atrium Health
Atrium Health (formerly Carolinas HealthCare System), one of the nation's leading and most innovative healthcare organizations, provides a full spectrum of healthcare and wellness programs throughout North and South Carolina. Its diverse network of care locations includes academic medical centers, hospitals, freestanding emergency departments, physician practices, surgical and rehabilitation centers, home health agencies, nursing homes and behavioral health centers, as well as hospice and palliative care services. Atrium Health works to enhance the overall health and wellbeing of its communities through high quality patient care, education and research programs, and numerous collaborative partnerships and initiatives. www.atriumhealth.org