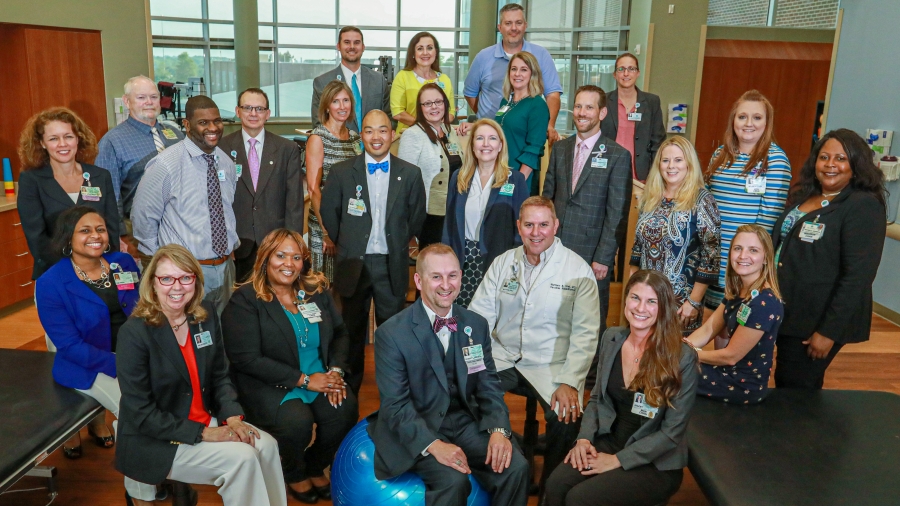 Atrium Health's Carolinas Rehabilitation Receives American Hospital Association's 2019 Quest for Quality Prize
07.22.2019
Atrium Health News |
Carolinas Rehabilitation News
Carolinas Rehabilitation is the first rehabilitation hospital to be recognized for commitment to exceptional quality, safe and patient- and family-centered care.
CHARLOTTE, N.C., July 22, 2019 – Atrium Health's Carolinas Rehabilitation has received one of the most prestigious awards in healthcare, the American Hospital Association's (AHA) Quest for Quality prize, for its leadership and innovation in improving quality, advancing health in communities, and providing access to exceptional quality, safe and patient- and family-centered care. Carolinas Rehabilitation is the first rehabilitation hospital in the country to receive the AHA's Quest for Quality prize.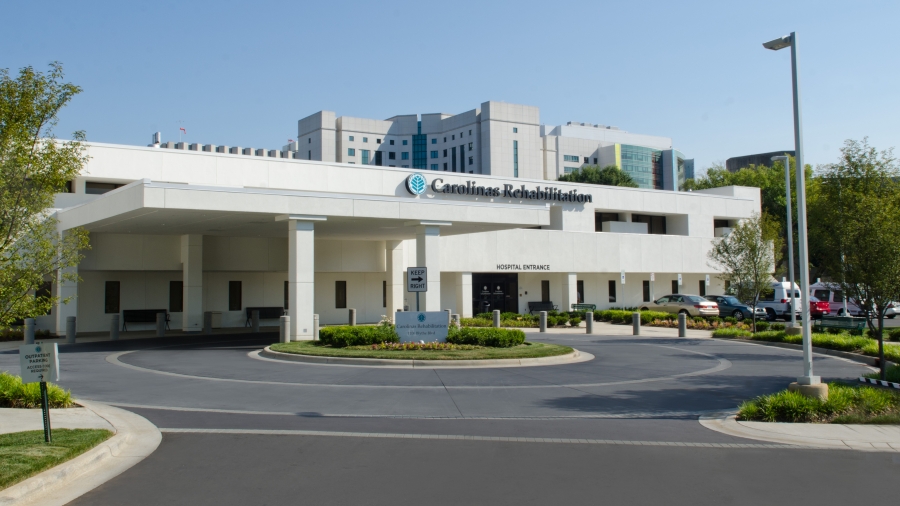 "This is truly a special moment for Atrium Health," said President and CEO Eugene A. Woods. "The team at Carolinas Rehabilitation empowers our patients to function at their best, to get back home and back to living their fullest life. The unique environment they create radiates hope and demonstrates that nothing is impossible when you have the love and support of others."
Carolinas Rehabilitation was acknowledged by the AHA for its exemplary achievements in engagement with community partners to address social determinants of health and empowering its workforce to excel, innovate and improve access for all patients. Most notably, Carolinas Rehabilitation's EQUADR℠ network was recognized by the Quest for Quality prize committee for its ability to collect data and report rehabilitation-specific quality outcomes, leading to the exchange of best practices to improve care. EQUADR is the first Agency for Healthcare Research and Quality (AHRQ) listed rehabilitation-specific Patient Safety Organization in the world. A first-of-its-kind platform now adopted by 38 rehabilitation hospitals and health systems, EQUADR has contributed to preventing over 1,000 harm events, avoiding nearly $10 million in preventable harm costs.
Carolinas Rehabilitation's virtual patient observation monitoring program, which serves as a telemetry unit enabling direct, real-time communication with patients and visitors, was recognized for its innovation and contribution to a 43% decrease in the number of falls and significant associated cost savings.
"Within the last decade, Atrium Health's Carolinas Rehabilitation has committed to being a highly reliable organization leading to groundbreaking initiatives and tools to drive focused improvement," said Carolinas Rehabilitation President Robert G. Larrison Jr., FACHE. "Through various initiatives, committees and programs, Carolinas Rehabilitation's physicians and frontline teammates are empowered to continuously improve the quality of care, patient experience and health outcomes."
Carolinas Rehabilitation is one of the largest nonprofit rehabilitation providers in the nation with 179 inpatient beds among four adult rehabilitation hospitals throughout the greater Charlotte area in addition to a 13-bed unit at Atrium Health's nationally recognized pediatric hospital, Levine Children's Hospital. Last year, Carolinas Rehabilitation admitted approximately 3,500 patients from more than 70 North Carolina and South Carolina counties and 12 states.
Additionally, Carolinas Rehabilitation's community-based clinics cared for 36,000 unique patients with more than 270,000 patient encounters.
"Carolinas Rehabilitation represents our organization's commitment to quality, safety and patient experience across the Atrium Health footprint," said Chief Medical Officer of Carolinas Rehabilitation William Bockenek,M.D., CPE. "Through leadership, partnerships with community organizations, innovation and workforce collaboration, we have made exceptional strides in quality and safety to improve the value of care we provide to our patients."
For more information on the American Hospital Association's Quest for Quality Prize, visit aha.org/about/awards/quest-for-quality.
About Atrium Health
Atrium Health, previously Carolinas HealthCare System, one of the nation's leading and most innovative healthcare organizations, provides a full spectrum of healthcare and wellness programs throughout the Southeast region. Its diverse network of care locations includes academic medical centers, hospitals, freestanding emergency departments, physician practices, surgical and rehabilitation centers, home health agencies, nursing homes and behavioral health centers, as well as hospice and palliative care services. Atrium Health works to enhance the overall health and well-being of its communities through high-quality patient care, education and research programs, and numerous collaborative partnerships and initiatives.
###