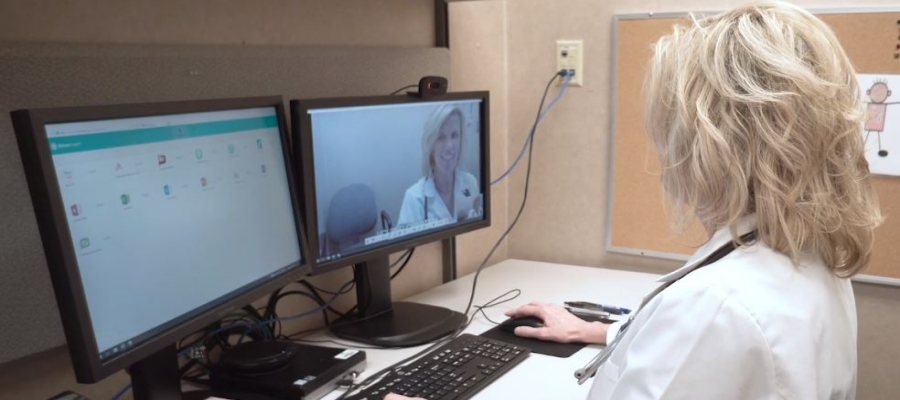 Atrium Health Receives $150,000 Grant from Kohl's to Expand Levine Children's School-Based Virtual Clinic to Lincoln County
08.08.2019
Atrium Health News
LINCOLNTON, N.C., August 8, 2019 – Kohl's has committed $150,000 to expand Atrium Health's Levine Children's school-based virtual clinic to two schools in Lincoln County. The virtual clinics, which Levine Children's originally launched in Cleveland County, will now be offered at G.E. Massey and Battleground Elementary Schools in Lincolnton. The goal of the virtual clinic is to improve access to pediatricians who diagnose and develop a treatment plan while the students remain at school.
Lincoln County struggles with access to medical care, with a patient-to-physician ratio of 2,490:1 – over 1,000 patients more than the statewide average. The limited physician availability results in access to care challenges for many Lincoln County children.
"Thanks to Kohl's we can take our healthcare expertise outside of the hospital's walls and into local targeted communities that may not have regular access to convenient care," said Dr. Alisahah Cole, chief community impact officer for Atrium Health.
Utilizing innovative technology, students are evaluated by a pediatrician located remotely by a local Atrium Health pediatrician with parental consent. Parents are invited to join the visit via audio, video or attend in-person. Upon completion, the diagnosis and treatment are discussed with the parent and a prescription, if needed, is electronically forwarded to the preferred pharmacy.
The concept of the virtual program was developed through a partnership between Atrium Health Levine Children's Shelby Children's Clinic, Atrium Health's Community Health division, Cleveland County Public Health Center and Cleveland County Schools. With the addition of the two new clinics supported by Kohl's, the program is now offered in 12 elementary schools throughout Cleveland and Lincoln Counties.
Within its first year alone, the virtual clinic has substantially reduced unnecessary emergency department visits, reduced early dismissal from school by more than 33 percent, and improved access and establishment of a medical home for children who had no primary care provider or established medical home prior to visit by 21 percent.
"Support from Lincoln County Schools and Kohl's has been, and will continue to be, instrumental to our success and continue to improve the health of our communities," said Patricia Grinton, MD, director of Levine Children's School-Based Virtual Clinic.
Since 2001, Kohl's has donated more than $3.5 million to Atrium Health in support of community programs designed to promote fitness, safety, injury prevention, and overall health and wellness for local families and children. Most recently, Kohl's Cares® funded Atrium Health's Community Cares program, which brought health screenings to undeserved and rural areas in North Carolina via a mobile unit.
Kohl's commitment to Atrium Health's Levine Children's Hospital is made possible through the Kohl's Cares cause merchandise program. Through this initiative, Kohl's sells $5 books and soft toys, with 100 percent of net profit benefitting children's health initiatives nationwide, including hospital partnerships like Atrium Health.
About Atrium Health
Atrium Health, previously Carolinas HealthCare System, one of the nation's leading and most innovative healthcare organizations, provides a full spectrum of healthcare and wellness programs throughout the Southeast region. Its diverse network of care locations includes academic medical centers, hospitals, freestanding emergency departments, physician practices, surgical and rehabilitation centers, home health agencies, nursing homes and behavioral health centers, as well as hospice and palliative care services. Atrium Health works to enhance the overall health and well-being of its communities through high-quality patient care, education and research programs, and numerous collaborative partnerships and initiatives.
About Kohl's
Kohl's (NYSE: KSS) is a leading omnichannel retailer with more than 1,100 stores in 49 states. With a commitment to inspiring and empowering families to lead fulfilled lives, Kohl's offers amazing national and exclusive brands, incredible savings and an easy shopping experience in our stores, online at Kohls.com and on Kohl's mobile app. Throughout its history, Kohl's has given nearly $600 million to support communities nationwide. For a list of store locations or to shop online, visit Kohls.com. For more information about Kohl's impact in the community and how to join our winning team, visit Corporate.Kohls.com.