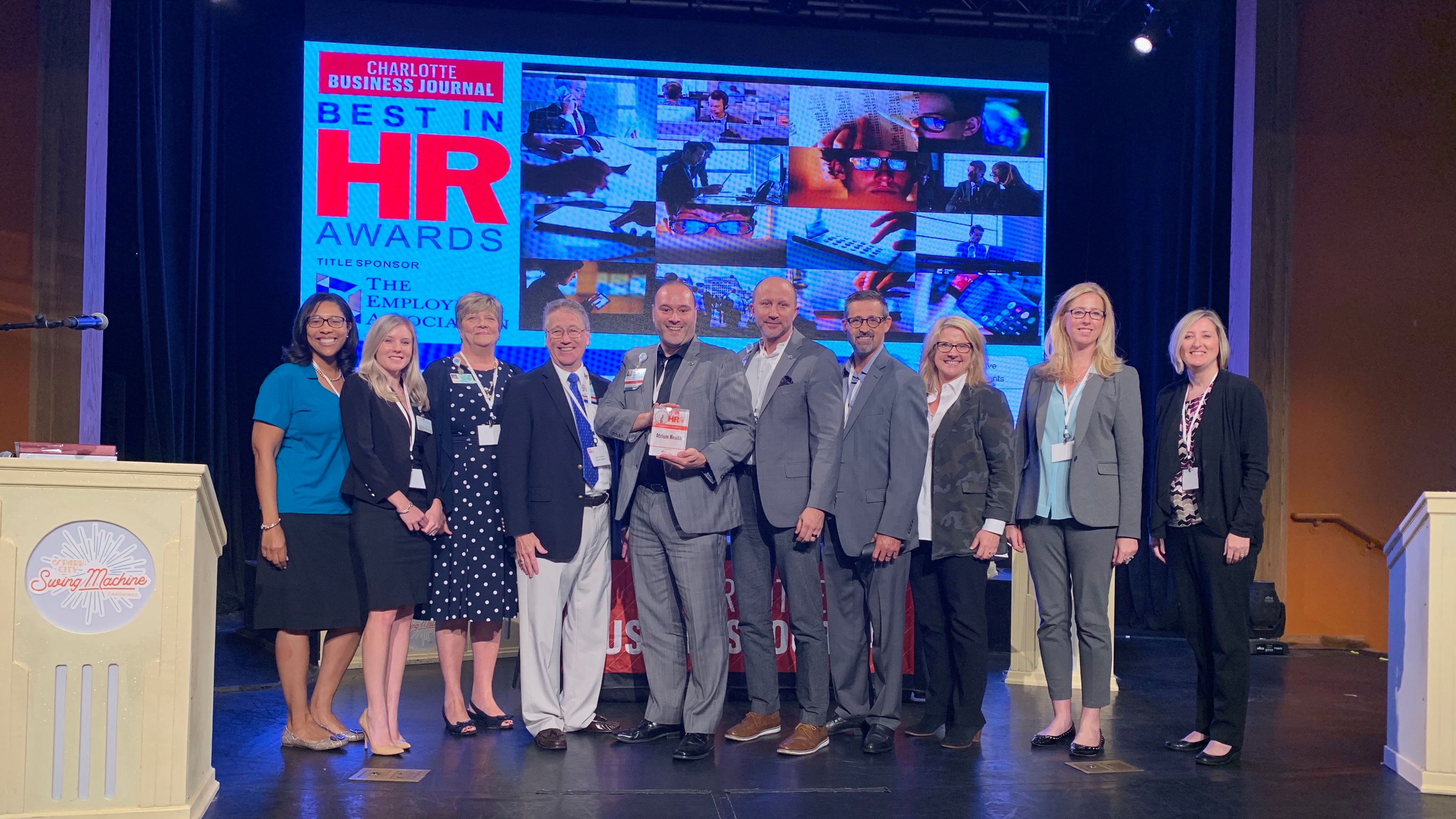 Atrium Health Recognized as the 2019 Community Champion by Charlotte Business Journal
09.19.2019
Atrium Health News
CHARLOTTE, N.C., September 19, 2019– Atrium Health was recognized at the Charlotte Business Journal's Inaugural Best in HR Awards as the 2019 Community Champion for its commitment to improving economic mobility and health in the Charlotte community.
In 2014, researchers from Harvard University, University of California-Berkeley and the Treasury Department published a study on the country's 50 largest metro areas for upward mobility. Charlotte ranked last, showing poverty is a critical issue in the Queen City.
"As the largest employer in Charlotte, Atrium Health has an opportunity to make a huge impact on economic mobility, which can also improve the health of our community," said Jim Dunn, PhD, executive vice president and chief human resources officer at Atrium Health. "In response, Atrium Health teamed up with several community partners to advance workforce development programs that address economic mobility."
Human resources programs and best practices Atrium Health implemented and actively participate in include:
Serving as a member of the Charlotte Executive Leadership Council, formed with executives of the region's biggest employers and powerful companies to tackle issues including affordable housing, education and workforce development. Since 2018, the Generation Workforce program has graduated four cohorts and produced 51 graduates.
Partnering with the City of Charlotte through the Mayor's Youth Employment Program to provide career experiences that support youth development goals, academic achievement and enhance social skills. Since 2010, Atrium Health has hosted 65 students.
Piloting the Certified Nursing Assistant (CNA) to Registered Nurse (RN) Scholarship in partnership with Novant Health under ONE Charlotte Health Alliance to award CNAs, who are actively working toward becoming a RN, a scholarship for up to two years and receive flexibility of working a reduced schedule while maintaining current compensation. So far, more than 20 applications have been received.
Investing in programs focused on the development of minority and women leaders, including the Women's Executive Leadership Development and the Men's Diversity Leadership Development programs, to promote self-efficacy and executive-readiness among groups historically underrepresented in healthcare leadership. After starting in 2018, 18 women have participated in the program and seven have been promoted.
"Economic mobility is just one aspect that can help a community thrive," said Alisahah Cole, MD, chief community impact officer at Atrium Health. "From assisting over 50,000 individuals with food security-related interventions, to launching mobile health units in partnership with the YMCA of Greater Charlotte and ONE Charlotte Health Alliance, Atrium Health is continually working to enhance overall health and well-being of the community through patient care, education and research, and collaborative community partnerships focused on health."
For more information on Atrium Health's efforts towards building healthy communities, visit AtriumHealth.org/Community.
About Atrium Health
Atrium Health, previously Carolinas HealthCare System, one of the nation's leading and most innovative healthcare organizations, provides a full spectrum of healthcare and wellness programs throughout the Southeast region. Its diverse network of care locations includes academic medical centers, hospitals, freestanding emergency departments, physician practices, surgical and rehabilitation centers, home health agencies, nursing homes and behavioral health centers, as well as hospice and palliative care services. Atrium Health works to enhance the overall health and well-being of its communities through high-quality patient care, education and research programs, and numerous collaborative partnerships and initiatives.