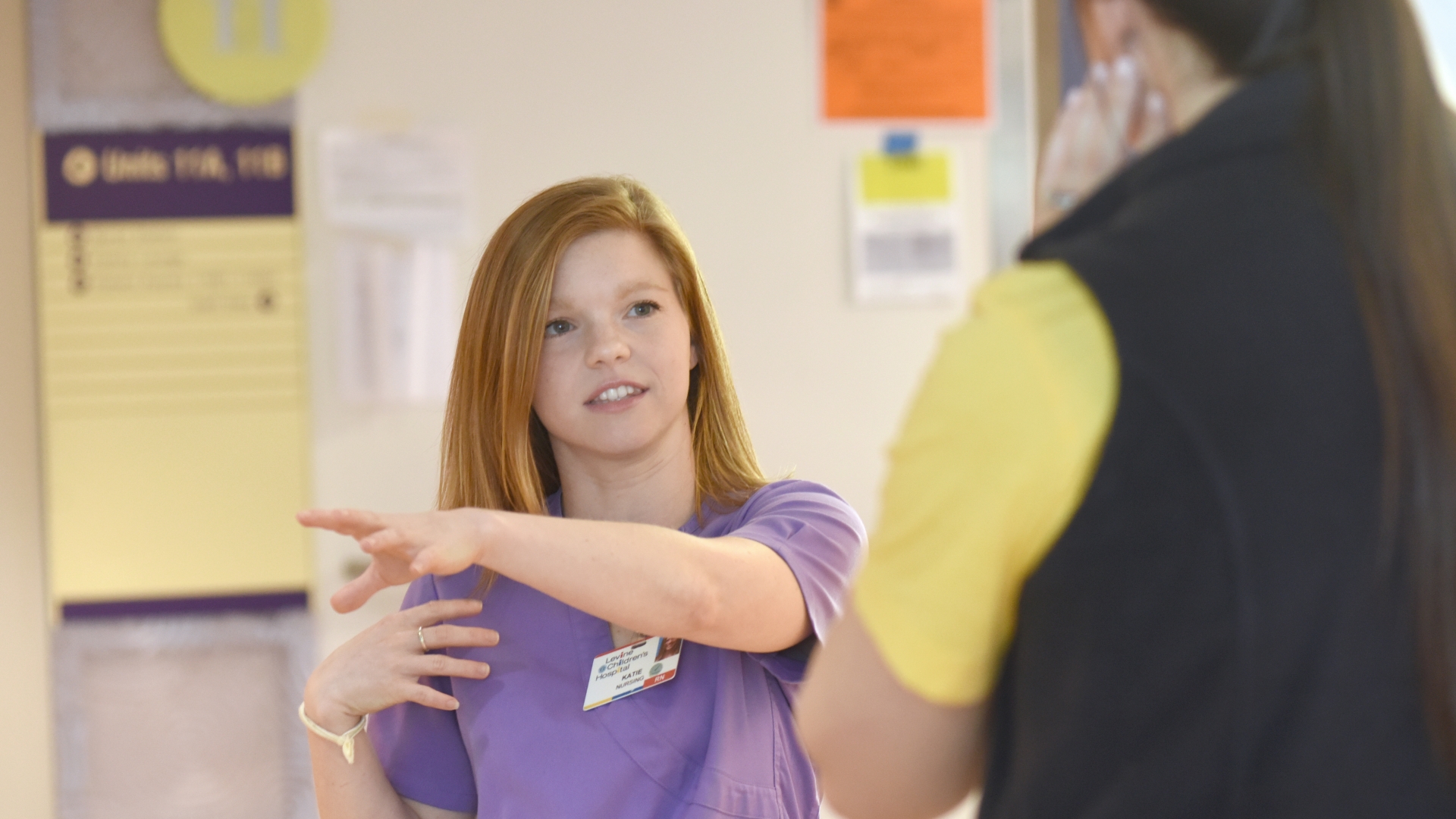 New Nurse Program Recognized with Distinction
09.06.2019
Atrium Health News
Atrium Health's New Graduate Nurse Residency Program is now accredited with distinction as a Practice Transition Program by the American Nurses Credentialing Center's Commission on Accreditation in Practice Transition Programs.
New nurse Katie Wolf, BSN, RN, CNI, found great value in the program when she joined Atrium Health in 2018. After becoming a registered nurse, Wolf relocated from Charlottesville, VA, to join Atrium Health's Levine Children's Hospital. She's one of the roughly 530 RNs who enroll in the Transition to Practice (TTP) New Graduate Nurse Residency Program each year. "An extended orientation is so generous for a new graduate nurse, who is both vulnerable and eager to soak up as much information as possible," says Wolf.
The TTP experience was designed to ease the transition from student nurse to practicing RN. It has evolved over time to become a nine-month, systemwide program covering 10 specialty tracks. Talent Acquisition and Nursing Professional Development partner with leaders and educators to provide sustained support, including didactic instruction, peer support and one-on-one precepted clinical experiences. Every new graduate RN who is hired by Atrium Health and has less than six months of experience participates in the Nurse Residency Program. The program's success is credited with Atrium Health's 94-percent retention rate for new graduate RNs, which exceeds the national average of 83 percent.
"Extra orientation sessions with the TTP team served as a great home base, where facilitators really cared about how new grads were doing," says Wolf.
"I started my nursing career at Atrium Health, and I vividly remember how it felt to be the newest nurse on my unit," says Kara Hedvig Evans, MSN, RN-BC, director of system nursing, who helps run the program. "We strive to give every new graduate RN the opportunity to start their career in a place where they truly belong, where they will thrive and grow into the best possible nurse that they can be."
"We have come a long way as a profession in how we treat our newest nurses," says Maureen Swick, PhD, MSN, RN, NEA-BC, Atrium Health's system nurse executive. "I'm proud to be a part of transforming how our entire profession ensures success for those who are just joining our ranks, and glad to see the work we have done at Atrium Health recognized."