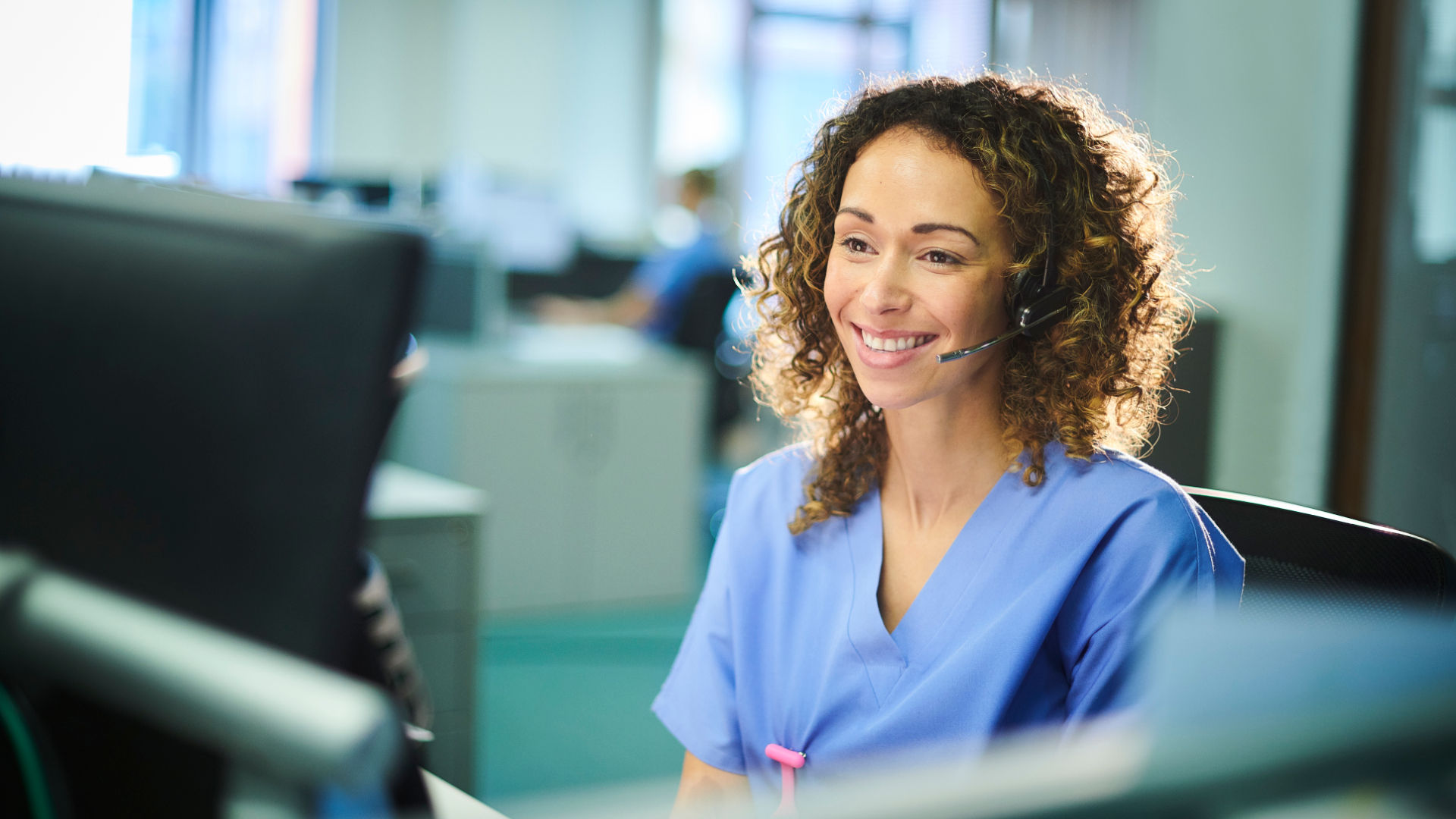 Atrium Health Virtual Critical Care Team Highlighted in the American Association of Critical Care Nurses' August Journal
08.19.2020
Atrium Health News
CHARLOTTE, N.C., August 19, 2020 – The Atrium Health Virtual Critical Care team's work has been highlighted by the American Association of Critical Care Nurses in the August issue of Critical Care Nurse (CCN).
"Answering the Call: Impact of Tele-ICU Nurses During the COVID-19 Pandemic" details how Atrium Health's teleICU quickly adjusted its patient-centered focus to include supporting and protecting bedside nurses caring for patients in isolation, as part of the system's planning and preparation for the pandemic.
Atrium Health's virtual critical care (VCC) model uses real-time, two-way audio and high-definition video communication to hundreds of critical care beds and via mobile carts in two emergency departments in the health system. The VCC team has more than 80 board-certified tele-intensivists and 40 board-certified critical care nurses.
"We modified workflows, deployed home workstations and changed staffing models with the goal of providing additional clinical support to bedside colleagues while reducing exposure time and conserving PPE," said co-author and VCC program coordinator Sandy Arneson, MSN, RN, CCRN-E. "VCC capabilities facilitate both a high level of care for patients and protection for front-line providers."
As part of the system's surge preparation, VCC coverage was quickly expanded to the facilities that were first to admit patients diagnosed with COVID-19. At these facilities, the VCC expansion enabled conversion of existing hospital beds to critical care beds, more than doubling the capacity for ICU-level care.
The infrastructure expansion included deploying telemedicine mobile carts throughout the system. Many non-VCC providers were granted access to its teleICU software to facilitate team-based care of patients with COVID-19, and handheld tablets were distributed to increase family-centered visitation and virtual communication. To ensure consistent coverage in the event of a required quarantine or exposure, a team of VCC nurses, as well as members of the VCC operational and leadership team, received home workstations with laptops and additional monitors. Workflow modifications help reduce time spent in isolation rooms and thereby reduce the risk of exposure for front-line caregivers.
Critical Care Nurse (CCN), a bimonthly clinical practice journal published by the American Association of Critical-Care Nurses, provides current, relevant and useful information about the bedside care of critically and acutely ill patients. You can read the full article here.
---
About Atrium Health:
Atrium Health is a nationally recognized leader in shaping health outcomes through innovative research, education and compassionate patient care. Headquartered in Charlotte, North Carolina, Atrium Health is an integrated, not-for-profit healthcare system with over 55,000 teammates at nearly 40 hospitals and hundreds of care locations throughout the Carolinas and Georgia. Atrium Health provides top-ranked pediatric, cancer and heart care to patients, as well as specialized musculoskeletal programs and organ transplants. Ranked among U.S. News & World Report's Best Hospitals for cancer treatment and in eight different pediatric specialties, it has also received the American Hospital Association's Quest for Quality Prize and was the recipient of the 2020 Centers for Medicare & Medicaid Services Health Equity Award for its efforts to reduce racial and ethnic disparities in care. Its flagship hospital, Atrium Health's Carolinas Medical Center, is the region's only Level I trauma center and is consistently rated among the nation's best. Atrium Health is also a leading-edge innovator in virtual care and mobile medicine, providing care close to home and in the home. With a commitment to every community it serves, Atrium Health seeks to improve health, elevate hope and advance healing – for all. Over the past three years, Atrium Health has provided nearly $2 billion per year in free and uncompensated care and other community benefits.