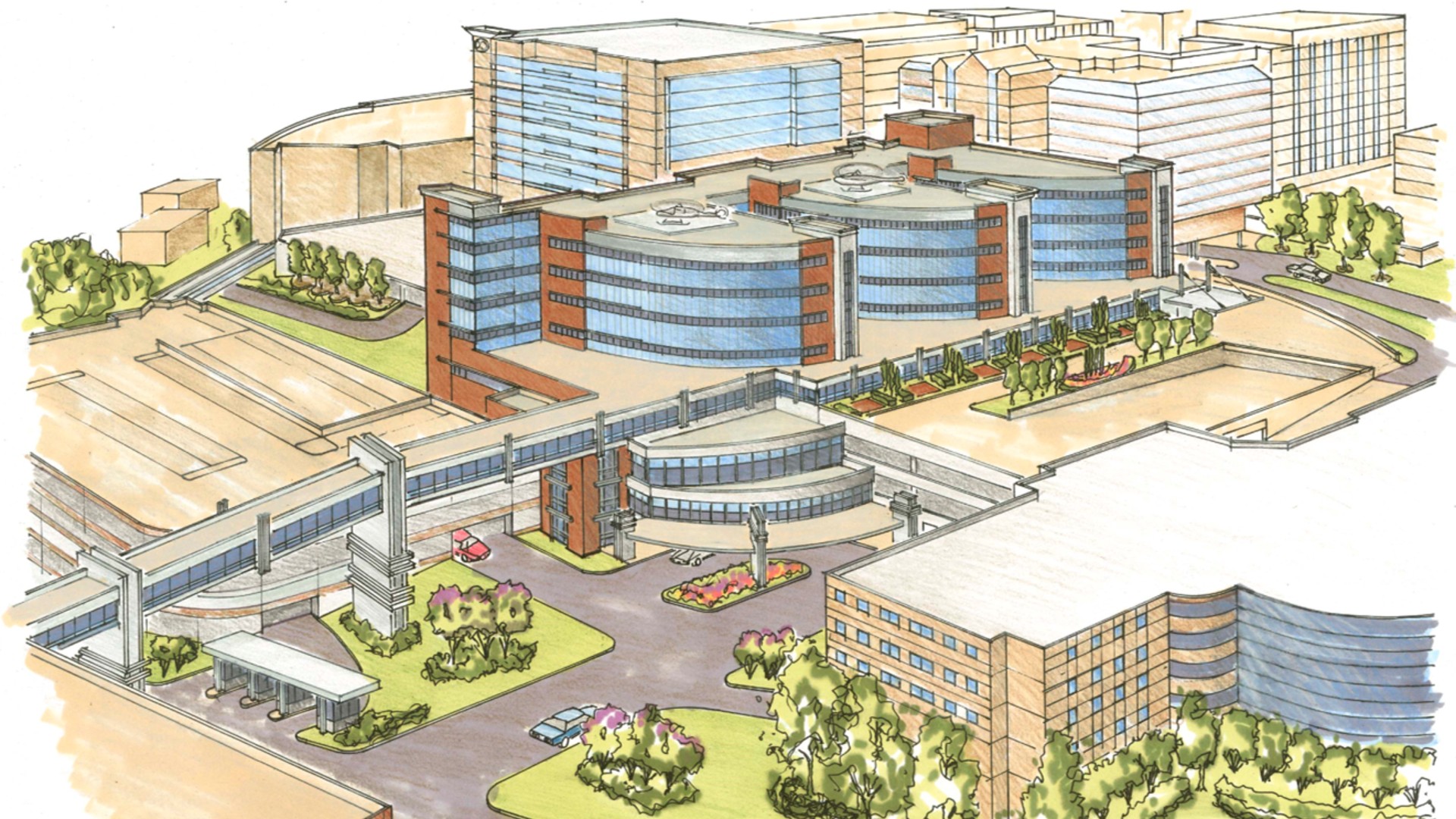 Atrium Health Announces $3.4 Billion in Investments Into Wake Forest Baptist Health and its Communities
10.23.2020
Atrium Health News
Communities to directly benefit from Atrium Health and Wake Forest Baptist Health combination

WINSTON-SALEM, N.C. – Oct. 23, 2020 – A new era of healthcare was ushered in earlier this month as Atrium Health and Wake Forest Baptist Health officially joined together as a single enterprise. The new Atrium Health enterprise will bring clinical care together with the research and educational capabilities of these renowned institutions to revolutionize the ways people become and stay healthy, changing lives for the better for the more than 7 million people across the region who now have access to care from the combined organization. Today, it announced $3.4 billion in planned investments for Wake Forest Baptist Health and the communities it serves over the next 10 years.

"As a combined enterprise, Atrium Health will be life-changing for the people of Winston-Salem and throughout North Carolina," said Eugene A. Woods, president and CEO of Atrium Health. "Throughout the process of joining together Wake Forest Baptist Health, Wake Forest School of Medicine and Atrium Health, we've worked hard to understand ways we can make a difference – to improve health, elevate hope and advance healing, for all. Part of that is making sure we make investments into the community and the infrastructure to ensure even better care, research and education that will have a positive impact for generations to come."

The enterprise will invest approximately $2.8 billion to improve facilities and fund critical investments across the communities served by Wake Forest Baptist Health. This includes projects such as construction of a new care tower at Wake Forest Baptist Medical Center, which will expand access to critical services to the community. The project calls for an upgraded emergency department and enhanced operating rooms and intensive care units. It also will build a new Eye Institute to serve the growing needs of the aging population of North Carolina. There is also funding being earmarked for expansion of virtual care capabilities – including for behavioral health – and state-of-the-art clinical care services, making care more accessible and affordable.

"This commitment to grow our capabilities is part of what makes our strategic combination with Atrium Health so beneficial for our patients, our faculty and staff and the communities we serve," said Dr. Julie Ann Freischlag, chief academic officer for Atrium Health, CEO of Wake Forest Baptist Health and dean of Wake Forest School of Medicine. "Not only will this improve care delivery, it will also have a tremendous, positive effect on our local and statewide economy. As we break new ground on buildings, we'll also be able to break new ground in the areas of medicine, education and research."

With Wake Forest Baptist Medical Center and Wake Forest School of Medicine forming the academic core of the new Atrium Health enterprise, it is additionally committing nearly $600 million to advance Wake Forest Baptist's academic mission and further elevate its national reputation. Included in this are a new $150 million academic endowment created to fund additional education and research growth and a $70 million Academic Enrichment Fund to accelerate academic initiatives. Expansion of educational programs, biomedical research, clinical trials and life-saving treatments that improve health are also planned.

Based on a recently commissioned economic study by Tripp Umbach, the total direct and indirect annual economic impact is projected to grow under the combined enterprise from $33 billion in 2020 to $54 billion in 2040 – an increase of more than 60% over a 20-year period. The direct and indirect annual employment impact from the combined enterprise will include a growth of over 91,000 jobs in 20 years, from 184,000 in 2020 to an estimated 275,000 in 2040.

Both health systems have spent decades caring for their neighbors, with a shared commitment of improving the health of people in communities they serve. The new enterprise provides more than $5 million each day in charity care and other benefits to its communities, through programs such as the Maya Angelou Center for Health Equity, serving underserved populations and improving health equity education and training.

The new Atrium Health has over 70,000 teammates working together to provide personalized care for each of its 15 million patient interactions each year and is dedicated to fulfilling its mission to improve health, elevate hope and advance healing – for all.

Major Goals of the New Enterprise
The new Atrium Health enterprise creates a regionally and nationally leading health system, offering the full range of health care services, including a broad base of primary care and specialty care – including some of the most advanced care available – and recognized by U.S. News & World Report as among the "best" in the country. It will also feature leading academic medical centers and faculty practices which provide integrated teaching, research and health innovation. The new Atrium Health will:

• Provide high quality, patient-centered, accessible, cost-effective care and an outstanding patient experience to people from communities across the Carolinas, Georgia and the entire country who seek out Atrium Health for their care

• Actively integrate research and education into patient care settings, applying knowledge in ways that improve health, prevent disease, promote wellness and deliver more effective and affordable care

• Advance and expand the highly respected undergraduate and graduate medical education programs of Wake Forest School of Medicine, including the creation of a new regional medical school campus in Charlotte

• Benefiting from some of medicine's most brilliant minds, engage in world-class biomedical research to develop life-changing vaccines, medicines and therapies and bring research breakthroughs to market up to 50% faster

• Reduce disparities in healthcare, including rural-urban and racial disparity divides in care quality, while continuing to serve patients as the state's largest provider of Medicaid services

• Leverage our healthcare leadership, especially in the areas of innovation and research, to create economic development opportunities for the communities we serve
New Combined Enterprise at a Glance:
• Caring for patients at 42 hospitals and more than 1,500 care locations
• Reaching more than 7 million people across North Carolina, South Carolina, Georgia and Virginia
• Providing quality care through nearly 15 million patient interactions each year
• Employing 70,000+ teammates
• Educating over 3,500 students in more than 100 specialized programs
• Receiving more than $300 million annually in external funding for research
• Supporting over 3,500 clinical trials and research studies
• Ranking among U.S. News & World Report's Best Hospitals for cancer treatment and eight pediatric specialties
• Providing more than $5 million each day in charity care and other benefits to the community

---
About Atrium Health
Atrium Health
is a nationally recognized leader in shaping health outcomes through innovative research, education and compassionate patient care. Atrium Health is an integrated, nonprofit health system with more than 70,000 teammates serving patients at 42 hospitals and more than 1,500 care locations. It provides care under the
Wake Forest Baptist Health
name in the Winston-Salem, North Carolina, region and
Navicent Health
in Georgia. Atrium Health is renowned for its top-ranked pediatric, cancer and heart care, as well as organ transplants, burn treatments and specialized musculoskeletal programs. A recognized leader in experiential medical education and groundbreaking research,
Wake Forest School of Medicine
is the academic core of the enterprise, including
Wake Forest Innovations
, which is advancing new medical technologies and biomedical discoveries. Atrium Health is also a leading-edge innovator in virtual care and mobile medicine, providing care close to home and in the home. Ranked among U.S. News & World Report's Best Hospitals for cancer treatment and in eight pediatric specialties, Atrium Health has also received the American Hospital Association's Quest for Quality Prize and was the recipient of the 2020 Centers for Medicare & Medicaid Services Health Equity Award for its efforts to reduce racial and ethnic disparities in care. With a commitment to every community it serves, Atrium Health seeks to improve health, elevate hope and advance healing – for all, providing more than $2 billion per year in free and uncompensated care and other community benefits.
Atrium Health Contact Wake Forest Baptist Health Contact
Dan Fogleman Paula Faria
daniel.fogleman@atriumhealth.org pfaria@wakehealth.edu