Vascular Surgeon Performs First-in-the-Country Commercial Procedure at Sanger Heart & Vascular Institute
11.17.2020
Atrium Health News |
Sanger Heart & Vascular Institute
Deep vein blockages impact more than 27 million people worldwide. For years, many people suffering from venous disease didn't have access to advanced treatment options. Advancements in the field have led to newly available treatment and technology options for patients, and Atrium Health Sanger Heart & Vascular Institute is on the forefront of using innovative technologies and techniques.
After serving as global co-principal investigator of Medtronic's ABRE IDE clinical study, Dr. Erin Murphy, director of Sanger's venous and lymphatic program, performed the first commercial procedure in the United States using the self-expanding stent system on November 3, 2020 at Atrium Health Pineville. The stent was recently approved by the Food and Drug administration.
In the first commercial case, the surgical team implanted the stent to treat a left iliac vein occlusion, which was causing pain, swelling, open sores and decreased circulation in the patient's leg. After the procedure, the patient is thriving, with improved skin conditions thanks to increased circulation and markedly decreased swelling.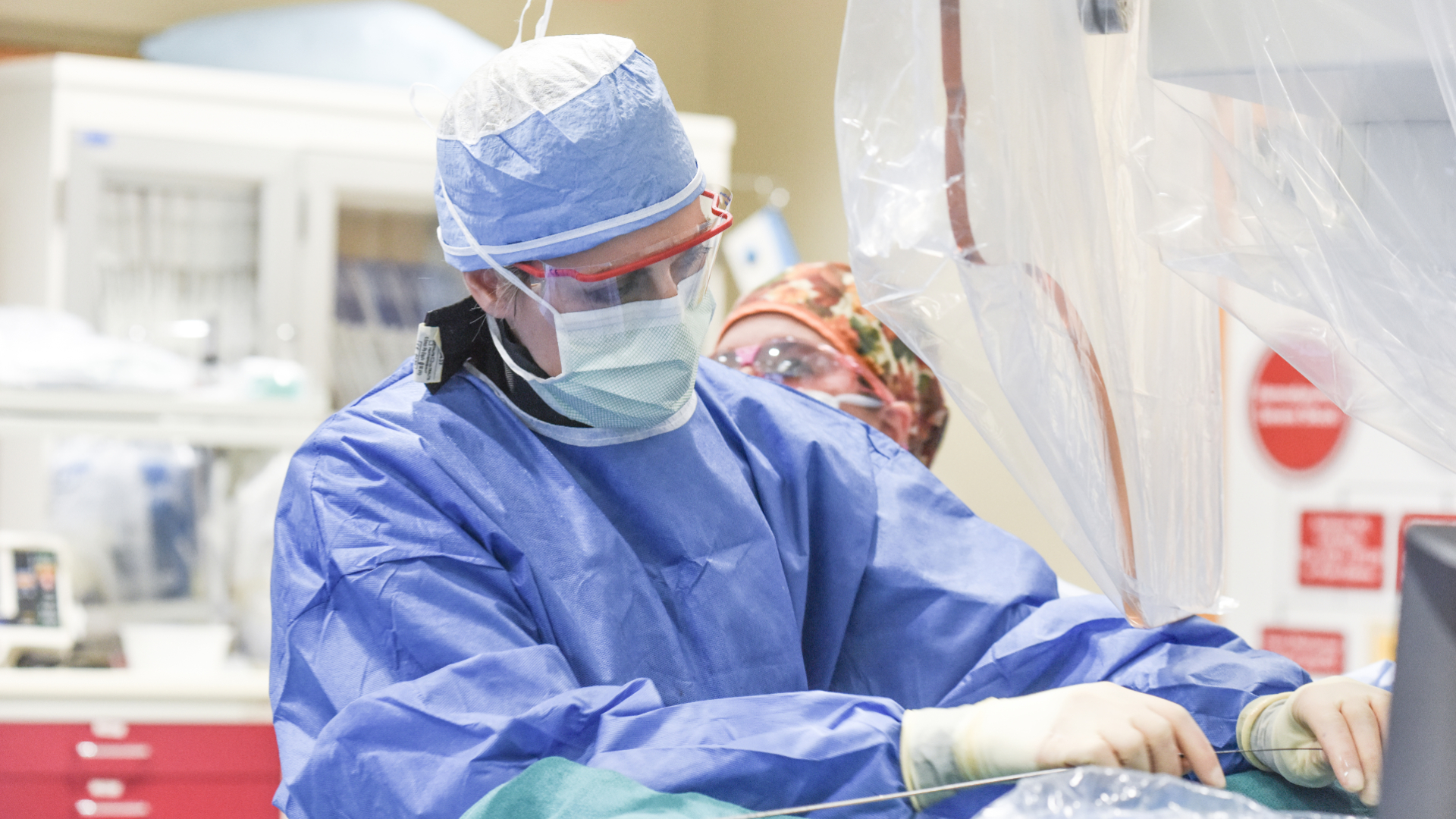 Moving the field forward
Previously, Dr. Murphy and Dr. Gregory Stanley, vascular surgery fellowship director, enrolled and treated the first patient in the world in the ABRE IDE clinical study at Sanger in 2017. Dr. Murphy was one of two global principal investigators (PIs) who conducted the multi-center study, which enrolled 200 patients at 24 international sites.
Clinical teams examined the safety and efficacy of the self-expanding stent system. After two years, study results showed patients who received the stent as part of their treatment plan achieved significant quality of life and clinical improvements.
"Our clinical teams are dedicated to delivering the latest technology to our patients in the region," said Dr. Murphy. "Offering the newly FDA approved venous stent is one example of how we're moving the venous field forward – people don't have to travel far to receive innovative treatment options."
For patients like Kristin McKittrick, a new option for treatment close to home has made quite a difference.
McKittrick's experience with venous disease
Nineteen years ago, when she was pregnant, McKittrick had a blood clot in her iliac vein, which is in the lower leg. "Because I was nearly eight months pregnant, I was told there wasn't much that could be done. I was put on blood thinners," she explains. Since then, Kristen dealt with chronic pain resulting from the clot. However, the pain started to get worse, to the point where she was unable to do everyday activities like driving her kids to school, sitting through dinner, or sitting in the stands for her kids' basketball games.
Deep vein obstruction, while common, is serious. When it occurs, a blockage in the leg vein limits blood flow out of the leg. This can create a great deal of pain and swelling. The pain can significantly impact daily activities, and in some, it may be disabling.
"I couldn't do the required daily driving I needed to do. I couldn't sit for more than 15 minutes – the pain was interfering with everything and becoming severe. It was to the point where I needed to avoid sitting for any period of time," said McKittrick.
When the pain became intolerable, McKittrick talked to her Atrium Health primary care physician, Dr. Lorri Ayers at Perspective Health & Wellness. She had an MRI scan and learned she was in so much pain because her vein had become completely blocked.
Dr. Ayers referred McKittrick to Dr. Murphy. "Dr. Ayers said that Dr. Murphy was highly regarded when it came to treating venous disease," said McKittrick. "She told me she put her trust in Dr. Murphy entirely."
Dr. Murphy explained to McKittrick that she would be a good candidate for the ABRE IDE trial. "After reviewing the information she shared with me, doing my own homework, and consulting again with Dr. Ayers and Dr. Murphy, we all agreed that the new stent was the best option," said McKittrick.
After thoroughly researching the trial, McKittrick enrolled in 2018. "The procedure was easy," said McKittrick. "I spent one night in the hospital and was home the next day. I saw steady improvement in the first couple of weeks. Most importantly, I had immediate relief with sitting. I knew very early on that the procedure provided the pain relief I was hoping for. The fact that I could drive my kids to school without horrible pain was wonderful." She was fully healed and back to her usual level of activity in just a matter of weeks.
McKittrick saw Dr. Murphy for follow-up visits regularly as part of the clinical trial.
Now, McKittrick is feeling great and has no more pain. "Dr. Murphy is fantastic," she said. "The procedure improved my life; I waited too long for help with the pain, but then I was able to be part of the trial. I feel lucky to have been a part of it. I know it sounds silly because we take something like sitting for granted, but I'm still so appreciative I can now perform daily activities without the pain I lived with for years."
"Venous disease is treatable; patients shouldn't be told that they don't have treatment options," explains Dr. Murphy. "Anyone with persistent symptoms of deep venous obstruction, such as leg pain, leg swelling or skin changes, should be evaluated. This is especially true for patients who have had prior blood clots. Many of these patients were told for decades that nothing could be done for them. This is not the case – their quality of life can greatly be improved."
Learn more about Vascular Medicine and Surgery at Atrium Health Sanger Heart & Vascular Institute, or call 704-512-5734 with any questions.
Read more about new relief for the pain of deep leg vein blockages