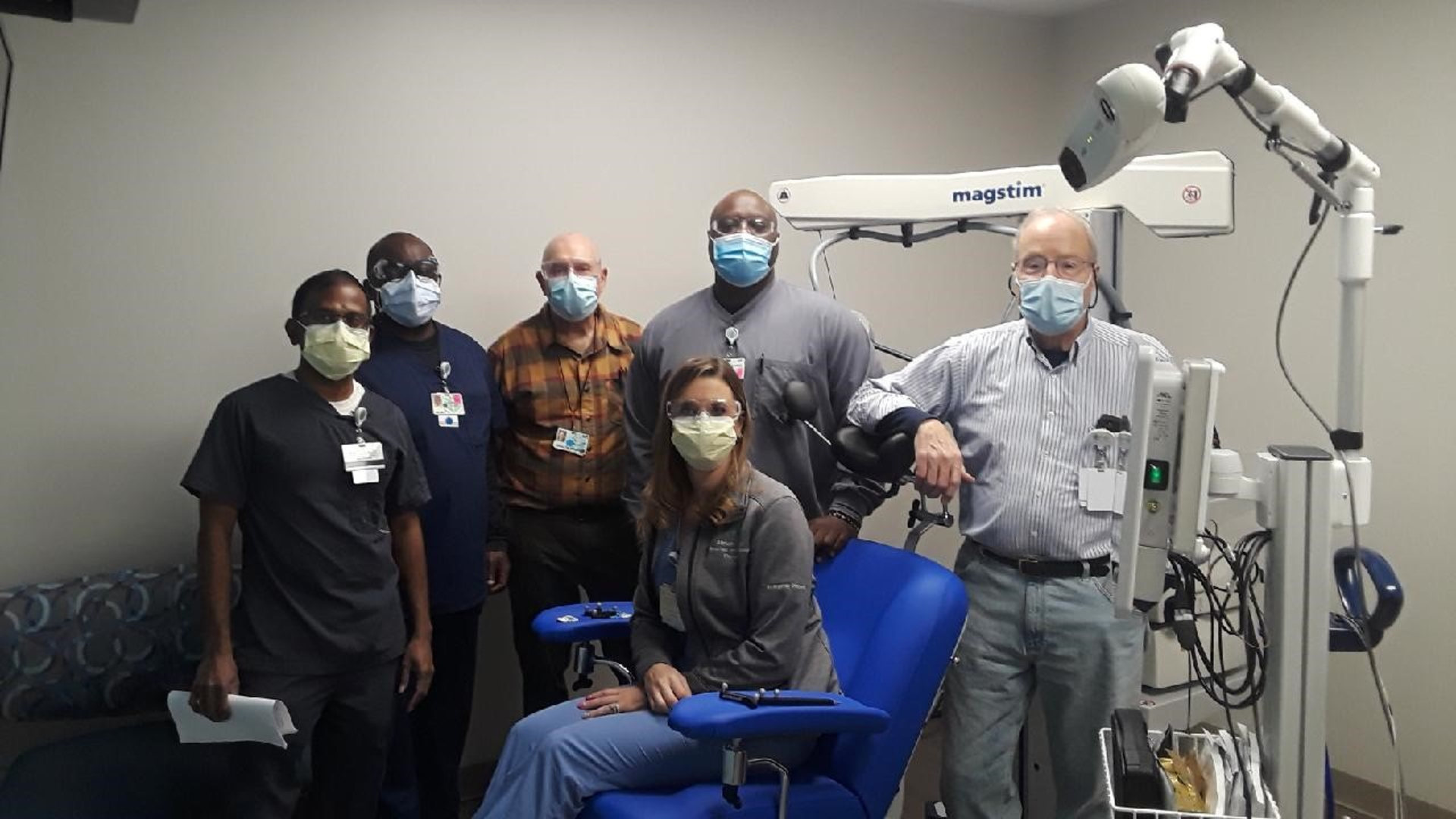 New Atrium Health Behavioral Health Practice Expands Mental Health Treatment Options
02.15.2021
Atrium Health News |
Neuroscience
CHARLOTTE, N.C., Feb. 15, 2021 – Atrium Health Behavioral Health Interventional and Neurocognitive Psychiatry opened its new practice to offer expanded brain stimulation treatments, including a new transcranial magnetic stimulation (TMS) device. Brain stimulation can be highly effective in helping patients battling mood disorders, like severe depression, which may be amplified during the pandemic. The practice also offers expanded neurocognitive services.
This new practice is located at 330 Billingsley Road, Suite 102, Charlotte, NC 28211. It allows Atrium Health to:
Offer access to a second TMS device that delivers rapid treatment using Theta Burst Technology, thereby reducing treatment time from 19 minutes to three minutes.
Coordinate brain stimulation services from a centralized location – outside the psychiatric hospital.
Expand care by adding a new doctor who offers neurocognitive psychiatry appointments.
Continue offering access to electroconvulsive therapy (ECT).
Improve health, elevate hope and advance healing for all behavioral health patients.
Atrium Health offers ECT at two facilities – Atrium Health Huntersville and Atrium Health Mercy.
Brain stimulation, including TMS and ECT, focuses on changing abnormal patterns of activity in the brain. It can be highly effective in helping patients battling treatment-resistant depression (or other mood disorders) improve their quality of life. In fact, ECT has a 50-80% response rate in patients with treatment-resistant depression. TMS has a 50-60% response rate for severe depression.
Offering ECT since 1992 and TMS since 2012, Atrium Health has a long history of providing noninvasive brain stimulation services to thousands of patients safely and effectively. To ensure patient safety, the team has taken specialized certification courses in both ECT and TMS.
TMS: This therapy delivers brief magnetic pulses to stimulate regions of the brain that can affect mood.
"While a technician administers TMS therapy, we have a doctor readily available in-house during treatment," explained Nicole Aho, M.D., interventional psychiatrist with Atrium Health Behavioral Health Services. "The doctor is accessible to patients and ready to answer questions, make coil adjustments or handle medical emergencies as needed."
For most patients, TMS causes no side effects. In rare cases, patients may experience headaches or migraines. Seizure rates for TMS are less than 0.10%. There is no clinical evidence that TMS causes brain damage.
ECT: This therapy creates mild, controlled seizures that have been shown to improve mood symptoms in patients with severe depression and other mood disorders. Performed under general anesthesia, ECT delivers brief, controlled electrical currents to the brain through the scalp.
The most common side effect of ECT is temporary, short-term forgetfulness, mostly around the time of treatment. Other possible side effects of ECT include nausea, headache, stomachache and muscle aches. These can usually be managed during the treatment session, making ECT a generally well-tolerated procedure.
There is no clinical evidence that shows that ECT causes brain damage or dementia. Any short-term forgetfulness that occurs after ECT is usually temporary.
In addition to standard brain stimulation services, the new practice provides several off-label treatments for anxiety. Sometimes, the interventional psychiatrists use innovative protocols to treat other disorders, such as obsessive-compulsive disorder. The team may soon be using TMS to help patients quit smoking, which was recently cleared by the FDA as an indication for TMS.
For more information about Atrium Health's brain stimulation treatment options, visit Interventional and Neurocognitive Psychiatry at Atrium Health or call 704-512-7578. Due to COVID-19, Atrium Health is providing all consultations virtually.