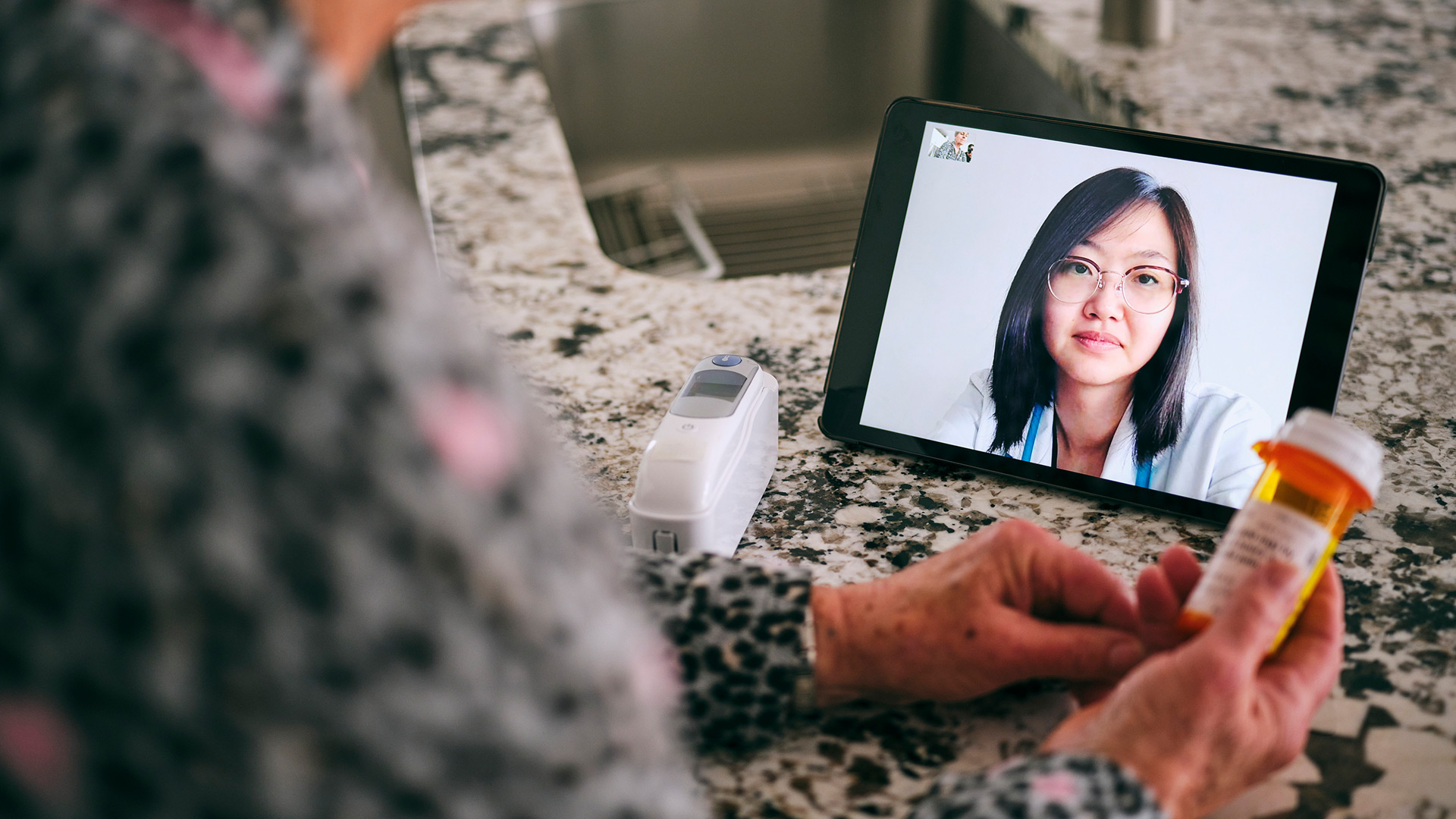 Prestigious Surgery Journal Publishes Atrium Health Research About Virtual Follow-up Visits
02.22.2021
Atrium Health News
Three years before COVID-19 forced many healthcare organizations to transition to virtual appointments, two Atrium Health providers had already begun to research the effectiveness of video-based visits. In January, their research was published in JAMA Surgery, the international, peer-reviewed journal published by the American Medical Association: Postdischarge Virtual Visits for Low-risk Surgeries: A Randomized Noninferiority Clinical Trial.
Kristen Harkey, D.N.P, and Caroline Reinke, M.D., designed a randomized controlled trial to compare outcomes for patients of video-based and in-person post-discharge follow-up appointments after minimally invasive surgeries. Would video-based patients be more or less likely to visit the hospital within 30 days of a surgery for an emergency department visit, observation or inpatient admission?
Their research revealed no difference in the number of such visits between the two groups, and both groups spent almost equal time interacting with clinicians.
"We want to provide our patients with more access to our practice utilizing telemedicine for those who can't easily get to our clinic," Harkey says. "Because cholecystectomies and appendectomies are usually emergency-type surgeries, many patients have never been established at our office and may not even know where it is. So not only have their lives been disrupted by an emergency surgery, they must balance follow-up appointments with other responsibilities, such as work and childcare. We want to offer easier access to care."
Previous studies have compared outcomes of patients who preferred video-based appointments against those who preferred in-person appointments. In those cases, it was unclear whether the patients who preferred video visits may have been healthier or had more access to resources than the in-person patients. The study by Harkey and Reinke was unique because it randomized patients who were willing to do a video visit into two groups: virtual and in-person patients.
"We hypothesized that there would be no difference in the number of post-discharge hospital visits for a virtual visit compared to the in-person visit, and that is what our study shows," says Reinke. "We thought it was really valuable to be able to look at this in a randomized controlled fashion that allowed us to focus on the intervention, rather than the patient population."
Harkey and Reinke's study did reveal one big difference between the two groups. Although patients who used video-based and in-person visits spent nearly equal time interacting with clinicians, the video-based patients spent significantly less time overall for their visits. Video visits saved significant time in tasks including driving to an office, finding parking and sitting in a waiting room.
"With this study we can reassure the patient that they don't get less time with the clinician because they're doing a video visit," Reinke says. "We can also inform the clinician that they don't need to plan for spending more time with video visits to provide the same level of care."
These findings reveal that patients can have equal quality of care with greater convenience, which, for some patients, could make the difference between receiving care or not. Harkey says that it could help elderly patients who may not have someone to take them to an appointment, and it can allow parents to make appointments without having to secure childcare.
"When the pandemic hit, our ability to provide care through virtual visits – and our history in already having done them – was extremely important," Harkey says. "We were able to quickly increase the utilization of telemedicine techniques. Atrium Health has been willing to not only embrace virtual visits, but to encourage being able to meet the patient where they are and to provide the best care in the most convenient way for these patients."