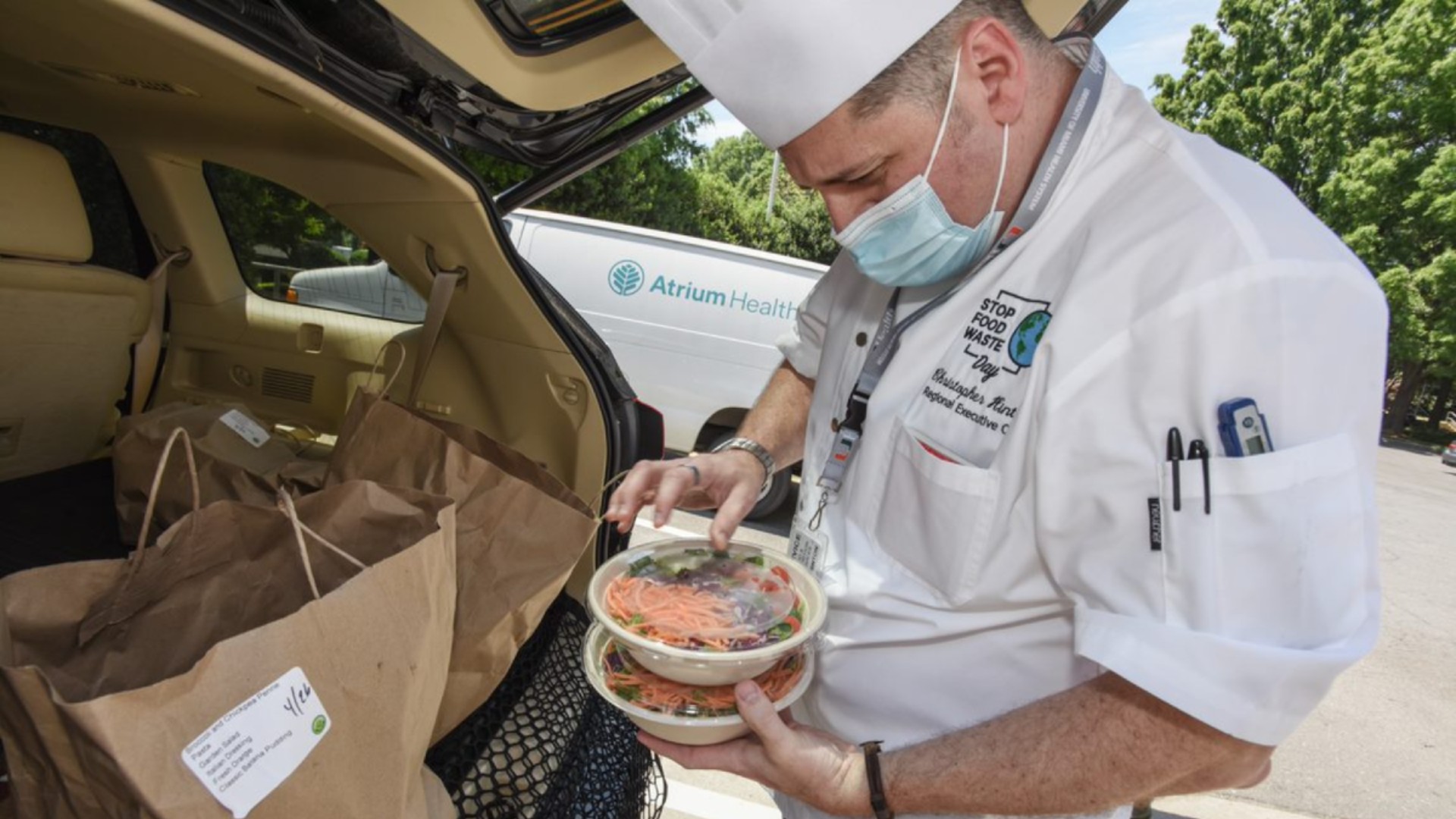 Atrium Health, Morrison Healthcare and Feeding Charlotte Team Up to Reduce Food Waste and Curb Food Insecurity
04.29.2021
Atrium Health News
CHARLOTTE, N.C., April 29, 2021 – Atrium Health is partnering with Feeding Charlotte and Morrison Healthcare to reduce food waste and improve access to nutritious food to those in Mecklenburg County who experience food insecurity. Through this effort, an estimated 1,000 pounds of surplus fresh food that might otherwise go to waste will be distributed each week, including vegetables, proteins and other perishable items.
Nearly 15% of homes in Mecklenburg County are food insecure, translating to hundreds of thousands of people that live in hungry households. In addition to the pain of hunger, limited access to nutritious foods has a direct impact on an individual's health by contributing to chronic diseases such as obesity, heart disease and Type2 diabetes. The partnership among Atrium Health, Morrison Healthcare and Feeding Charlotte will help thousands of people in the Charlotte area gain access to healthy food that can improve their health that may otherwise go to waste.
"As a healthcare organization committed to sustainability and supporting our community's health and well-being, we understand the devastating impacts food insecurity has on health outcomes," said Ken Haynes, president of Greater Charlotte Region of Atrium Health. "We are proud to partner with Morrison Healthcare and Feeding Charlotte to feed Charlotte's hungry neighbors instead of local landfills and reduce food waste across our community. Together, we will make a tremendous social impact in the Charlotte community by providing wholesome, healthy meals to people in need that improve health, elevate hope and advance healing."
The program will be piloted at five Atrium Health locations served by Morrison Healthcare, a leading national food and nutrition services company specialized in healthcare, and part of Compass Group USA. The donations will be facilitated by Feeding Charlotte, a local nonprofit organization that collects fresh, unserved, surplus meals from restaurants, caterers and institutions and delivers the meals to local nonprofits who feed the hungry to reduce food waste and ease hunger.
"Feeding Charlotte is thrilled to partner with Atrium Health to redirect surplus food to organizations that feed the hungry," said Mendy Goodman, executive director of Feeding Charlotte. "Up to 40%of all food produced in the United States goes to waste each year, while one in six families in Mecklenburg County are food insecure. This means thousands of families in our community go hungry, while thousands of pounds of food go to waste every day. We are thankful for Atrium Health joining our efforts to reduce waste and feed the hungry."
Equally committed to sustainability, wellness and addressing food insecurity, the partnership among the three organizations is a natural fit. The partnership builds upon Atrium Health's existing programs to strengthen food security across the community, including mobile food pharmacies, hosting "Kids Eat Free" programs at Atrium Health hospitals during the summer and utilizing care managers to help people in need access food and other community-based resources.
"We have been on a wellness and sustainability journey with Atrium Health over the past two years, and I am proud of what we're working to accomplish," said Tim Pierce, CEO of Morrison Healthcare. "Doing right by people and the planet is at the core of who we are at Morrison Healthcare and Compass Group. Our collective efforts over the last year, especially, are allowing us to tackle food insecurity across Charlotte. We are building a cleaner, greener supply chain through our partnership and reducing waste in our Atrium Health kitchens by using plant-forward, root-to-stem recipes. We have clear metrics for success and Atrium Health's leadership has energized and empowered the entire Morrison team in support of the system's sustainability mission."
Over the past several years, Atrium Health has been on a journey of greater sustainability with a recent commitment to eliminate 1.9 million single-use plastic bottles across the health system and investing more than $12.5 million in energy efficient projects since 2014. Reducing food waste will benefit the community's families and the environment, now and in the future. As one of this region's largest employers, Atrium Health believes in bringing health to every corner of the communities it serves. This commitment supports Atrium Health teammates and patients and also exemplifies Atrium Health's commitment to improving the well-being of the community.
---
About Atrium Health
Atrium Health is a nationally recognized leader in shaping health outcomes through innovative research, education and compassionate patient care. Atrium Health is an integrated, nonprofit health system with more than 70,000 teammates serving patients at 42 hospitals and more than 1,500 care locations. It provides care under the Wake Forest Baptist Health name in the Winston-Salem, North Carolina, region and Atrium Health Navicent in Georgia. Atrium Health is renowned for its top-ranked pediatric, cancer and heart care, as well as organ transplants, burn treatments and specialized musculoskeletal programs. A recognized leader in experiential medical education and groundbreaking research, Wake Forest School of Medicine is the academic core of the enterprise, including Wake Forest Innovations, which is advancing new medical technologies and biomedical discoveries. Atrium Health is also a leading-edge innovator in virtual care and mobile medicine, providing care close to home and in the home. Ranked among U.S. News & World Report's Best Hospitals for cancer treatment and in eight pediatric specialties, Atrium Health has also received the American Hospital Association's Quest for Quality Prize and was the recipient of the 2020 Centers for Medicare & Medicaid Services Health Equity Award for its efforts to reduce racial and ethnic disparities in care. With a commitment to every community it serves, Atrium Health seeks to improve health, elevate hope and advance healing – for all, providing more than $2 billion per year in free and uncompensated care and other community benefits.